Note: Morimoto's Sushi Master can be found on Roku Channel (free). I'll be reviewing all six episodes. 
Note 2: Roku makes screenshots impossible, so yes I used my phone to take a bunch of pictures of the show on my computer. 
I've always wanted to review a tv show. But I know my readers care about two things: sushi and obscure 90's pop culture references. "Nothing more, nothing less", to quote thespian Jeremy Irons in Margin Call (the greatest movie you've never seen). 
And so I waited. I let Industry and Succession and Gossip Girl come and go without writing a word.
Finally, in the summer of 2023, a beacon of light has arisen. An oasis. Morimoto's Sushi Master, a show apparently so good, they released all six episodes at once on something called "The Roku Channel" (it's free). 
So I dusted off my pencil (for chewing purposes) and got to work. All six episodes. 
I just didn't realize how bizarre they all would be…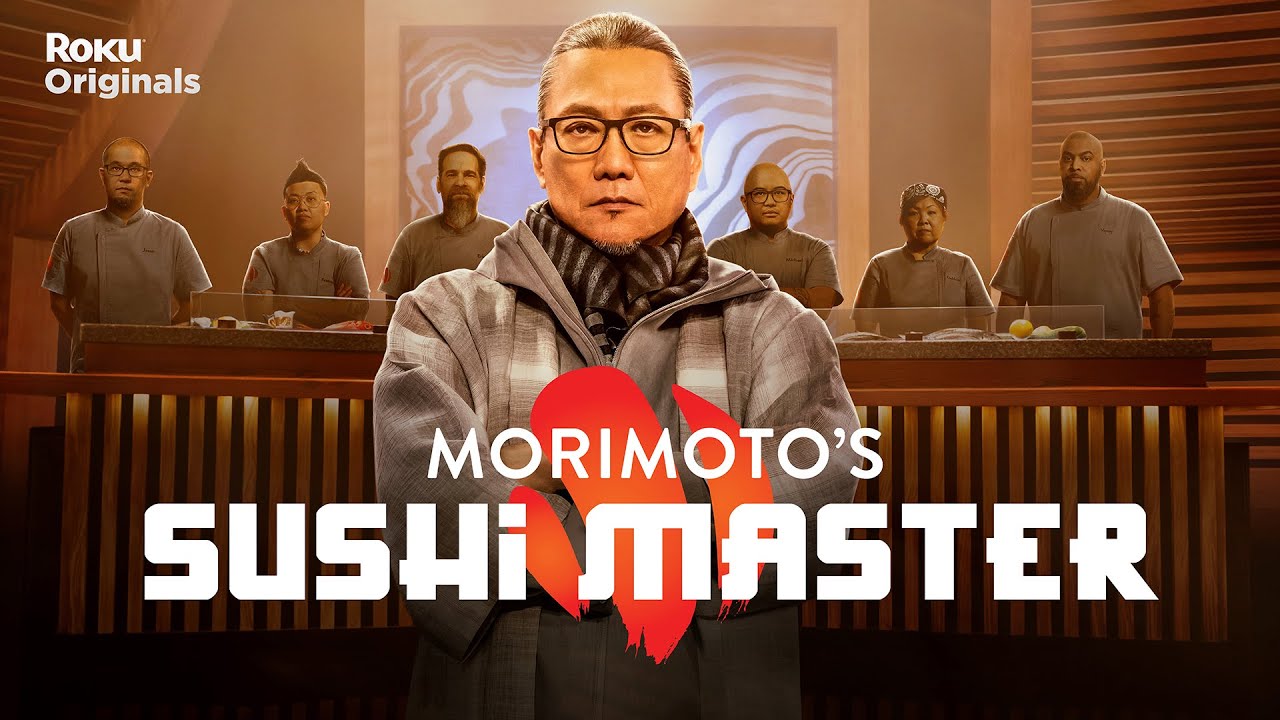 Like every food show, we open with one of those slow montages with vivid colours and a narrator to set the stakes
"A food battle like no other"
"A $4 billion dollar phenomenon"
"An ancient cuisine"
Ah yes, that centuries-old ingredient of gold flakes on a sushi pizza, a tradition passed down from generation to generation.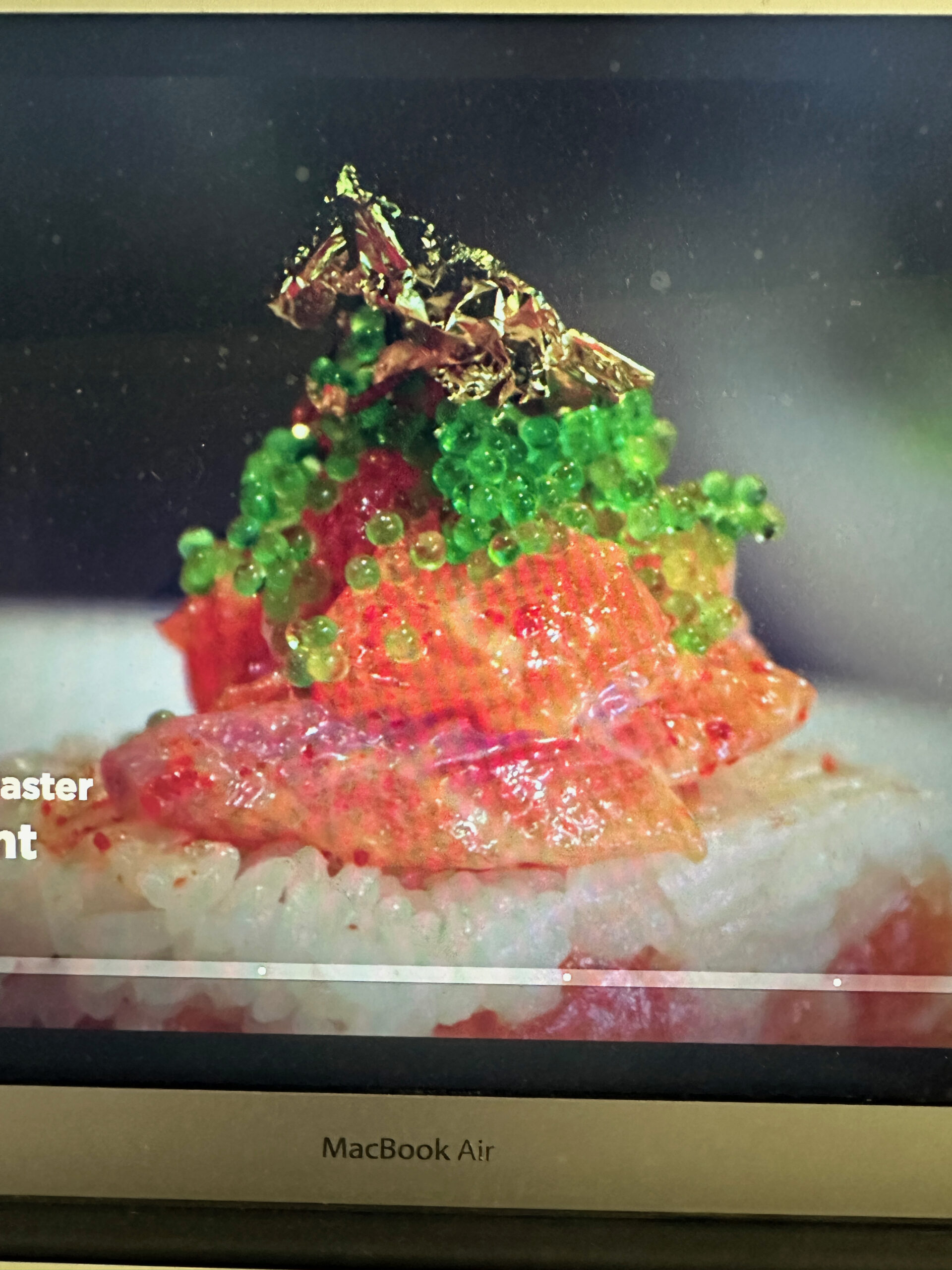 Then we meet Morimoto
Except he's not just Morimoto. 
No, he's "the only chef in the world expert enough, a world renowned chef credited with popularizing sushi across the United States and the master of Modern Japanese Cuisine, Masaharu Morimoto". 
Their words, not mine. 
If you're wondering "hey, that's a little excessive. Did he write that himself?".
The answer is he's the Executive Producer of the show and shopped it around before landing on Roku.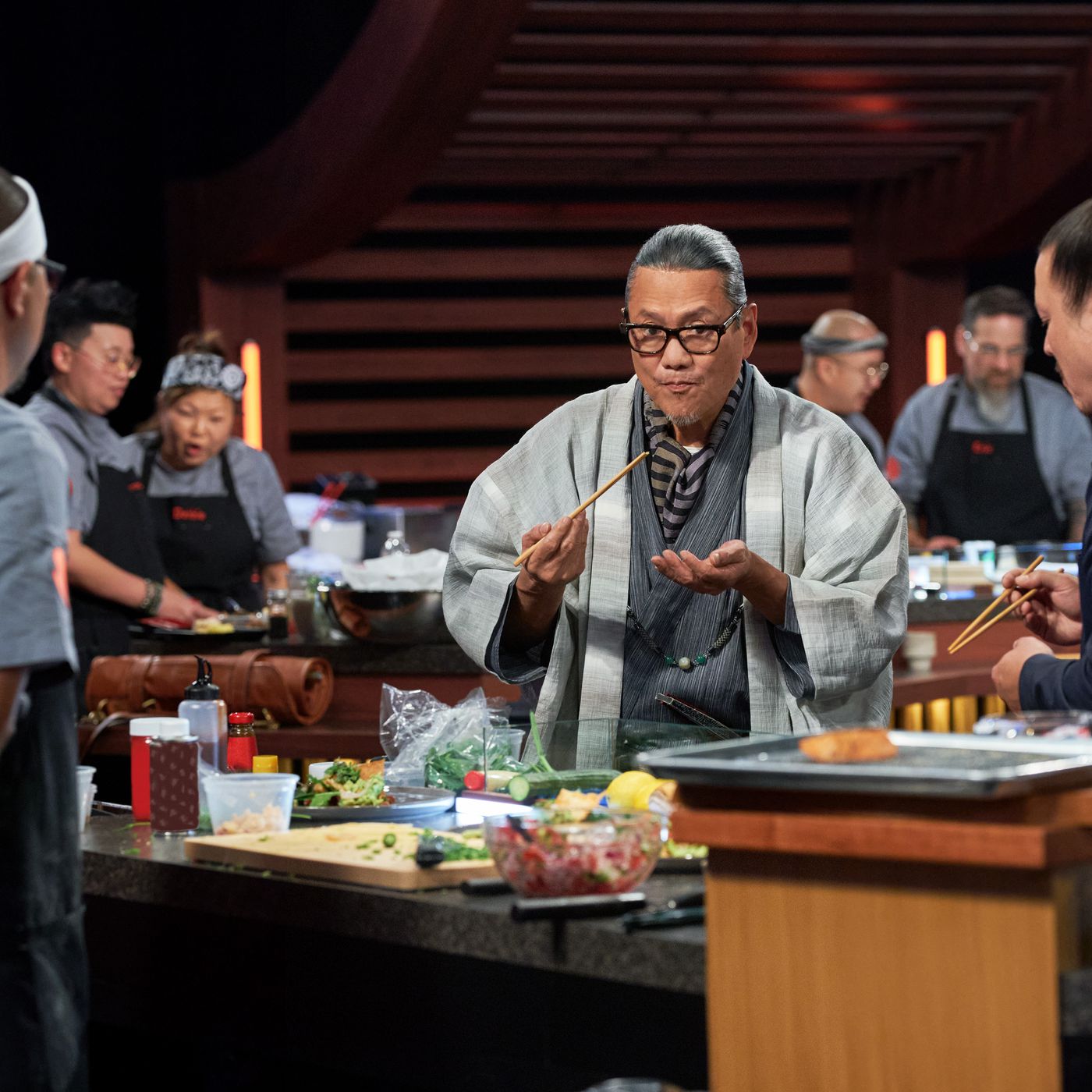 For the record, Morimoto doesn't even make my top 10 for popularizing sushi in the US
No disrespect, but here's my current list:
Nobu Matsuhisa
Masayoshi Takayama
Kazunori Nozawa
The 1983 New York Times review of Hatsuhana
Kikuo Shimizu
The Nakazawa scene in Billions
Noritoshi Kanai
Me
Sun Myung Moon
The Strand's Used Food Book Department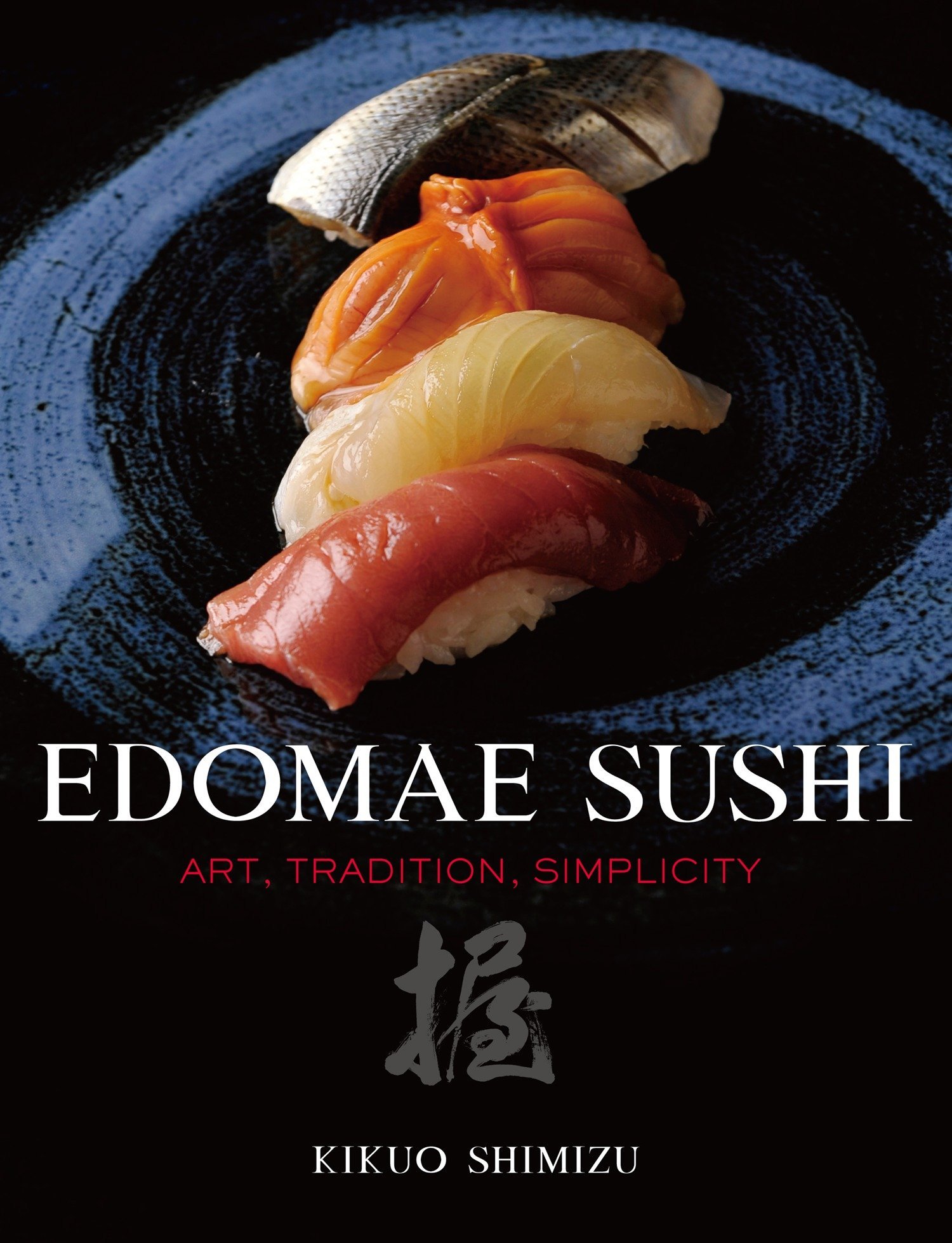 We've got 8 chefs competing for $25,000 and a chance to spend 2 hours next to Morimoto at an NYC happy hour
Venoy Rogers, Executive Chef at Certified Angus Beef, Cleveland
John Sugimura, Chef/Owner, Pinku Japanese, Minneapolis
Debbie Lee, Chef/Owner Yi Cha, Sierra Madre
Eric Levine, Chef/Owner at 317 Main Street, Farmingdale , NY
Lauren Lawless, Owner Flawless Cuisine, San Diego, CA
Frances Tariga, Chef at Trust Bae, New York, NY
Michael Collantes, Sushi Chef, Youtuber and Consultant, Orlando, FL
Jason Minoda, Chef/Owner, Minoda's Kabuto, Jacksonville, NC
All 8 are straight out of every cooking competition show you've ever seen, which isn't surprising because literally half of them have been on other cooking shows before. Non-sushi cooking shows. Red Flag #1.
And only four of the eight seem to even have experience working in a sushi restaurant. Red flag #2.
Ps/Spoiler alert: Lauren is the biggest reality tv villain since Tom Sandoval. At one point in episode 1 she's given a live sea urchin and her first instinct is to grab a coconut. As one does. She also yells out "I want to torch everything" in the opening montage. Red Flags #3 – 1000.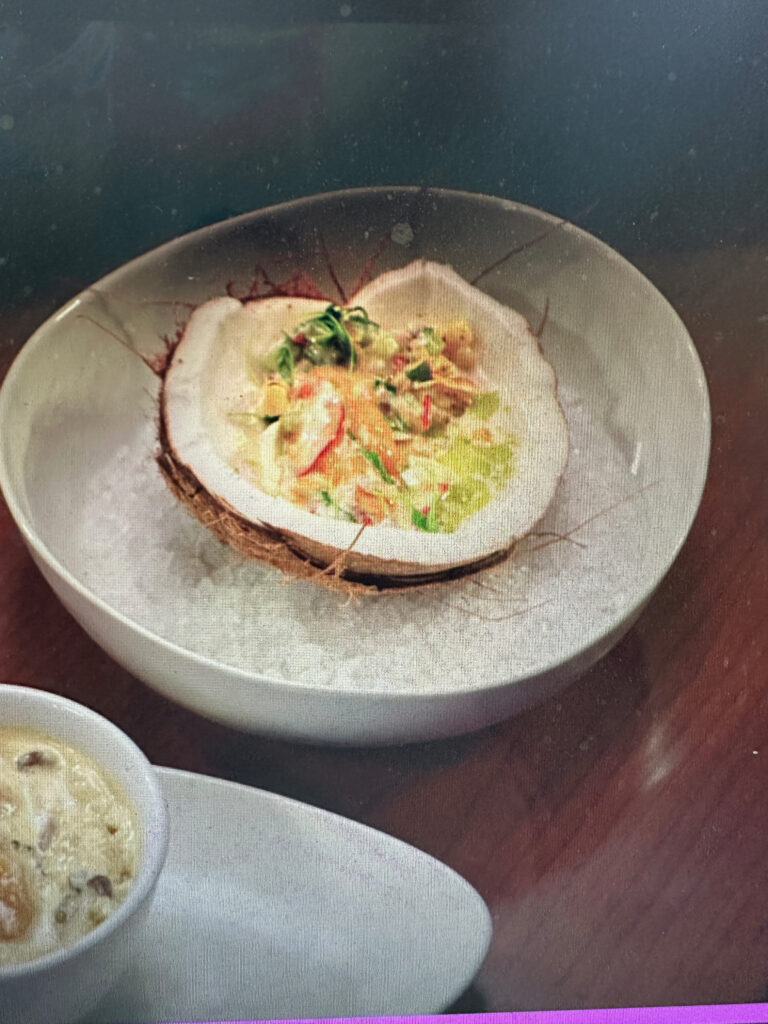 Our Judges
Morimoto-san is joined by Kenji Lopez-Alt, James-Beard winning author and New York Times columnist and solid Instagram follow and Dakota Weiss, a Top Chef alum herself, the "Queen of Poke" and Executive Chef at Sweetfin in Los Angeles. 
Throughout the 6 episodes, Lopez-Alt (when he's there) and Weiss seem like good human beings that genuinely care about the contestants and the show.
The host is Lyrica Okana, a renowned actor whose parents emigrated to the US from Japan. Lyrica functions as the audience, frequently bouncing questions off the judges, such as why are they curing the fish and why is Lauren squirting kimchi mayo into a blender (ok that one was mine).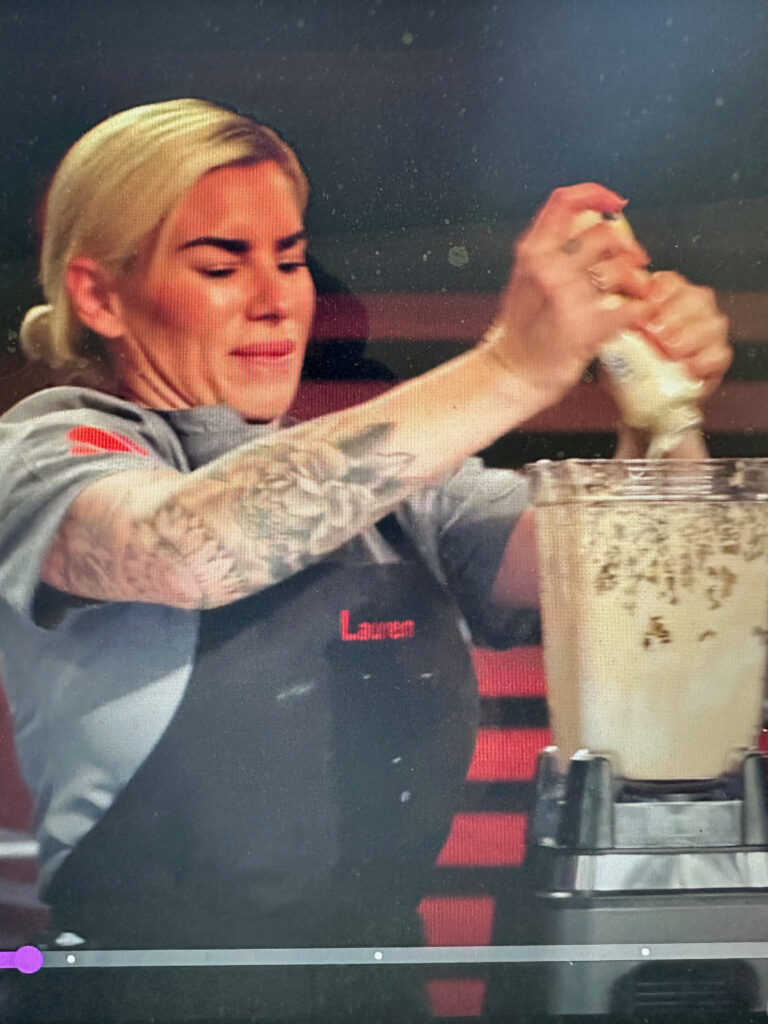 he format
Each episode has two challenges.
The Ikouze Challenge,  meaning "let's go", which is supposed to focus on sushi fundamentals, and the Kessou Challenge, meaning "final battle", for contestants to spread their wings (I assume this is where we'll see the gold) and then watch as one of them get the boot.
Episode 1's Ikouze Challenge
The first challenge of this show revolves around Kanpachi. Unfortunately, it's not simply a blind taste test of Kanpachi, Hamachi, Hiramasa, Buri, Inada….
Rather, the 8 contestants are supposed to break down the whole fish, produce two filets, cook and season shari (sushi rice), slice cucumber, prepare wasabi and produce a plate. 
The judge aspect is a little confusing
So the show designates three judges. And the challenges need three people to decide the winner. 
But for some reason, one of the three judges, Kenji, is lifted from this challenge altogether, replaced by Lyrica. 
I assume there was actually a production related reason, otherwise very bizarre. 
Also someone needs to tell me what was up with Eric
Eric immediately struggles with fileting a fish, a problem on a show called Sushi Master.
And that's a good time as as any to wonder what on earth Eric's even doing in this competition. 
Make no mistake, he's apparently a renowned chef. Patch.com named him Best on Long Island four months ago. He's won Chopped and participated in a host of other food competitions. 
It's just his restaurants are a Gastropup and Italian joint. I looked – hard – and didn't see any sushi in the background. He himself admits ON THE SHOW that he's never worked with Kanpachi before. 
Surely America has enough sushi chefs to fill 8 slots on this show? I'm not going to put the Casting Directors on blast, but they're all over the internet and Instagram bragging about it, so if you crazies want to fill everyone on if this was intentional, drop me a line at info@thesushilegend.com.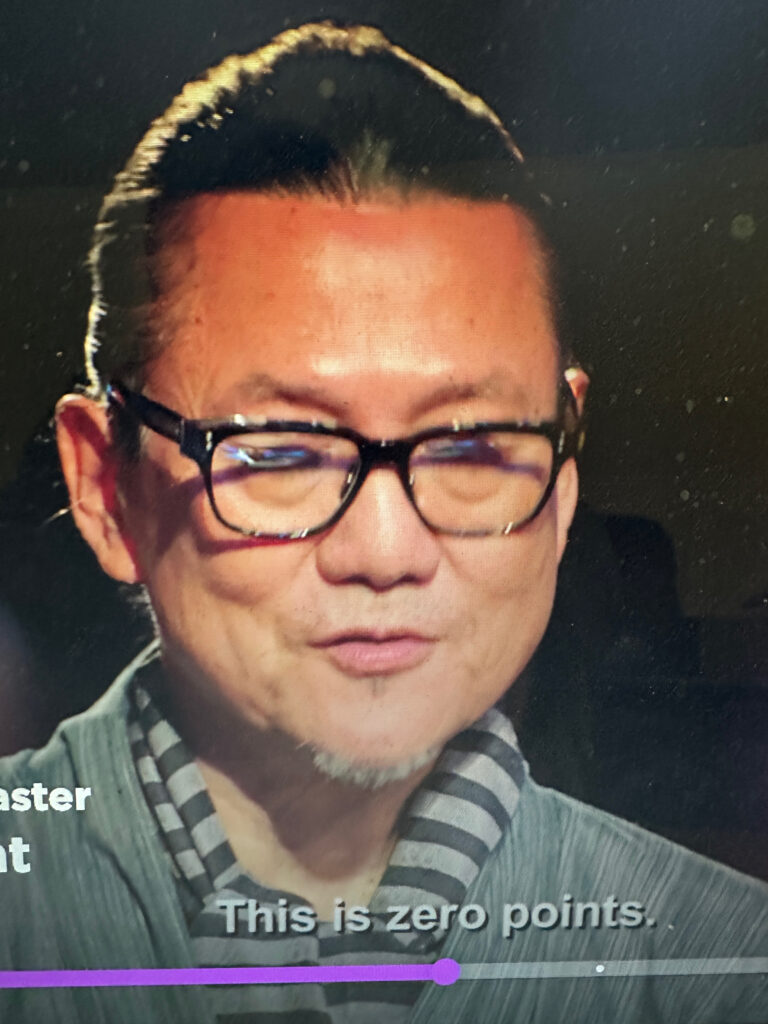 These folks take this challenge in wildly different directions
Silly me, I thought they had to stick to the Shari, Wasabi, Kanpachi and Cucumber. Apparently not, because Lauren decides to make Kanpachi Tempura (?), 
Dakota sums up my thoughts perfectly when she says "I…would want to stick to a basic nigiri or roll of sorts…to showcase (that) I'm here because I am a master of sushi".
Michael, a Michelin star winner at Soseki that's positioned as the star of the bunch, goes overachiever by doing his Kanpachi Kobujime (cured between kelp/konbu). 
Small issue: Kobujime is usually a multi-hour, overnight process. Here he has 30 minutes. 
Frances is an absolute delight; Michael is….something
Maybe it's the New Yorker in her, but the personality is very strong in that one. While the show mentions Michael's Michelin star no less than 100 times, there's Frances to remind us "let's be clear, it's in Orlando". 
Michael also decides to drag happy-go-lucky Venoy for the cardinal sin of adding a little wasabi after the time clock had expired. 
"Well, do it on the timeline, like everyone else please chef…that's ridiculous, first day and someone wants to go over the clock".
Uh, you're on Morimoto Sushi Master on the Roku Channel, not the NBA Finals. Calm down there, Scott Foster. 
And lo and behold, Frances ends up winning the challenge.
Here are the full dishes:
John: Kanpachi Sashimi, Oshizushi and Temaki
Eric: Kanpachi Tartare with Citrus Salad
Lauren: Kanpachi Crudo with Apple Serrano Relish, Onigiri with trout Roe, Kanpachi Tempura and a Kimchi Aioli
Frances: Kanpachi Nigiri, Tartare with Osetra Caviar, Kanpachi Sashimi with Yuzu Kosho
Jason: Kanpachi maki with Micro Shiso and Cherry Blossom Ponzu
Venoy: Kanpachi nigiri with Toasted Sesame Maki with Cucumber
Michael: Kobujime Kanpachi, Salt-cured Kanpachi with lemon and Yuzu Kosho Kanpachi
Debbie: Ghochugaru Lime Kanpachi Nigiri with Togarashi Cucumber Salad
As you might expect for a sushi show where the bulk of contestants have little sushi experience, the overwhelming sentiment from the judges is the lack of seasoning of the shari. Not so for Michael, who's shari is called the best so far, prompting Venoy to ask for a taste.
Michael, the most extra human I've ever seen on a cooking challenge show, blocks his path with a sushi knife. Not kidding.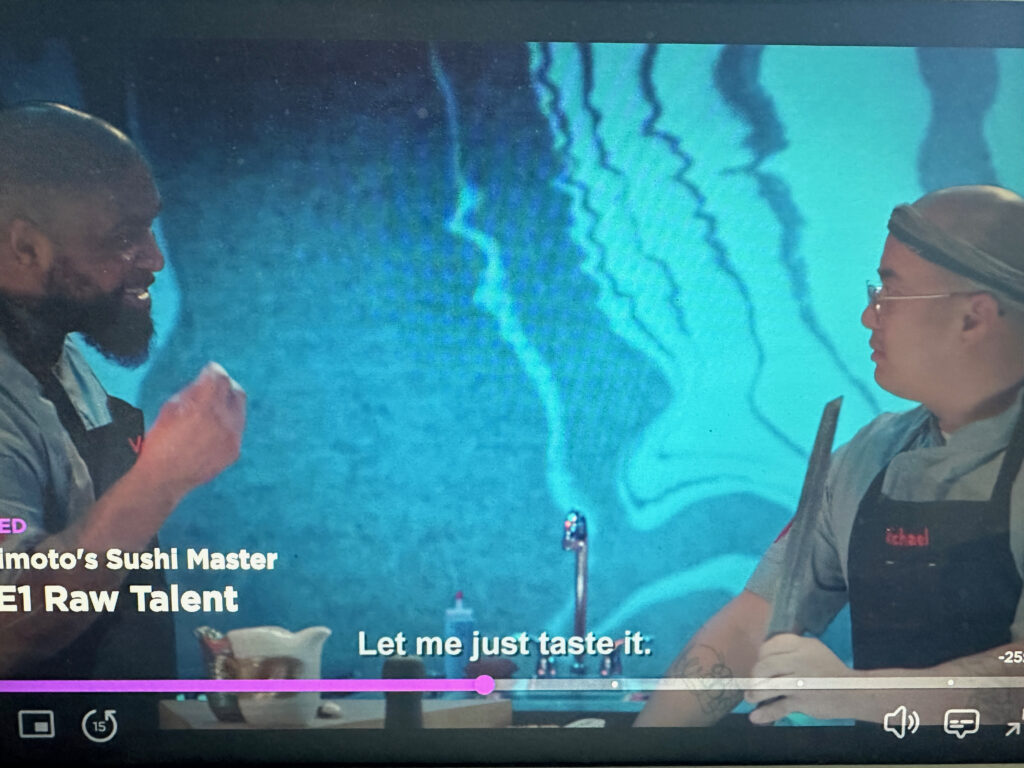 The Kessou Challenge shows that this competition has very little to do with sushi
So the producers lay out a number of sushi delicacies. There's Aji, there's Uni, there's Hirame (which Frances chooses as her advantage from winning the Ikouze), there's even Awabi. And yet look at what these people make:
Frances: Corn Crusted Hirame with Soy and Browned Butter and Hirame Oshizushi

Venoy: Koji-cured salmon with exotic mushrooms and miso-glazed BBQ Salmon Belly (there's also a shiso in there)
John: Spicy tuna crispy rice and seared tuna with nikiri
Eric: Kinmedai Crudo and Kinmedai Coconut Curried Soup
Debbie: Abalone Sashimi Congee with Kimchi Mignonette & Juk Style Abalone with Dashi Broth & Yangnyeom
Michael: Chirashi Bowl with Hay-smoked Aji (he brought the hay with him), Salt & Vinegar Marinated Aji & Aji with Scallop Roe
Jason: Mirugai Guacamole Wonton Crisp with Pico De Gallo & Arugula Salad (tried the Okonomiyakiand and failed)
Lauren: Coconut & Uni Ceviche & Uni Chawanmushi
From skipping ahead a few episodes, this is a trend. So be warned: if one defines sushi as needing to include at least vinegared rice and/or raw seafood, very little about Morimoto's Sushi Master includes Sushi. 
It's not surprising, as Morimoto-san rose to fame on the Americanized/eclectic/fusion style that eschewed tradition for spicy mayo. But even for him, those 8 dishes were a bit much.
Jason gets sent home
No surprise, as the wonton crisp with bits of Mirugai was straight out of the PF Chang's test kitchen.
But shoutout Lauren for staying alive, because the texture of her Chawanmushi was something else.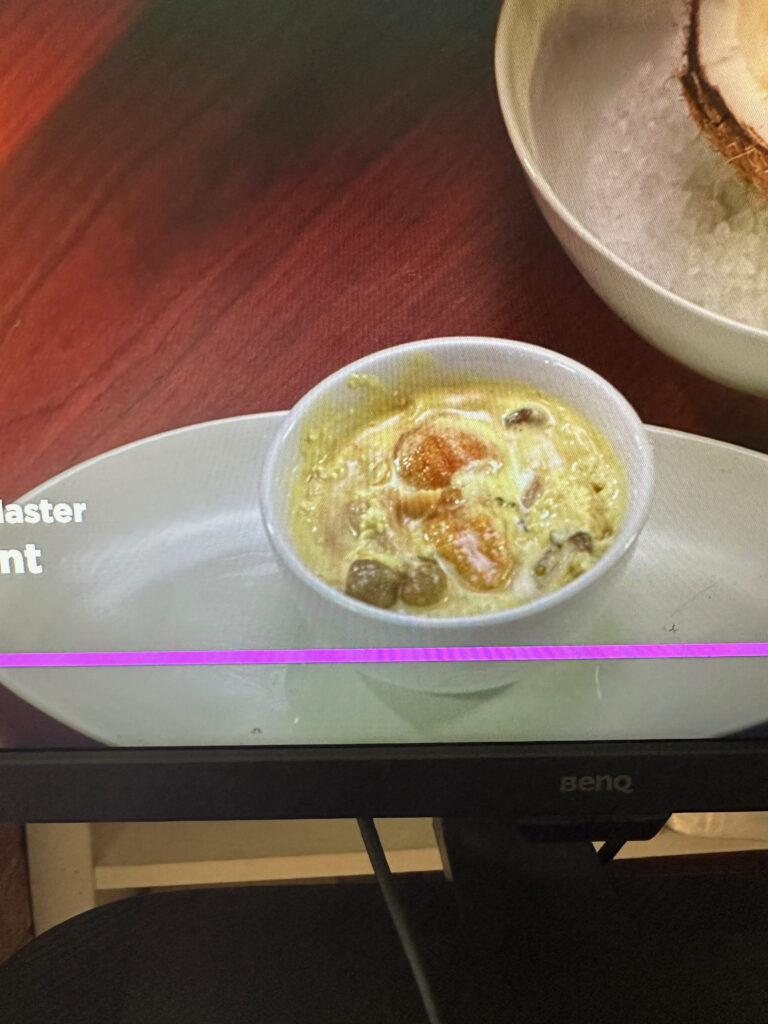 This show quickly became a must-watch for me
Not because it's good. It's not, though Dakota's explanations and Kenji's insights (when he's on camera) are welcome.
Rather, I find it very entertaining to watch 8 people with no to some sushi experience completely butcher my favourite cuisine (as long as I'm not paying money to eat it).