For those of you keeping score at home – and I know some of you psychopaths are – this will be the quickest I've ever posted a review post-meal.
4 days from counter to post may not seem that short. But if you think about it in the context of the Cuban Missile Crisis, this was 1/3 of that. Pretty short.
So what was so pressing that I had to tear myself away from March Madness? My lunchtime visit to 江戸前鮨 㐂扇 Sushi Kisen, a sushiya in Arcadia, that is – as of this writing – the best I've been to in the Los Angeles area.
Kisen first appeared in my universe when we were putting together the LA Omakase List (check it out here). Mrs. Sushi Legend sent me this image from their menu and, needless to say, it was love at first sight.
That picture personifies how seriously the Kisen team, led by Executive Chef Hiro Yamada, takes their Sushi. And people are noticing: the 10 seat counter and 15 or so tables were all jammed on a weekday afternoon. Yes, that means there's a wait and yes that means parking was difficult in the strip mall that Sushi Kisen resides.
But some of you people in Los Angeles will queue for a Goop pop-up, so I'm sure you'll wait for great sushi.
Let's briefly set the stage
While Hiro-san is labelled as the Executive Chef, it's a great sign of the quality that I was served – and so impressed – by someone else, Makoto Asami. Makoto-San relies on the slightly warm (but not hot!), perfectly seasoned and densely packed Tamaki-branded Koshihikari rice to form his nigiri, and it's impossible to tell the story of Kisen's quality without it or him.
Hiro-san and Makoto-san are part of a team of 6 sushi chefs that preside over the counter, which is open at both lunch and dinner for a minimum spend of $80 on an Omakase only.
My Omakase came in at ~$80 plus tax and tip
Unlike nearly every sushiya in New York City, Kisen is one of many in the Los Angeles area that treats its Omakase like a faucet. Sushi keeps coming, and the price keeps rising, until you turn it off. As a result, I've included the prices of each course in the walkthrough below.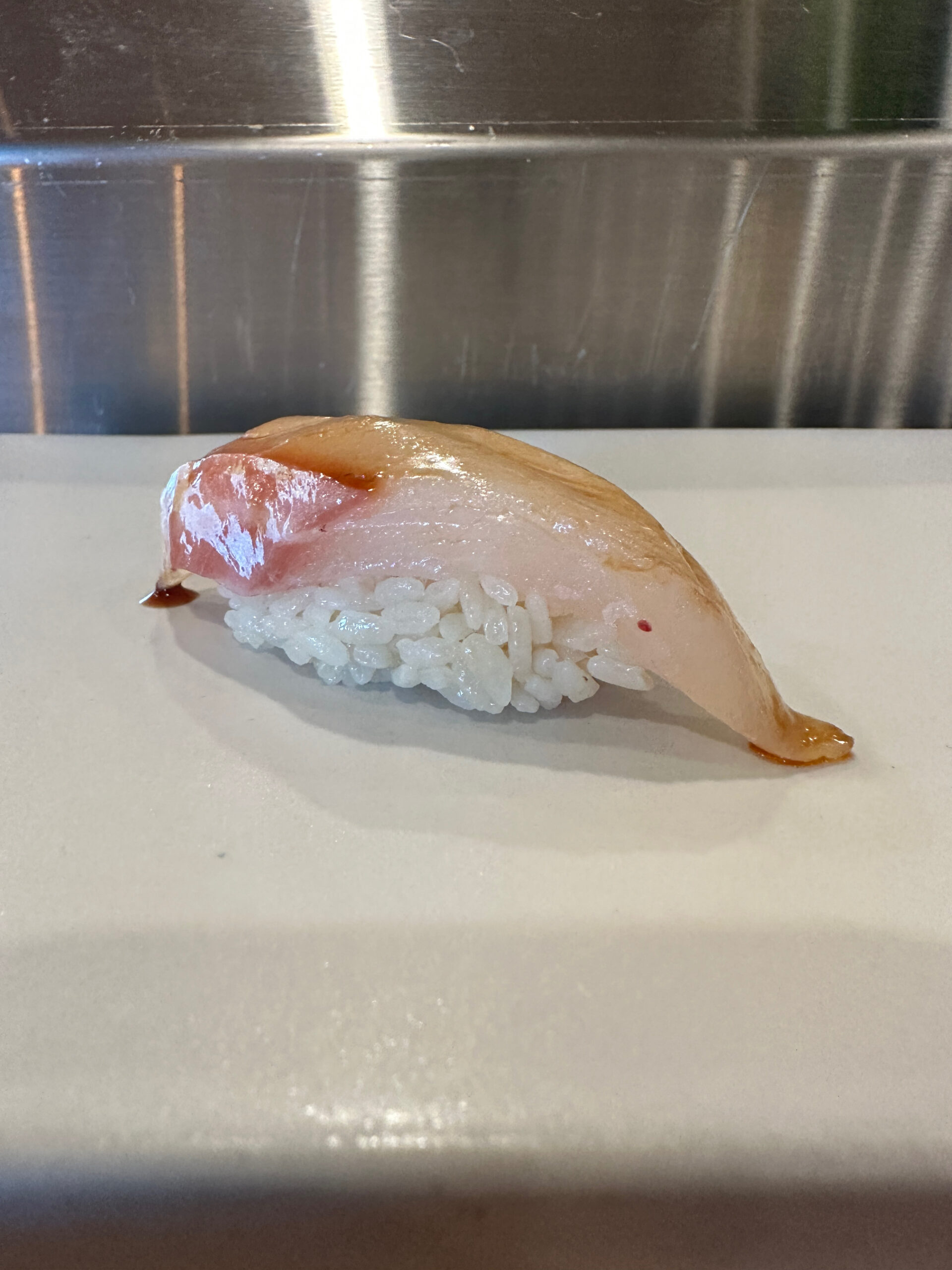 The first nigiri course established two things.
First, that this is a sushiya that knows what they're doing. I immediately noticed the shari (the rice), and you will too.
Second, that even this fantastic, best-in-class (hate that phrase) sushiya gets confused by whether they're serving Tai or Madai as "Japanese Red Snapper". Menu says Tai, server said Madai. They're two different fish. We need a global summit on this.
If you haven't figured it out by now, the style at Kisen (or at least with Makoto-San) is to serve their nigiri on the larger side. And as older readers may recall, I have in the past very politely called bigger nigiri "pregnant" sushi. If you're wondering how I can explain why I enjoyed Kisen so much within that context, the answer is very easily.
Sushi is about proportions between the Neta (toppings) and the Shari. At 99% of the sushiya that serve bigger nigiri, it's because they are incorporating a barrel of stale rice to fill you up. The expensive stuff – aka the Neta – is still small.
The proportions are off, and therefore it both tastes bad and falls apart in your hand.
No such issue here.
Kisen isn't exactly within the LA city limits
A reminder in case you don't have access to a map. Sushi Kisen is a drive. A beautiful drive, with the San Gabriel mountains in the background, but an annoying drive nonetheless, in an area famous for them.
The 2 hour roundtrip meant I had to cut short my on-the-ground investigation of Scandoval. I was reluctantly fine with that, but you and Ariana may not be.
The good news is that it seems like the drive may be shorter come late 2023.
The bottom line
Let's start with the price. $80 for 14 courses of nigiri, temaki and Mozuku seaweed is a fantastic deal in any major city, never mind one where people routinely spend $80 for two shakes at some place called Erewohn.
Then add a dash of skilled preparation, starting with the Shari itself and including the experienced and team that run the counter.
Finally, the ingredients themselves. Sushi Kisen proudly offers 30-40 types of fish, Kai (shellfish) and other regular and irregular Neta daily. They also proudly utilize 3-4 different rice vinegars, depending on the season, including these two beauties below:
In fact, my only regret was leaving too early and missing out on Shirauo (ice fish), Mirugai (Giant Clam) and Komochi Konbu, which is Kazunoko (Herring Roe) layered on Kombu (kelp) that may or may not be lifechanging.
Highly recommended.