Of all the 125 or so reviews I've written on sushi restaurants – sushiya – over the past decade plus, Sushi Park was unquestionably my most difficult.
Not because it was tough to assess, because it wasn't. It's not good. That part was easy.
Not because I had writer's block. I promise there are enough dumb thoughts running around this brain to last a lifetime.
No. The issue, dear legends, is that someone I respect greatly arranged for our reservation. Turns out, it's one of those restaurants that isn't as easy as reserving on Tock. As you can imagine because I'm not an asshole, I was a little concerned about blowing up their spot, having them hate me forever, etc.
Anyways, it's been two months. Long enough. Let's talk about why I'm not a fan of one of Los Angeles' darlings.
But first, the background. Sushi Park is located in one of the only areas of Los Angeles that I can tolerate- West Hollywood, literally in a strip mall right on famous Sunset Blvd. It makes for a fantastic vibe right as the sun is setting against the backdrop of the beautiful Hollywood Hills.
Sushi Park has been around for many years and earned a reputation among Los Angeles sushiphiles;
Google has it's rating at 4.7.
The Infatuation lists it as one of the best sushiya in Los Angeles.
And a Yelp review champions that "They basically keep notes on all of their customers' likes and dislikes and greet you by name…". No wonder it's important to know someone.
Inside, a 8 seat sushi counter, 5 small tables and a team of four sushi chefs (along with a dedicated service crew) keeps everything moving smoothly. It's all intentionally non-descript, with the sushi left to do the talking.
Unless of course you're eating next to your sister who is a complete sushi rookie. In that case, you're doing the talking, not the sushi, and the subject of the conversation – for at least 20 minutes – is how we gently break to our parents that it's time to move to a condo.
Couldn't be me.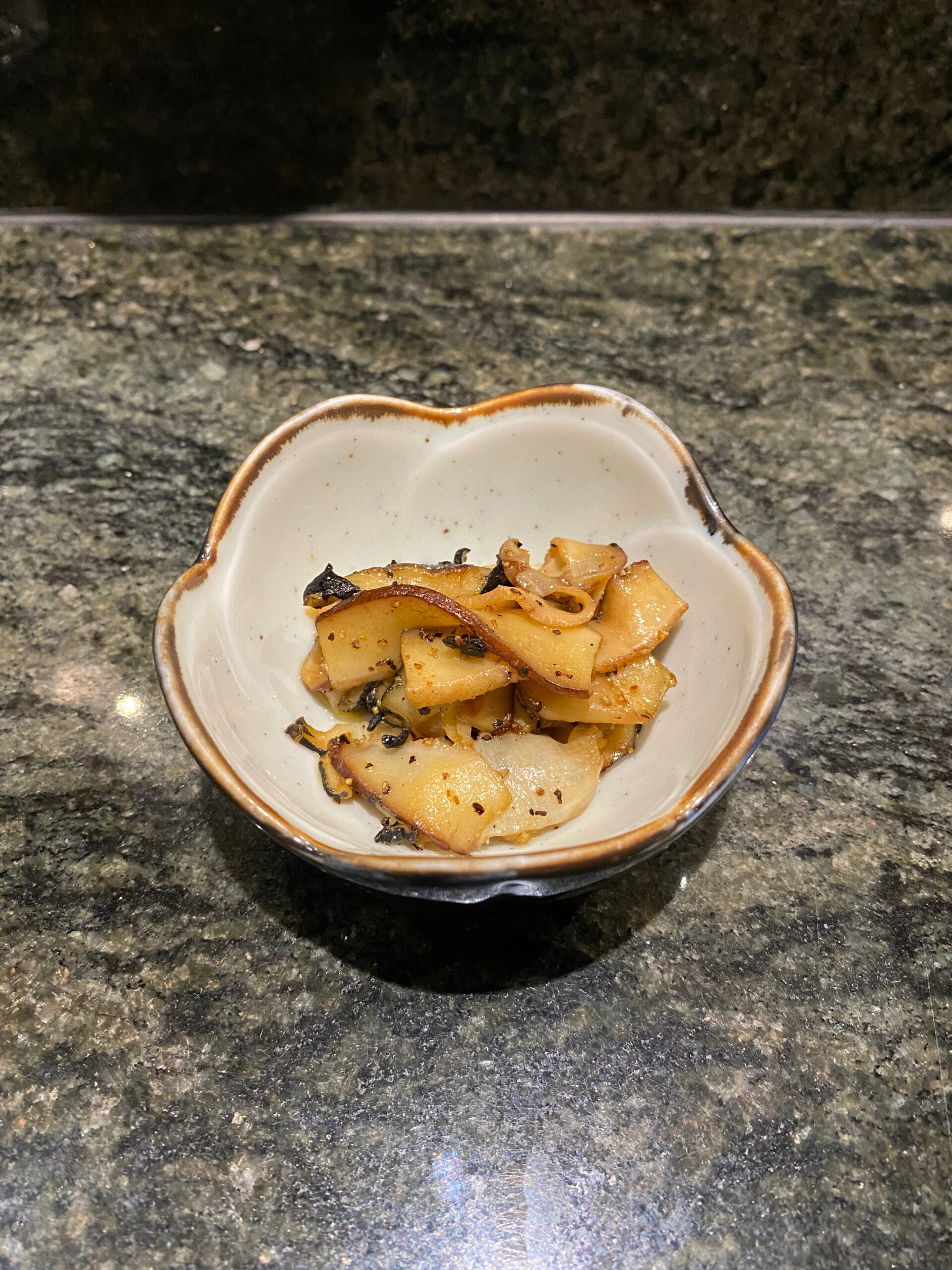 The Menu
Sushi Park has both a la carte and Omakase options, but most customers at the counter will lean towards the latter.
But be forewarned: there is no set price.
Rather, the sushi keeps coming until you tell them to stop, and the bill builds accordingly. See mine below.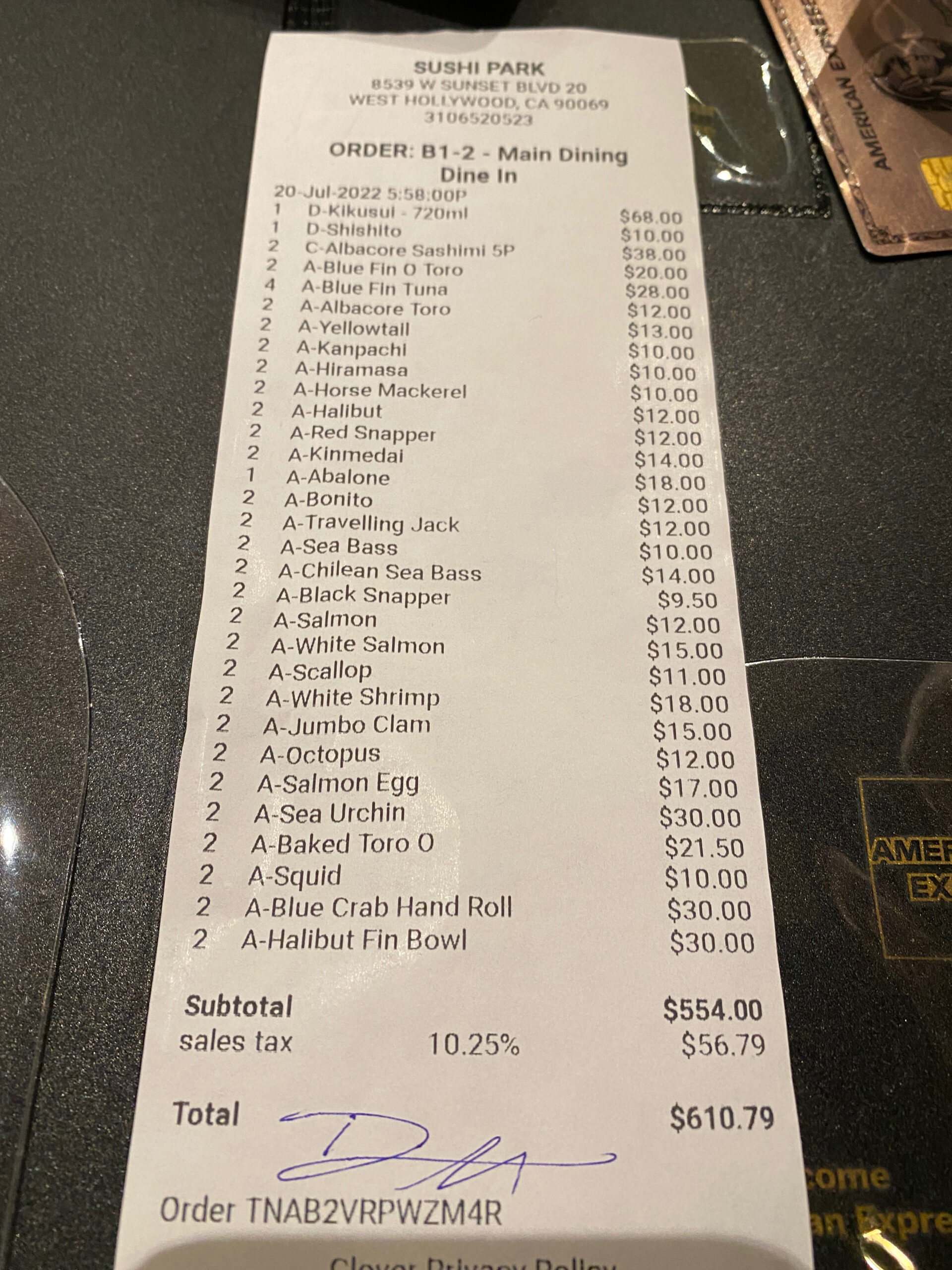 Not cheap. That's fine though; I'm used to New York City's four hundo club of sushi restaurants. But I expect decent quality for that money – not unreasonable.
By the way – for all you Annie Leibowitz's out there – Sushi Park has a restrictive photography policy and so I kept my photos to a minimum. As many longtime readers know, I prefer it that way – it's always weird to snap a photo of everything I eat – but that's the nature of the content game. People want pictures.
Below is a selection of some of my favourites.
Let's talk about my concerns
The first thing you'll notice when the nigiri start showing up is its size. More specifically, the size of the Neta (topping) compared to the rice.
I'm not a "size matters" kind of person. I'm not even a "make a sexual innuendo about size mattering" kind of person.
So if I notice it, you'll know there's an issue. And from a quick peruse of the reviews on Yelp (clearly the be all and end all), others have as well.
I was also frequently puzzled about the names of the fish. Jackfish (was actually Striped Jack), Albacore Toro (it could have been, but let's just say I'm very skeptical. Notoriously lean fish with a limited belly area).
Most importantly, remember that sushi that keeps coming until you say stop? That source of multiple warnings from the wait staff?
Turns out that's all bogus. When we reached 16 courses, they ran out of Neta options. We shifted to a Temaki ender and left soon after.
So what's going on here?
Why does everyone love this sushiya?
My pet theory is the sign. This sign: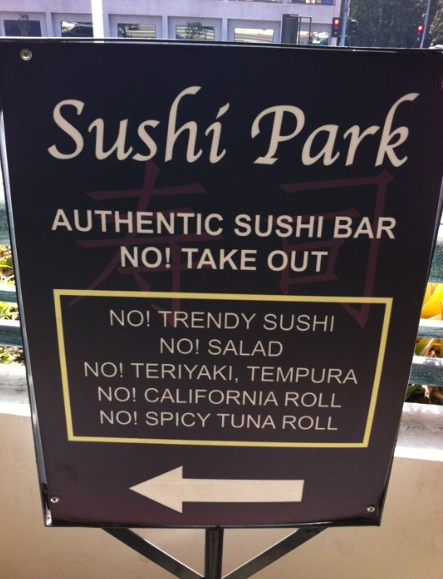 People in Los Angeles were so enamored with revolutionary concepts like "no california rolls" when Sushi Park first opened, that it quickly became a cult hit. It just never kept pace with new spots, many of which were opening with the same sensibilities but superior quality.
That said, I'm still surprised that it retains such strong popularity with Los Angelenos.
Actually, I take that back.
A sushiya that warns you that they won't stop serving but then do when they run out of fish?
A sushiya where customers uses chopsticks and pick around rice, yet continues to provide glowing reviews?
A sushiya that halves the size of its nigiri and pretends its normal?
That's a sushiya that is strictly concerned with appearances.
And in that way, it's PERFECT for Los Angeles.
Not recommended.