As I sat to write this negative review (spoiler alert), I couldn't recall the last time I didn't recommend a sushiya.
A quick filter on my sushi reviews page confirmed my suspicions: July 2020. Sushi Yasuda (and even that was take-out only).
(Editor's note: ended up panning Sushi Park also, another LA sushiya. Hmmm….)
The reason isn't exactly rocket science. Sushi is expensive (prices are up ~20% in NYC year-over-year), options are plentiful, and information (like other reviews) are more accessible than ever. The places I pick are more likely to be strong than weak.
Sometimes though, one falls through the cracks. That was the case with Yasu Beverly Hills.
A Toronto Transplant
Growing up in Canada means living in the shadow of the United States. Regardless of how the two neighbors compare – and there is no comparison, Muskoka, Vancouver Island, the Okanagan, Newfoundland – Canadian life is usually framed on how it relates to America.
For instance, shopping and dining; growing up in Canada, there was always a yearn – very dumb in retrospect – for someone to import the Cheesecake Factory or Abercrombie and Fitch, though I was always more of a Hollister fan (Holliwoods we called ourselves).
So when Yasuhisa Ouchi announced that he was opening a second location of his namesake Toronto restaurant south of the border – in Beverly Hills no less – I was very intrigued.
It also helps that I enjoyed the first location, which opened in the Annex in 2014 to immediately strong reviews including mine. In some ways, Yasu 1 pioneered the Omakase-only sushiya trend in Canada and they certainly let you know it: their website proclaims that they are "Canada's first Omakase Sushi Bar".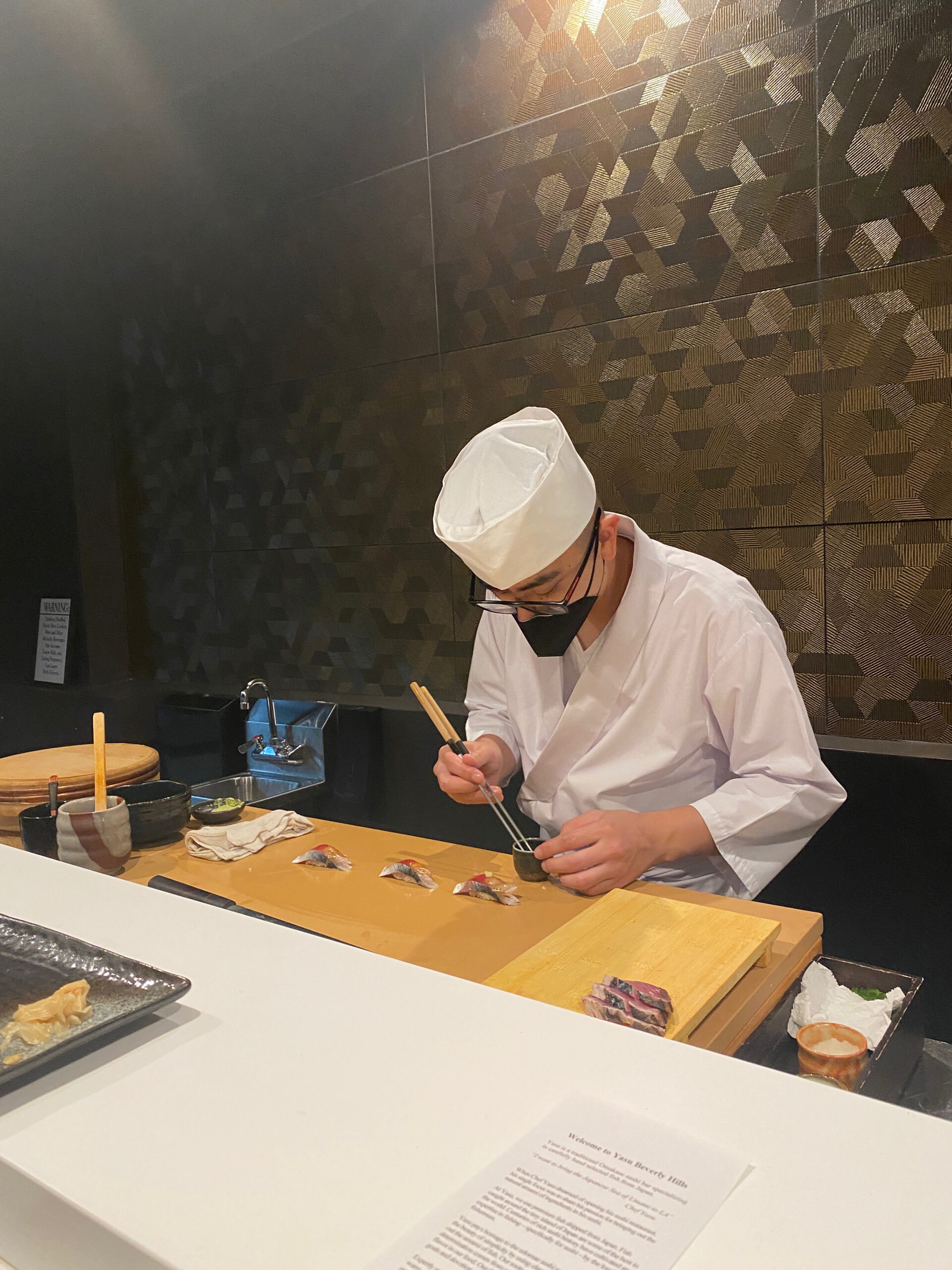 Reservations and the Omakase
Yasu offers one menu; an Omakase at $195, plus a mandatory 18% service charge. There are ostensibly two seatings, 6:00pm and 8:30pm. Note this is not a sushiya that requires the midnight reservation snipe; we booked our reservation about 45 minutes before, and a casual look at Resy tells me that there isn't one seating fully booked for the next month.
The meal starts with a Sashimi Moriawase course, followed by a procession of nigiri and a small bite.
I liked the sashimi course, but there were immediate questions about the presentation. Chu Toro long and thin, Kanpachi wider with no depth, Hotategai served peculiarly as an 80% hockey puck.

The team is green
While I'm not someone who asks the scientific genus of everything served, there are people who do. If that's you, good luck. Aji was presented as jack fish (?) and Maguro – served as Akami and O Toro side by side – was presented as being "from Canada".
Now, Canada is a big place. And yet, I still get asked by Americans if I know "Mark from Alberta" – other Canadians will have similar stories – so I'm not surprised that the second biggest country on earth which borders two massive oceans is treated as a monolith.
Another fun aspect of the Canadian sourced Maguro is that Yasu's website mentions that the Omakase is "based on the freshest and seasonal fish sourced from Japan". I don't care, but if you're someone who does – eyes wide open.
Also the prep just isn't there
The shari (rice) lacked seasoning and flavor. Hard to tell through the pictures, but the colour on the picture of the Kinmedai (below) will be obvious to discerning eyes.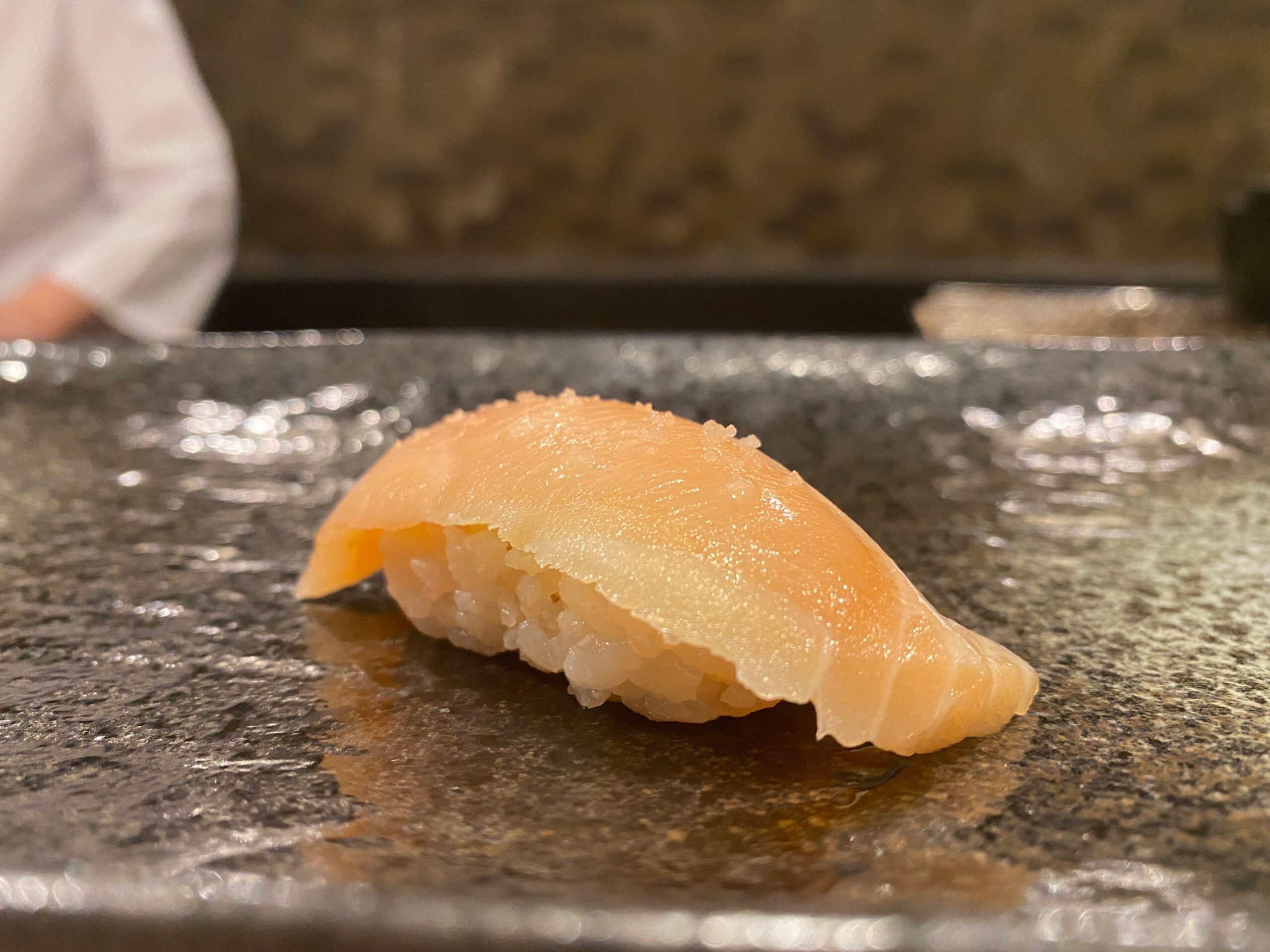 The Neta itself was mostly fine, though I had issues with the accompaniments. See if you can spot the problem in the Snow Crab below (yes it was referred to as that).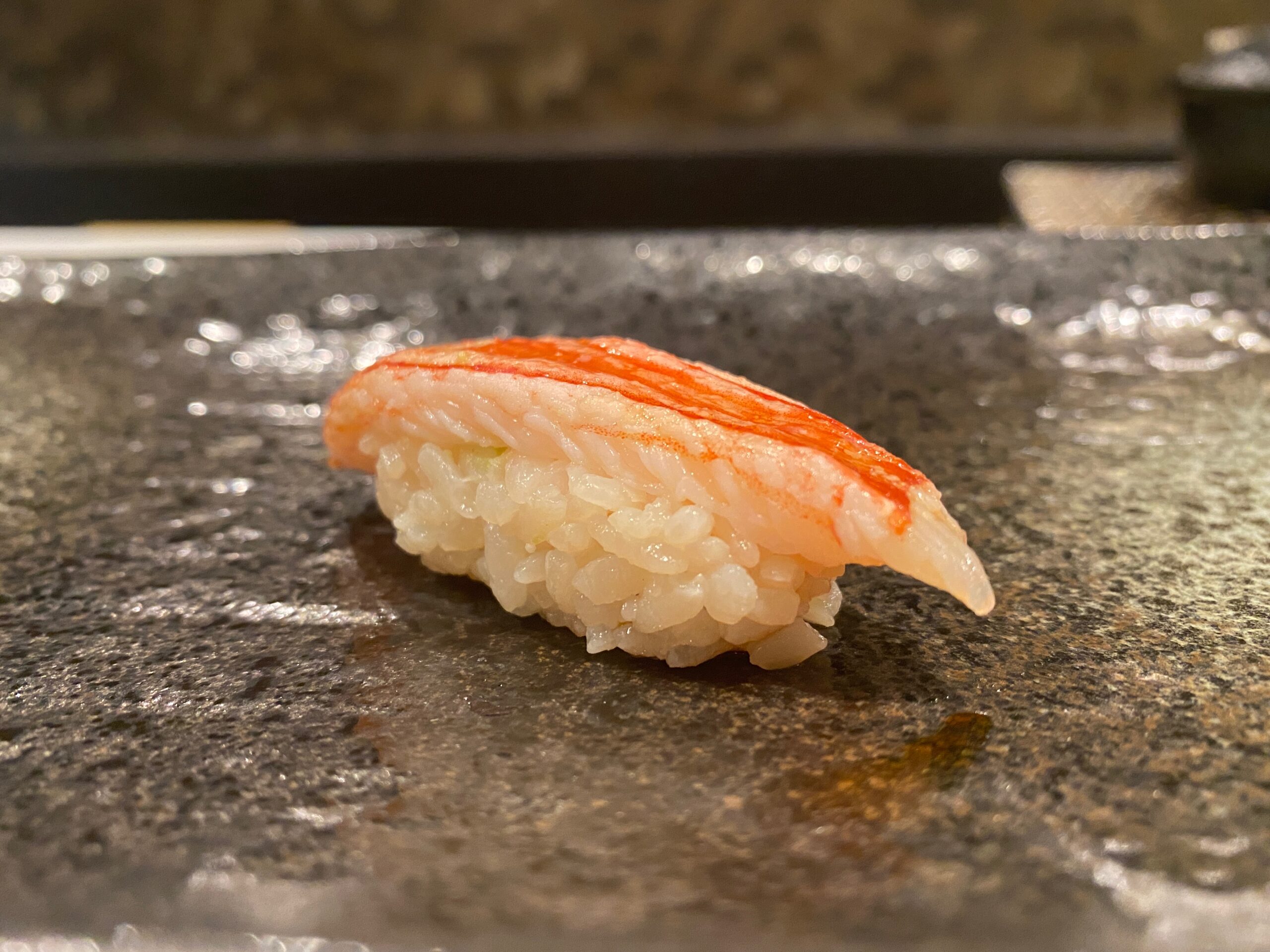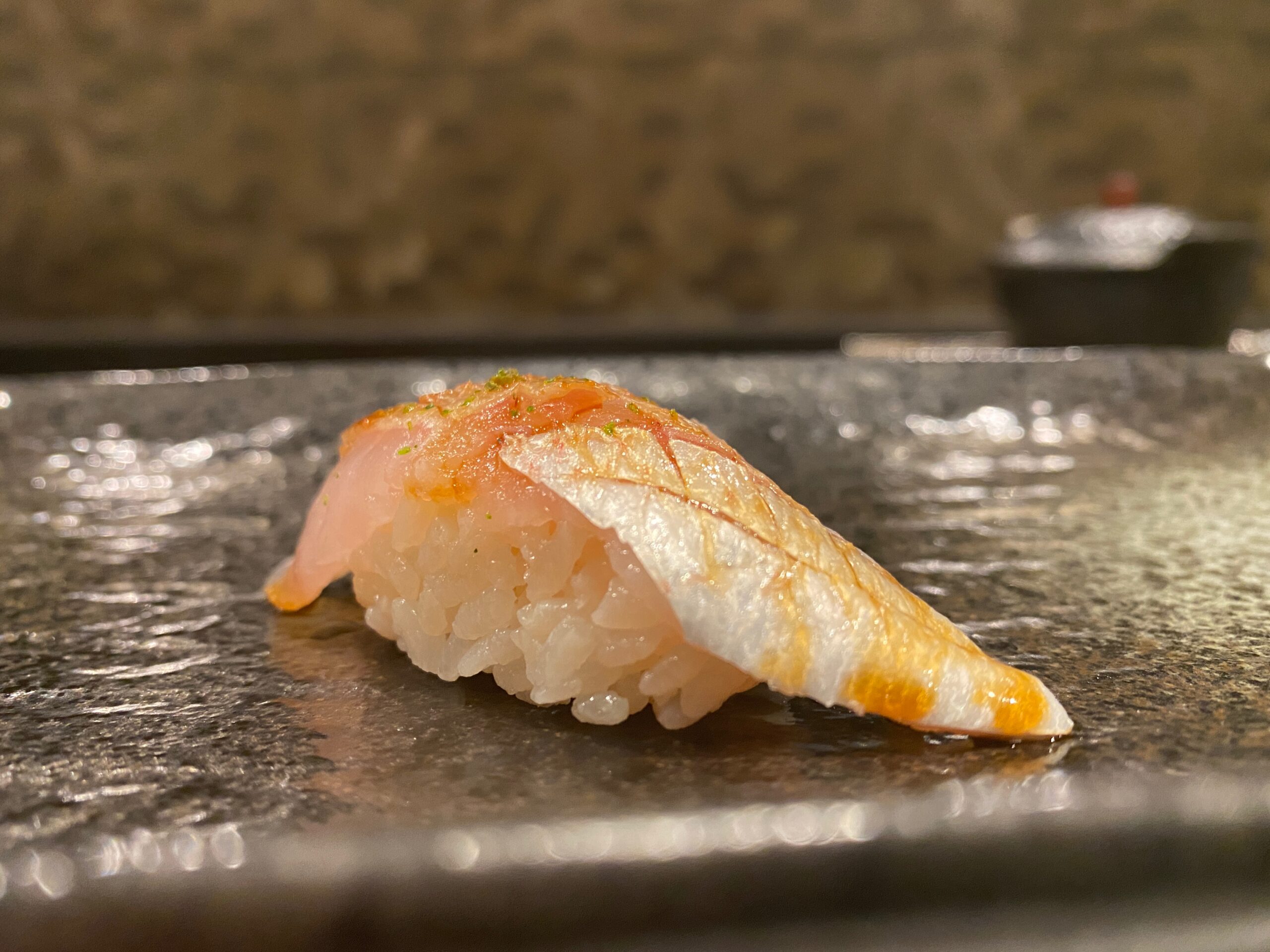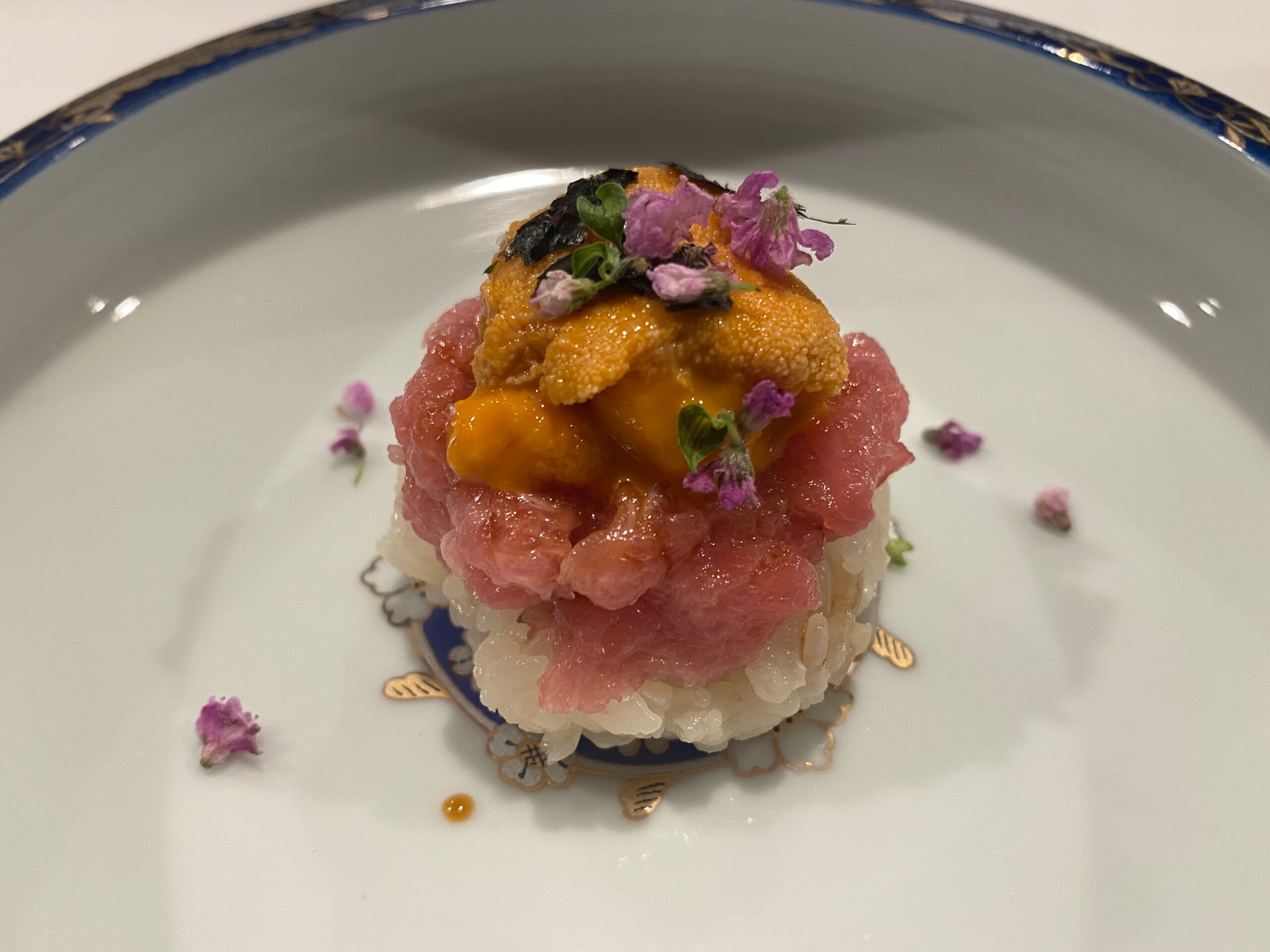 I'm someone who once stabbed their finger while trying to cut aged cheddar and had to go to the Emergency Room. So if I notice the knife work, we have problems. The Saba (mackerel) below was astonishingly pretty, a kaleidoscope of colours that surge through the screen.
And yet the second half of the Neta (topping) looks like it went through a meat cleaver.
The Katsuo (bonito) has a separate issue. Often chefs will make incisions in the Neta to help cradle the Shoyu and make it more maleable. But go too deep and you end up with the equivalent of two single beds, pushed together and with a double duvet on top to give the illusion of a bigger bed. My grandparents (love them of course) and European hotels are very skilled at that move.
In conclusion
Ultimately (and unfortunately), Yasu is a sushiya that I had high expectations for but let me and my dining companion down. The level of care and expertise of the Itamae (or at least the person that served us) wasn't there to justify my recommendation to my valued LA legends.
Not recommended.