When the book on the foundations of the New York City sushi scene is finally written, likely by me and my good buddy John Grisham, Sushi Yasuda will undoubtedly be a tenet/scene of the crime (Grisham…).
First opened in 1999 with it's namesake chef Naomichi Yasuda at the helm, it's remained in the same midtown east location ever since. If you've done a modicum of research into e New York City, you've likely heard of Sushi Yasuda. It's won Michelin stars. It's been featured on Bourdain. It's revered in the community. All of which made it even more embarrassing that I – a self professed sushi addict – hadn't yet visited. Until now. Dun-dun-dun.
Slight problem, though. A little thing called COVID-19 (perhaps you've heard of it?) forced NYC to close restaurants for indoor dining. No exceptions (or so I'm told). Higher-end restaurants like Sushi Yasuda were left with a choice: offer a watered down product for takeout only or close indefinitely. Easy to make the choice when quality is the only concern, but for many restaurants, financial realities make a year-long hiatus a virtual death sentence. And that's how I ended up ordering a $100+ omakase-to-go from a michelin-starred restaurant.
Before you scoff, somehow $100 is reasonable by COVID-takeout standards. Masa, for instance, is $800 (don't hold your breath for that review unless I'm underestimating my sugar daddy/mama readers).
Yasuda will tell you the quality is the same, but of course how can it be? Walking inside, it's clear the entire operation has moved to the kitchen rather than the counter, a practical move that nonetheless robs a beautiful restaurant of its most important aesthetic.
The other slight problem is the Itamae (sushi chef). It's not Yasuda himself, and hasn't been since 2011 when he retired back home to Japan. Great for him, but of course his gain is our loss.
Since then, his namesake restaurant has soldiered on with others at the helm, subsisting on quality, but also on reputation, location and efficiency. When we picked our meal up, it was waiting for us, perfectly wrapped for travel. Apparently it takes real skill to place the ice packs so that the the rice remains at room temperature rather than turning it into a hardened, cold mess. Who knew.
When you order the $100 takeout omakase, the above is what you get. 12 nigiri, which sort of approximates the flow of a traditional, sit-down omakase at the Yasuda counter. There are two shiromi, three tuna, two types of sake (salmon), two hikarimono, one kai (shellfish), one uni and one nimono (simmered seafood). T
he presentation is colourful, and it's easy to tell – even in takeout – that the quality of the ingredients is excellent. Take for instance, the Shimesaba (Mackerel), pictured below.
But the meal as a whole doesn't quite get there. Components like temperature and rice texture are obviously, clearly, naturally affected by time, so judging any of those in takeout is completely unfair. But the shape of the nigiri? The shari (rice) to tane (topping) ratio? The knife cuts on the fish? Yeah, those I feel pretty comfortable reaching a conclusion on.
To that end, exhibit A, the Iwana (char) below. It's hard to see (blame the photographer), but the humps at the back and front somewhat show the excess rice, and there is an accidental knife cut horizontally across the front part of the fish.
Here's Exhibit B, the Bafun-uni from Japan, a decadent summer Neta. Bafun Uni, or the short-spined sea urchin, generally has smaller "strips". As a result, most sushiya will turn it into Gunkanmaki (battleship-style) to avoid the separation you see below. For more information on Uni, check the glossary here.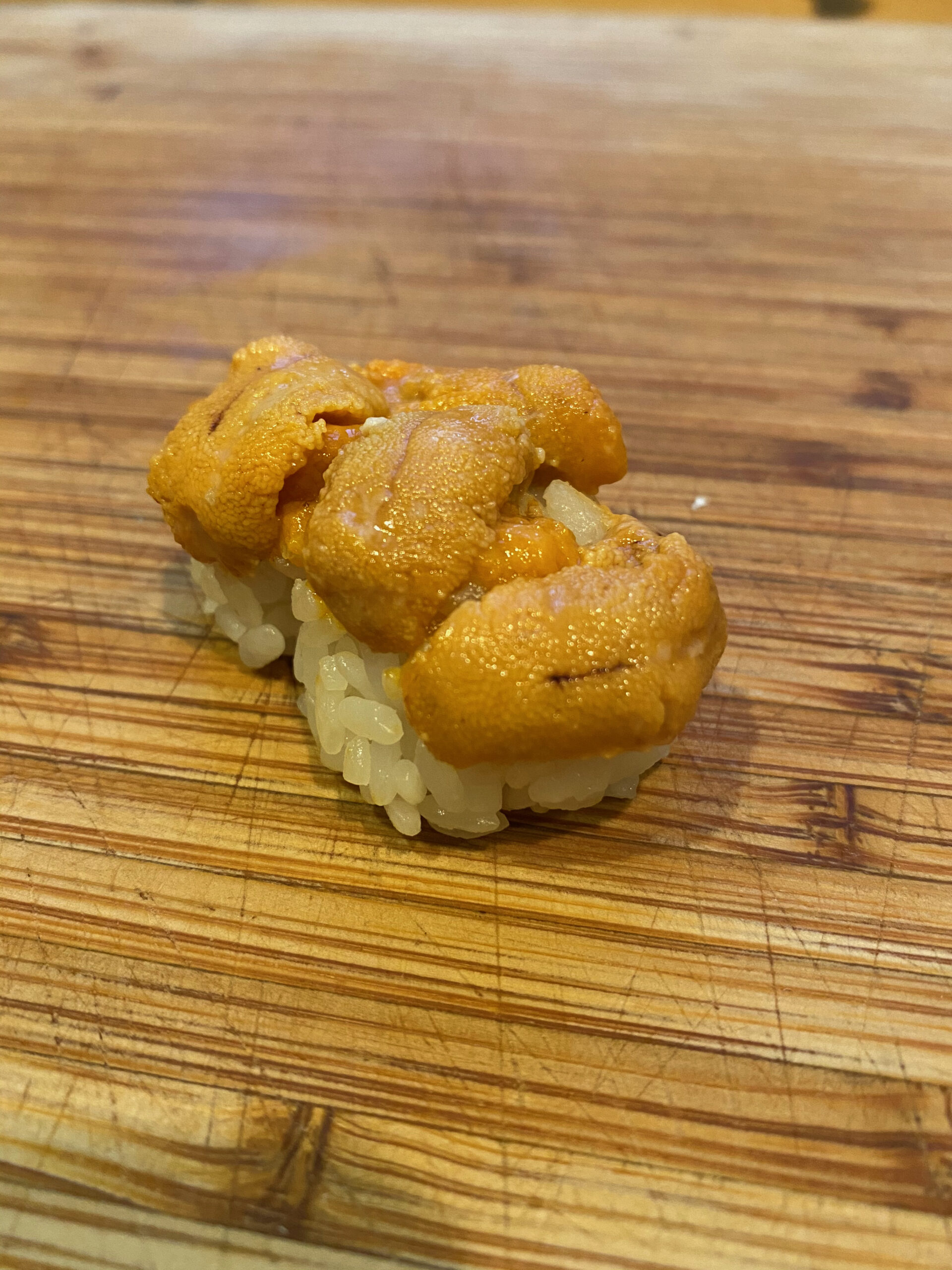 The rest of the nigiri follow a similar theme: wonderful quality (just look at the colour and fat in the King Salmon below), but inconsistent execution. I'm sure it's tough; You don't have to be a leading economist to know that up-market restaurants face a challenge of how to maintain the quality they're known for while still finding a way to bring in revenue. It's a business tale as old as time, and the answer for many has been takeout and delivery at dine-in prices. Sushi Yasuda does that, and to their credit, offers sushi in their omakase that's not listed on their a la carte menu, a nice perk.
But the pandemic also works both ways. Many customers – like I'm sure some of you reading this – are reconsidering where to spend their hard-earned money given the societal uncertainty. Yasuda's team has made the choice to set their takeout omakase at $100, and so when some nigiri – like the chu toro above – comes with rice that hasn't been fully packed in, Poirots like yours truly will notice. Given the roller coaster quality, it's hard to recommend shelling out three digits at Sushi Yasuda when there are so many other wonderful options in the city.
Now again, this is where context matters. I'm told that Sushi Yasuda is at its best during weekday lunches when an eclectic mix of professionals tourists come together for some of the best sushi value in midtown Manhattan. I'm looking forward to doing the same whenever the apocalypse ends.
Editor/writer/publisher/operator note: As of late August 2020, Sushi Yasuda is now open for outdoor dining.