If you're a longtime fan of this blog, its instagram or youtube (subscribe kiddos), you'll already know that I'm waist-deep in passion for Kosaka, pound-for-pound one of the best sushi options in New York City. In case you need a refresh, Kosaka is a west village sushiya run by keen operators and Yoshi Kousaka, the eponymous itamae that manages the counter like it's his literal soul. Since opening in 2015, Kosaka has been awarded multiple michelin stars (if that's your thing) and firmly entrenched itself as an alternative to the glitzy tourist traps like Sushi Nakazawa and <REDACTED TO AVOID ANGRY EMAILS FROM PUBLICISTS>.
Now, literally right in the midst of a global pandemic, the same team has opened a sister restaurant, Maki Kosaka, a down-market option aiming to capture the fast and casual but-yet-still-premium sushi trend that has sprung up across the city. That means a menu filled with more seasonal and reasonably priced a la carte options. But the artistic flair that the original Kosaka is famous for remains (seriously, check out their ceramics if you ever go). Maki Kosaka takes it a step further by having a literal flower shop inside the restaurant. Those flowers add a little je-ne-sais-qua (spelled perfectly, don't worry) to both the restaurant and the outside "patio" (see below), which is useful given that the surrounding street isn't exactly the prettiest.
'Outside' is the key word here, because, as of late July 2020, the city of New York still prohibits indoor dining. So why open under such difficult circumstances? Well, it's not as simple as flipping a switch. Before COVID-19 cases surged in June, the city had anticipated allowing indoor dining in early July. Ramping up a restaurant isn't an overnight decision, so operators like Maki Kosaka's Mihyun Han were aiming accordingly, not to mention the months of pre-pandemic work that go into opening any restaurant. When New York City altered course on indoor dining, stopping their grand opening wasn't a choice. And so, a mix of limited street dining and pickup is what Maki Kosaka has to offer right now.
Mrs. Sushi Legend and I went the pickup route, which wasn't a challenge given the robust menu (by COVID standards). As the name might suggest, Maki Kosaka partly focuses on Makimono (aka cut rolls for you neophytes). There's 7 types of maki on offer, including a veggie-only futomaki. But where Maki Kosaka really shines is with their self-titled "grab hand rolls".
What does that mean? Essentially, it's nigiri on steroids: more fullsome rice, a wider variety of neta, all meant to be wrapped by you in the pre-cut nori provided by the restaurant. You can see them two pictures below this paragraph in the circular dish.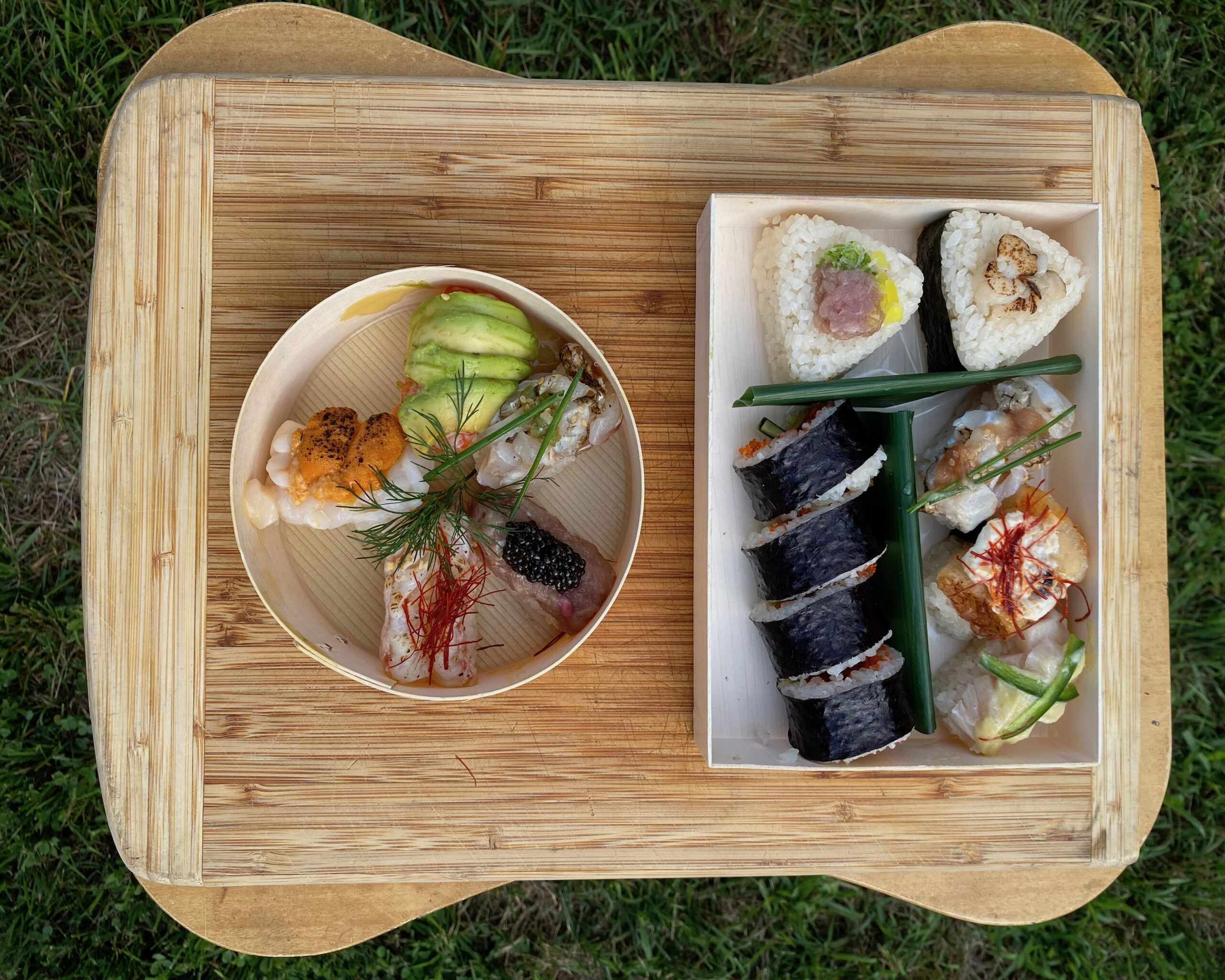 These 'grab hand rolls' harken back to how sushi used to be in the original Edomae Sushi period. At that time, it's said that nigiri were so big that 3 or 4 used to be enough for a meal. Maki Kosaka takes a more modern approach – something tells me 19th century Japan didn't have avocados – but it's based on a similar principle. And it's a principle that's starting to become more common. For instance, have you heard about the famous (or infamous…) $800 takeout from Masa? They do something similar.
That size is why the 5 piece combo we ordered ($45) was pretty filling. Pictured below in a surprisingly (for takeout) stunning dish, it comes with a variety of options, all of which are meant to be wrapped with the provided nori. The highlight? The hotategai (scallop) and seared uni, one of those perfect pairings that Kosaka also relies on at the main restaurant.
Our stomachs did need more, however, especially given that yours truly was in hour 14 of a pre-doctor's physical blood draw. And so we got Makimono set #2 ($50), which offers more of a variety. I'll list what that entails in bullet form since we're almost at 800 words:
4 vegetable Futomaki (cucumber, takuan, gobo, shiso, kanpyo, tobiko)
3 grab hand rolls: salmon avocado with yuzu miso, fried chilean sea bass and hamachi with sesame dressing
2 Onigiri: Chu Toro/ Scallion/Takuan and Hotate Aburi.
The Chu Toro/Scallion/Takuan Onigiri was particularly wonderful, combining one of my favourite makizushi (Toro Taku) with Onigiri, one of the legendary on-the-go snacks. I don't write enough about it, but I've got a review in the can for Omusbei Gonbei, an under-the-radar Onigiri joint in NYC. It's worth a visit while you wait with bated breath.
Maki Kosaka, like the original, is as an absolute delight, particularly during pandemic life. That said, when they do open, their beautiful sushi counter (picture below) will apparently be open for omakase options starting at $80. Stay tuned for that blog, sometime before 2040.