Even in a city that has been recently inundated by openings of high-end sushiya, the online buzz around Yoshino in the East Village has been a surprise.
I guess it shouldn't have been.
That's because by all accounts, Tadashi "Edowan" Yoshida, the Itamae and co-owner, is the first itamae to close their high-profile sushiya in Japan and re-open in New York City (no clue who actually tracks this stuff). Even for a city that is extremely addicted to sushi, and familiar with similar-echeloned spots like Shion 69 Leonard, Sushi Noz and Masa, that means something.
A true Sushi Legend
Earlier this year, Andrea Fazzari profiled 20 Sushi Shokunin (masters) for her aptly named book, Sushi Shokunin, a fantastic piece of culture (that I spoke to Fazzari herself about for my newsletter). Among the Saitos, Kimuras, Sugitas and more, there was Yoshida, clad in a Yankees jersey, already embracing his new digs (though his choice of baseball team is suspect).
What brings him to NYC
So why make the move? Well it's easy to forget when you spend 4 months a year inside Manhattan's concrete oven of garbage and heat, but New York City still means something globally. As Yoshida-san himself put it in Shokunin:
I have waited for an opportunity like this my entire life…I chose to come to New York City because it is like taking on the world.
From 2012-2019, Yoshida's world was in Nagoya, the capital of Aichi Prefercture, hometown of his wife, and change point for me and my wife on our trip to Ise Shima. There he built Sushi No Yoshino, 4.64 on Tabelog (Japan's Yelp), one of the best restaurants in the region. In 2019, he moved to New York, and with the assistance of a who's who of architecture and restaurant management, he began to build in the big apple.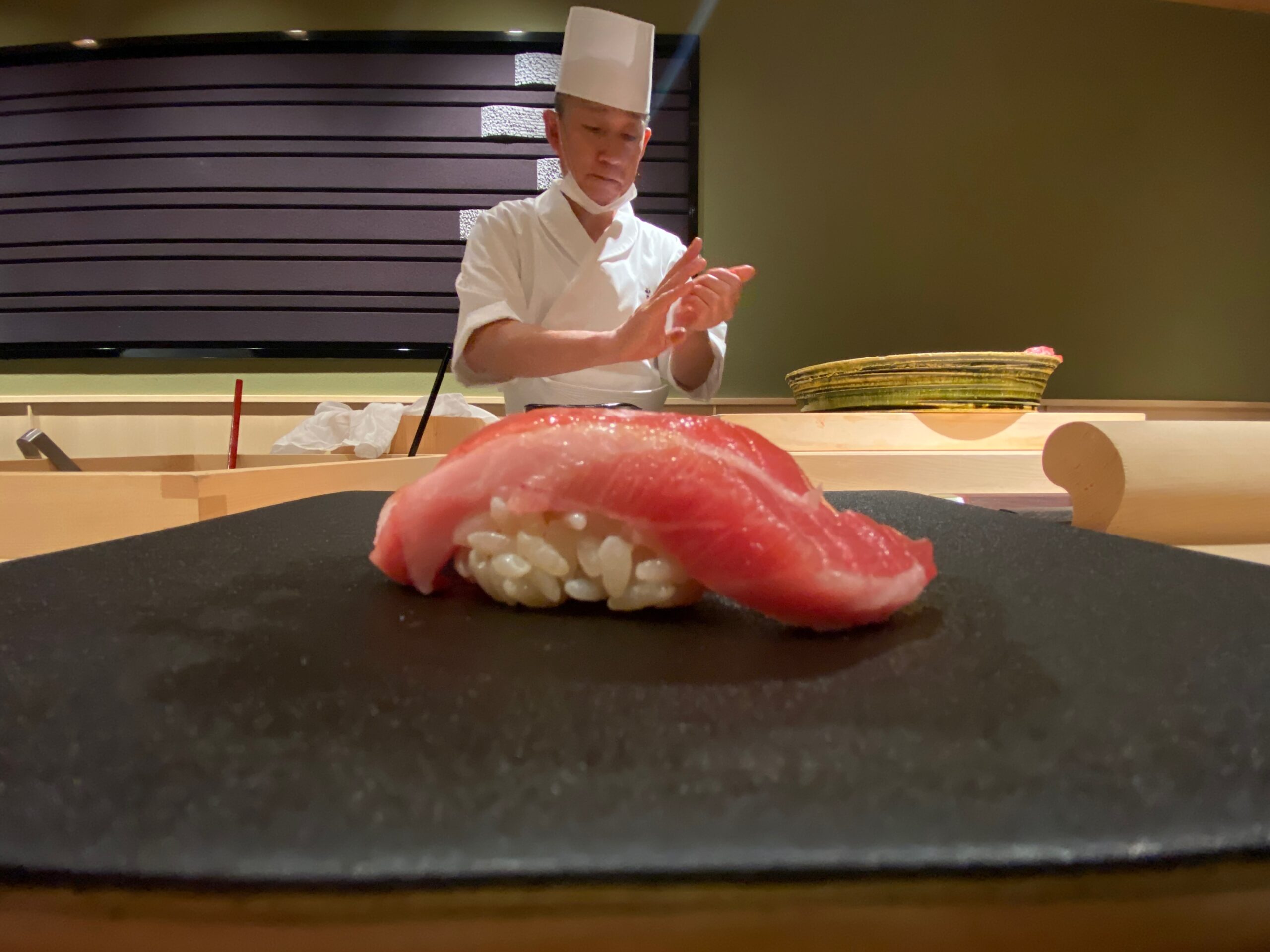 And oh that buzz
Yoshino opened in September 2021. Since then, getting a reservation for one of two nightly seatings (5:30pm and 8:30pm) has been as easy as understanding what the Dolphins are doing with Tua. That is to say, it's impossible: prepaid reservations are booked solid for 2 months, so constantly checking for cancellations (refundable 48 hours before) is a must.
But as you might suspect given the pedigree and waza (technique) of the chef, the ingredients he uses (more in a moment) and the aesthetic of the space, the wait and price tag are worth it like any special experience. Let's dive in.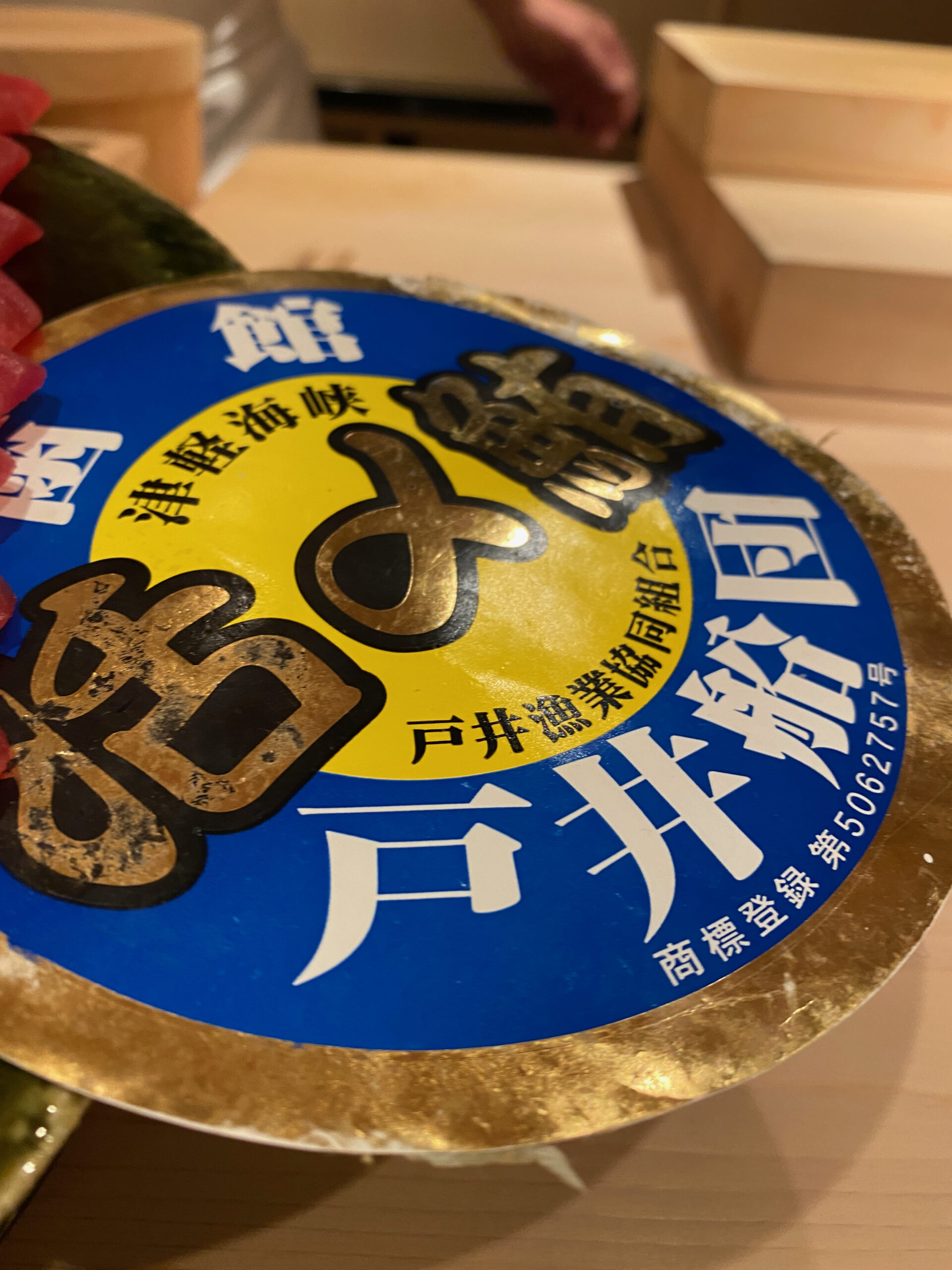 The Omakase itself
Yoshino's omakase is a 2.5 hour, 21 course tidal wave of unique flavors. 7 otsumami to start, which take about an hour, followed by 12 sushi courses, a miso soup, tamago, and desert.
As is typical at this price point, the ingredients are regularly flown in from Japan, and proudly so. A earnest customer actually asked if the Maguro was from Boston and I thought we were about to have an ejection.
(It's actually pseudo-famous Oma Tuna, which is from the honmaguro El Dorado aka the Tsugaru Strait between Honshu and Hokkaido 'islands').
One course that caught my attention? The first, a cocktail glass of Uni, Kegani (hairy crab), massive-pearled caviar (ossetra?), and grapes.
Why?
It's not exactly the most traditional of dishes. You're not seeing it in Shimizu's Edomae book. But in some ways, it actually stays true to one of the tenets of Edomae Sushi In that it absorbs the sensibilities of its location. For better or worse, the smorgasbord of exotic tastes – think the Wagyu/Uni/Toro/Gold Leaf Frankenstein – has become synonymous with a certain class of American sushiya.
Yoshida-san goes halfway there, but avoids the overindulgence. Out is Wagyu, Toro and Gold. In are Kegani, Grapes and Flowers. Far more harmonious and balanced.
A word on the nigiri
The other day, I wrote about my trip to Omakase Sushi Dairo, and their use of Koshihikari rice. Yoshida goes one step further, mixing Koshihikari with Sasanishiki, another premium rice, this from Miyazaki.
Yoshida-san also forms at least some of his nigiri (I'm confirming how much) in a style referred to as Kuragake or horsesaddle, because it hugs the rice like one. The goal is to maximize the surface area, while the small incisions make it both easier to form and heighten the umami of the Neta. 
The entire approach is truly master-level shit. The downside is it left me wanting more nigiri, particularly some of the Neta that we may not frequently see on New York City menus. Fortunately, Kawahagi, a shiromi served with its own delectable liver (as is tradition), more than satisified.
Feeling in the air
Stepping into Yoshino, there's a feeling in the air. If you were lucky enough to attend Hamilton in New York City in its first run, or a big boxing or MMA match during each sports respective rise, you'll know what I mean. It's a feeling of excitement, borne from other humans being either excited, waiting a while, or both.
Now, that excitement works both ways. Of course, people want to share that excitement with their friends, loved ones, exes, casuals, followers etc. That means cameras – lots and lots of cameras.
That's fine – fuck, we all know I'm no stranger to the photography game. But it may be jarring for people expecting a quiet, serene temple.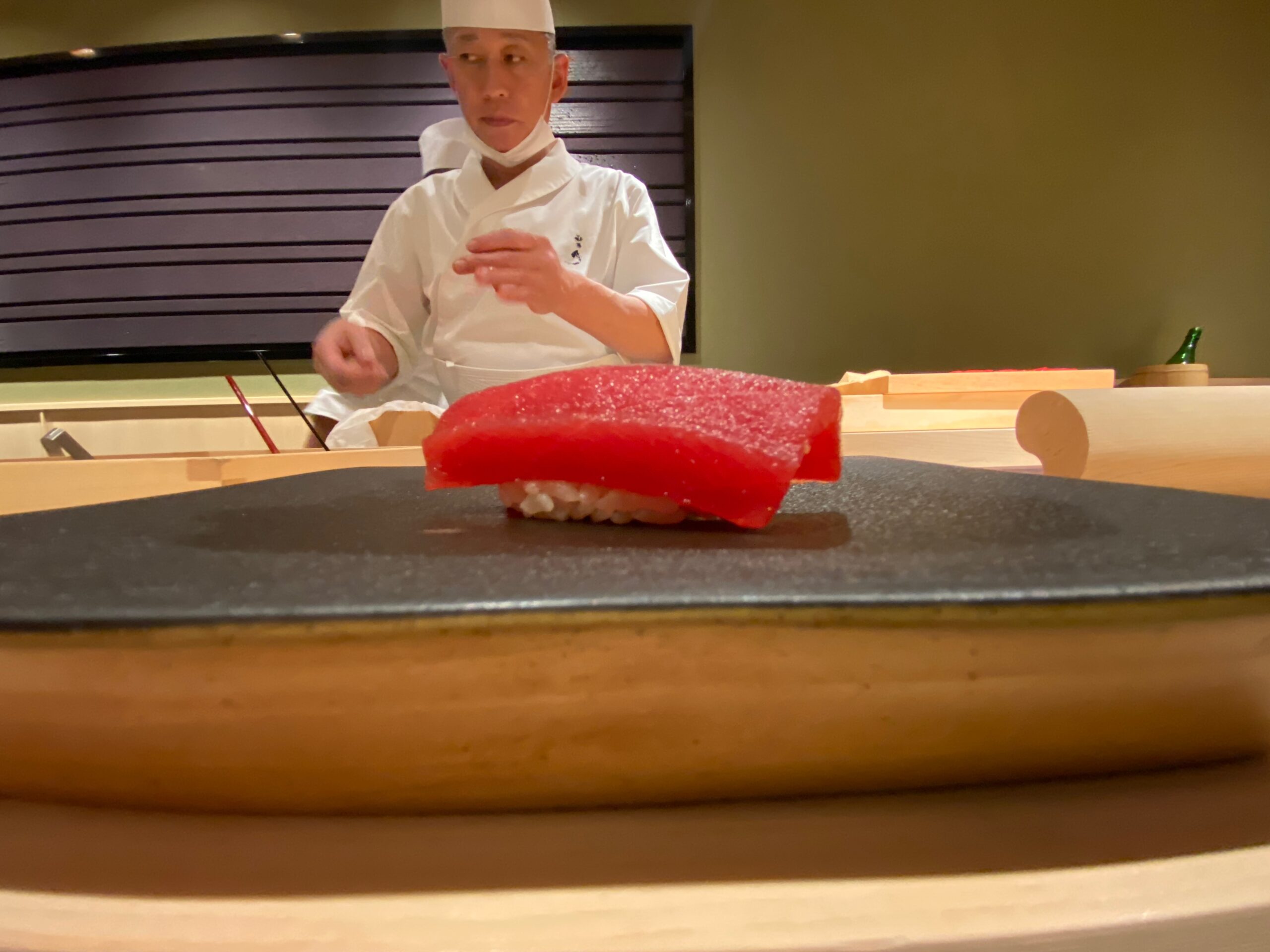 A more accessible $400 omakase
I'm only half-kidding. This is a sushiya that understands that its customers are not just there for a fantastic omakase, but to share every part of it.
Yoshida-san leans into that.
For the Yaki Saba Bozushi – a course for which Yoshida's become known – Yoshida gives customers a countdown before pressing the binchotan charcoal against the 'log' of saba.
There's a "Tatami" (mat) for your phone, and each customer is given a beautiful napkin as a keepsake, alongside a menu of all the courses for the evening. Some traditionalists decry the latter, noting that the lack of menu encourages interaction between chef and patron and removes some of the mystery.
To me, a menu removes some of the boundaries and gives much-needed education to less-experienced diners. I'd rather that versus someone asking if they're being served swordfish (a true story from another sushiya). That's a good thing.
The verdict
There are very few sushiya in the class of Yoshino outside of Japan. Of course it's expensive, but so is traveling 17 hours and at least one stopover to Nagoya. Premium ingredients, like honmaguro purchased in auction from Oma, Tuna's El Dorado, aren't cheap, and frankly, neither is the outstanding service that the sushiya delivers. Of course, it's hard to price the ability to walk 15 minutes from your apartment to sit 4 feet from a world-renowned itamae as he slings our favourite cuisine.
There are some small nits that may irk very discerning customers (you know who you are). The show and tell is heavy (again, I know the irony given the nature of this blog), and of course I'm always going to hope for a menu of all nigiri and truly unique Neta, but that's not how Yoshida-san operates. Fortunately, some of the otsumami are truly fantastic and I'm not sure this clientele would be content with just nigiri anyways.
Yoshino is worth your time and effort to get a reservation, and your hard-earned money should you manage to secure one.
Recommended.