There are many – many (MANY) –  sushiya in New York City that offer an Omakase.
But there are only a few that get whispered around the NYC culinary scene. Only a few that can be the celebratory meal if you have $300+ to spend (or $600 in the case of Masa). Only a few that are in the rarefied atmosphere where you've forgotten what most sushiya even look like (if you think I forced that sentence as an homage to Layer Cake…you'd be right. Watch that movie).
69 Leonard Street has become one of those.
And yet, despite the fact that I (sometimes) live close by and workout (not to brag) across the street, I'd never been since it opened 4 years ago.
Until now.
A rotation of Itamae
69 Leonard hasn't always been the name. It actually opened in Janaury 2017 as Ichimura under the direction of veritable legend Eiji Ichimura. Ichimura had left his closed eponymous sushiya at Brushstroke, which I reviewed in 2012 and credit for starting the sushi revolution in NYC (alongside the popularity of Jiro Dreams of Sushi and the rise of Instagram, of course).
By June 2017 however, Ichimura had moved on, replaced by Derek Wilcox, an NYC native with plenty of experience at acclaimed restaurants in Japan.
At the renamed Shoji at 69 Leonard St., Wilcox spent much of his 3+ year tenure slinging a hybrid of kyo-kaiseki and edomae-style nigiri at the Omakase counter, all to great acclaim. He left earlier this year to move to Los Angeles in what owner Idan Elkon tells me was just a natural endpoint given the pandemic.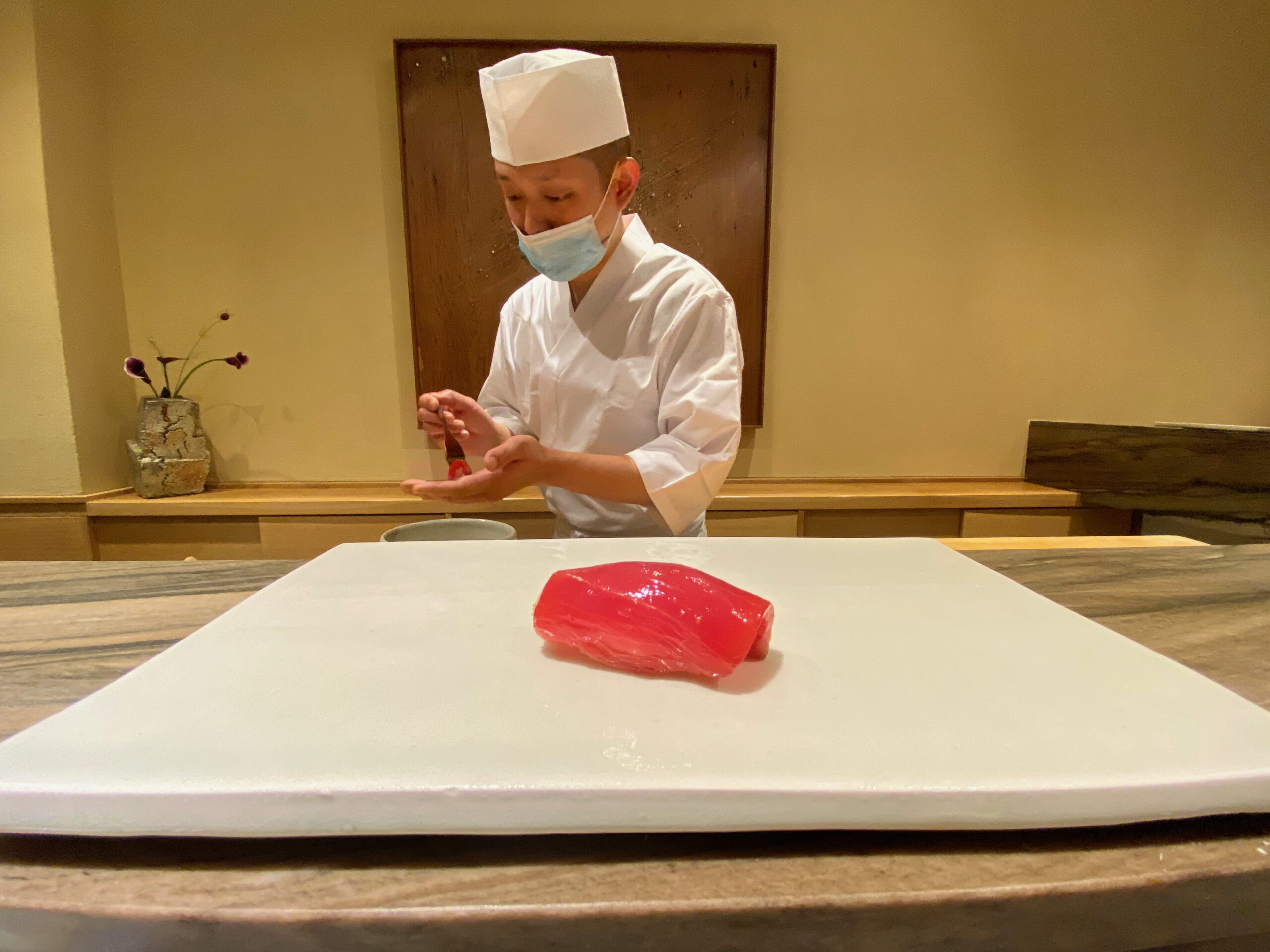 Shion Uino steps in
Now, Shion Uino is at the helm. Experienced diners will know Uino-San from Sushi Amane, the midtown-east sushiya that earned the whispers I mentioned up front, as well as many years at revered Tokyo sushi-ya Sushi Saito.
With Shion's move in May 2021, the restaurant renamed again to Shion at 69 Leonard St. I can see a world in which the restaurant undergoes a semi-regular Itamae and name rotation, but Elkon sees this relationship as permanent and has no plans to change things up moving forward. There are even discussions of opening a down-market bar in the basement space serving small bites and "Chinmi".
If you're unfamilar, Chinmi are loosely defined rare and unusual delicacies. The phrase Tenka No Sandai Chinmi Is sometimes tossed around – it refers to the three great chinmi of the Edo period (17th-19th centuries): Uni (Sea Urchin), Konowata (Sea Cucumber intestines) and Karasumi (salted mullet roe). Eating them all is like playing Edomae bingo.
Uino-san certainly brings a new style. Like other itamae – including Takashi Saito himself – he spends time aging his fish. And like Saito-san, you'll notice right away that he spends very little time forming his nigiri. Two flips and place. As Kikuo Shimizu put in his seminal 'Edomae Sushi' book, "there's no one royal road" to making nigiri. But the child in me is always fascinated by expediency. Credit my ADD I guess.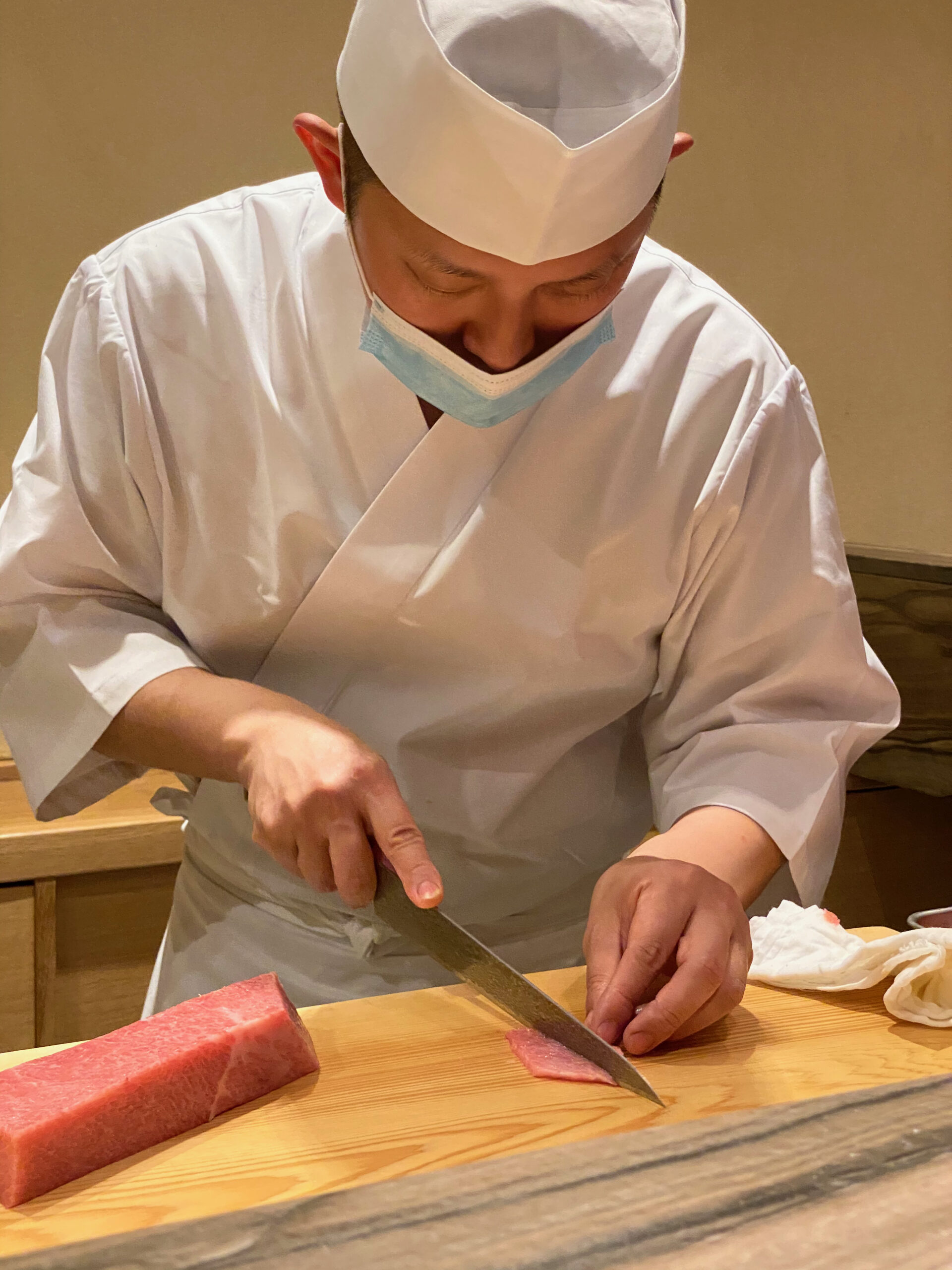 Be prepared for a certain type of clientele
This part was fun to write.
Have you seen the sushi scene in Billions? Duh, of course you have, especially if you've seen my 1,000 references to it on Instagram or the blog.
There are a lot of ways to describe who you'll be eating with at the 9 seat counter if you go, but here's the easiest: If Koppelman was re-shooting the Wags scene from Billions in 2021, Shion at 69 Leonard – not Nakazawa – would be the setting.
I dined solo. The other 7 were made up of two tourists, 3 finance dudes and a well-known NYC food writer, her partner and their 34 foot camera (approximate).
Everyone was very respectful. Great energy. But I was absolutely not prepared to hear "imagine if Chipotle had this rice".
Let's talk about the meal
Shion at 69 Leonard is 18 courses, but it's the first 6 – the Otsumami – that take the bulk of the time. About 90 minutes. So go hungry, but not too hungry.
Sous-chef Hiroto Ochiai gamely runs the small kitchen where the cooked dishes are created, but from start to finish, behind the counter is the Shion Uino show. Despite the many helpful service staff on hand, Uino-san does virtually everything sushi-wise himself: Prep each nigiri. Serve each nigiri. Fuck, he even makes and takes an extra nigiri to the back so he can make sure the rice is still on point as the night progresses.
The aging theatre starts immediately: Our first course is Sashimi, with both a 5 day  and 15 day Karei (Flat Fish). You can see the contrast In the picture below (darker is older).
Little tip: Karei can mean many different types of Flounder. The below is hoshigarei, a prized summer neta, that the aformentioned Shimizu-san called "the very finest flounder". No arguments here.
Standouts
The pictures below won't do it justice, but the Tako, marinated for 48 hours, is a standout. The skin around the edges of the meat, barely hanging on, falls of completely in the mouth. If you're in the "Octopus is too chewy" camp, this is a good example – alongside seaside spots in hidden gem Montenegro – of why you just need to find better chefs.
Uino's Kegani – also a crowdpleaser – is simplest described as a 'crab salad', but of course that's a ridiculous comp. Kegani is Hairy Crab, prized in the north of Japan. Uino breaks his down, boils them, mixes with vinegar, and returns to the shell. It's similar to what his former boss did (and does?) at Sushi Saito.
Sushi Ikumi, where I dined two nights before, served Kegani also, however widens the base to include Ikura and Japanese watercress as well. Different approach, both wonderful.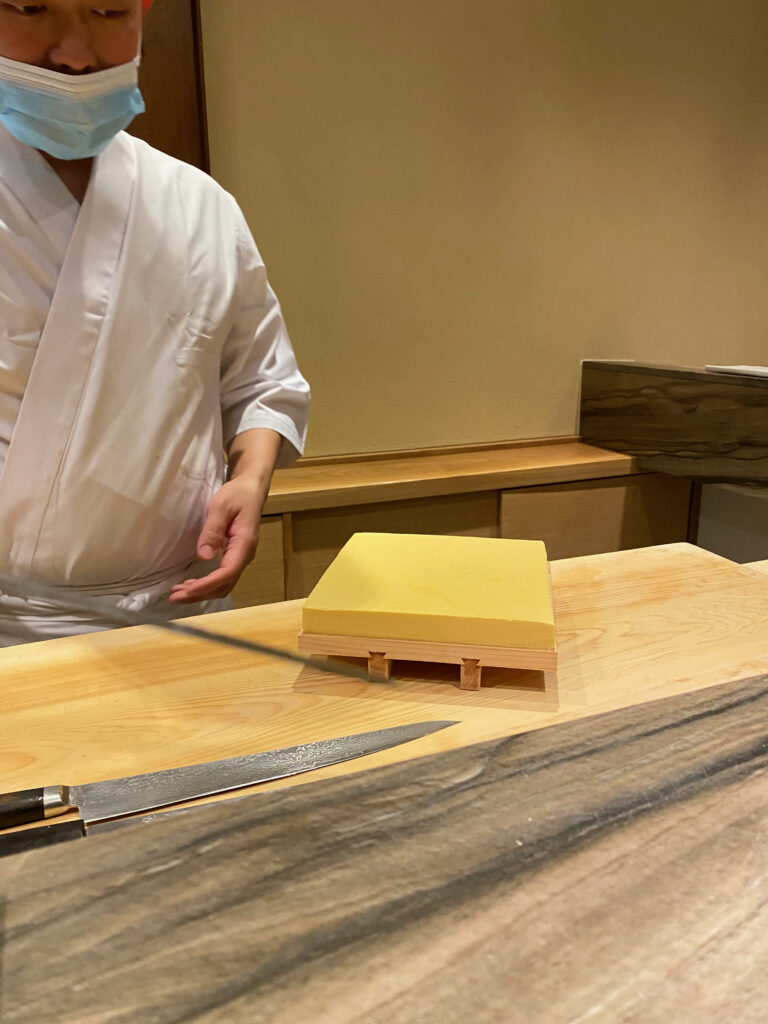 The verdict
As you might expect at a cool $420 (tip included!), nearly everything served at Shion 69 Leonard St is seasonal, and nearly of all it comes from Japan.
The latter isn't exactly a differentiator these days – plenty of sushiya in New York and elsewhere either import themselves or use distributors that do – but the types of Neta or Otsumami on offer (including a la carte after the omakase is "complete") change nearly every day and will impress even the most cynical of diners (there are many).
And then, of course, you're also splurging to sit in a beautiful temple, watching the waza (technical skill) of Uino-san himself, who continues to make a name for himself among sushiphiles, toursits and finance dudes alike. This is a sushiya that rivals some of the city's best.
Recommended.