The upshot of the surge in sushi's popularity in New York City has been the corresponding rise in "affordable" Omakase options. Sushi Kai In the East Village is yet another to add to that list.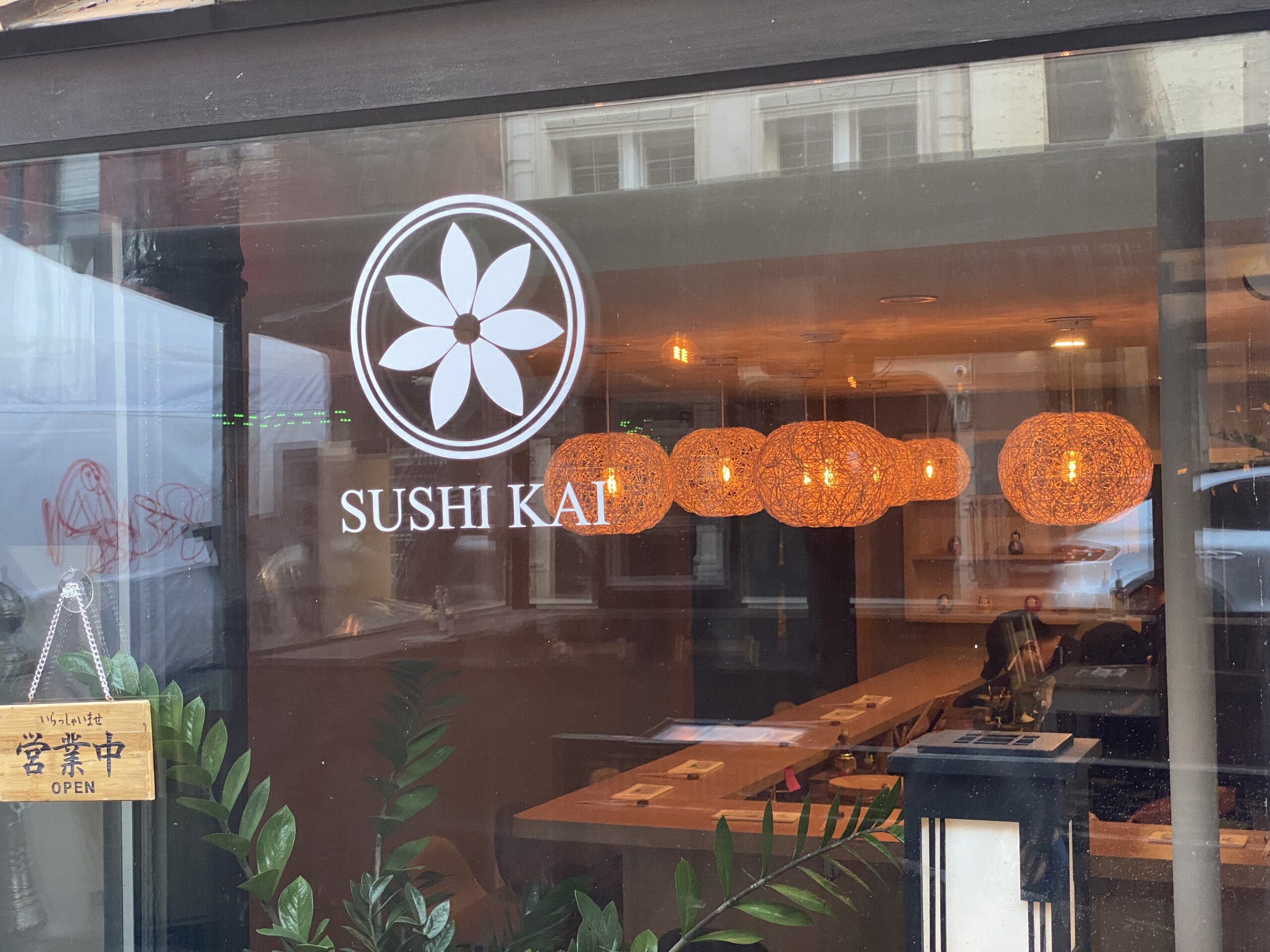 I tossed the scare quotes in there because $75 – which is where Kai sits – would have been considered pricy a decade ago. Ichimura at Brushstroke, Sushi Yasuda and other pantheons of the city's Omakase scene sat comfortably at $150.
Now, with the rise of the $300+ – or $400+ – sushiya, $75 doesn't seem so bad. Sometimes, of course, the reasonably priced Omakase comes with a catch (pun completely intended). And yet, with Sushi Kai, there isn't one. Opened in 2020, it's quickly gained a loyal following among residents for its quality and price.
It serves as an entry level Omakase. You probably won't see any tourists. Truly upsetting. Or any true sushi snobs (though if that's you, please reconsider giving it a try).
But for first timers/couples/people dining with friends, you can't go wrong.
The counter is 8 seats and the meal moves quickly. My 14 courses finished in 45 minutes – there's no timer but no matter – you'll feel the pace. And that's not a bad thing. Sukiyabashi Jiro is famously 20 minutes for 20 courses. At Shion 69 Leonard, the 12 nigiri courses took barely 25 minutes (the Otsumami are much longer). Not every Omakase needs to be the length of Hamilton.

The meal itself
Sushi Kai reminds me of Kura Sushi, a legendary East Village sushiya. Like Kura, Sushi Kai has an open but compact space is centered by an L-shape counter with energetic and friendly staff behind the bar. Like Kura, you can get in the door for $100 and the vibe is relaxed, not stuffy.
Unlike Kura though, Sushi Kai also offers an a la carte menu, though it's not provided or even mentioned to customers. So when the dude next to me asked for it, you would have thought he asked for the nuclear codes.
I didn't hate the move – there's some excellent Kaisen-don and Chirashi options on it – but he completely lost me when he gently placed three strips of the provided Gari (ginger) on top of his Temaki. We're a society of laws my guy. If you want Anarchy, go visit the McDonalds at Greenwich and Chambers.
The approach to Nigiri
There are 12 nigiri courses in Sushi Kai's Omakase, and each one – as so often is the case in North American sushiya, has a small dollop of sauce/marinade/garnish on top.
I know there are different views on this, but I get why Itamae do it. Certain types of Neta – I'm looking at you Shiromi (white-fleshed fish)- have lower fat content and often more muted flavor profiles. Not something many diners (particularly sushi newbies) are used to, so a simple solution is to add strong-tasting dabs of truffle, yuzu, oils and more.
But let's chill on the Pesto
Pesto is great. Fantastic with Pasta. Good on Pizza. Illuminating as a regional delicacy that makes any trip to Italy even better.
But it's not great for sushi.
That's because Pesto has cheese. And, despite how frequently Cheese appears on sushi menus here, in Europe and even now in Japan, and despite what BIG CHEESE wants you to think, it doesn't belong with sushi. I'll take that to my grave.
And yet, at Sushi Kai, Pesto appears twice. On Hamachi and Hirame.
It impacts an otherwise well-done Omakase.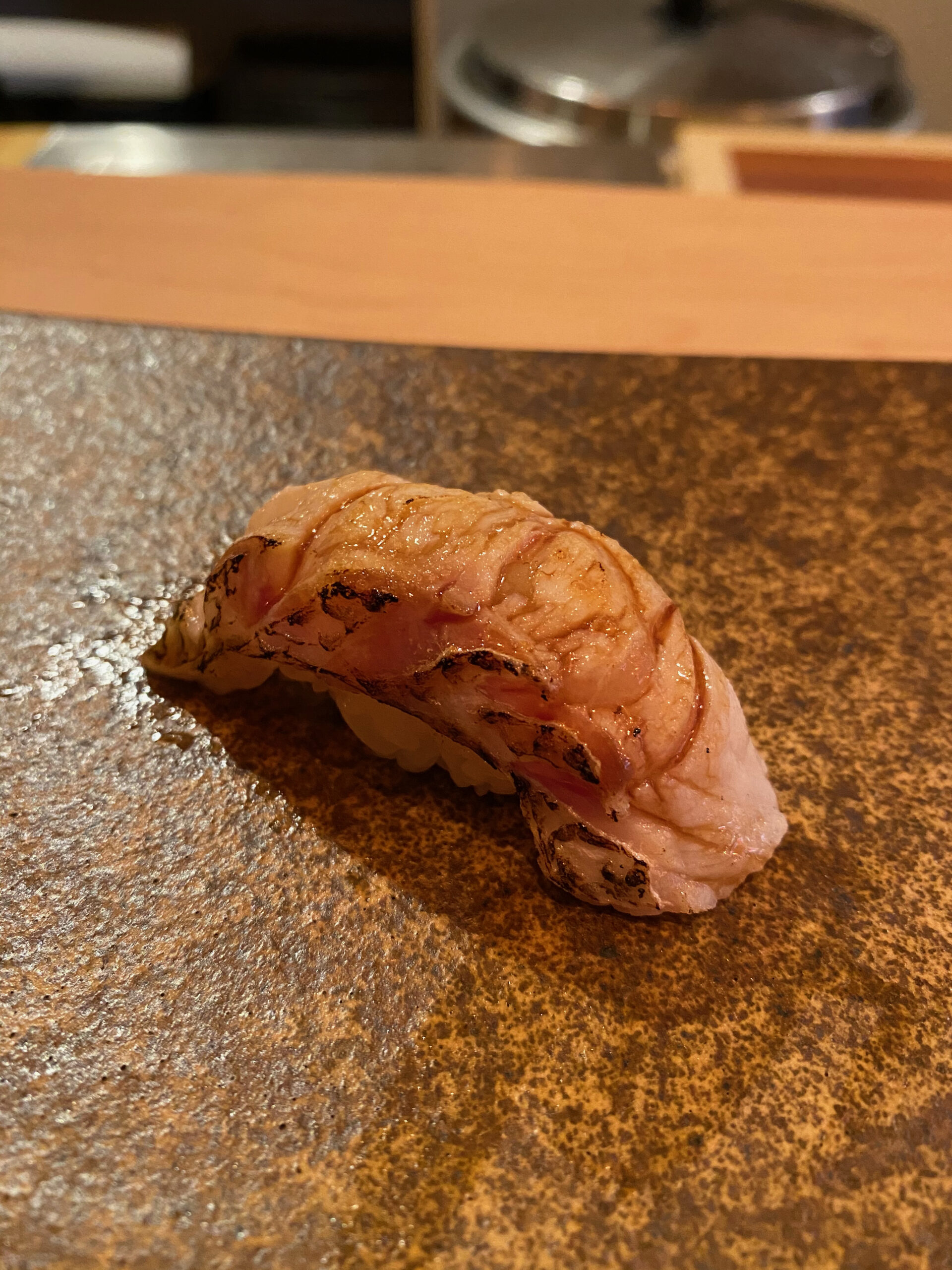 Credit to the Rice
It might have been a function of my meal time – a very grandparent-y 5:30pm – but I found the shari (rice) airy, balanced and sharp. And despite the limitation of plastic gloves, the nigiri was formed consistently well; Similar sizes, with limits on the aformentioned toppings that allow the Neta to breathe. A poorly cut Chu Toro (peep the straggle above) was the only hiccup.
No matter – at $75, the value is there.
Recommended.