Omakase Sushi Dairo
There's an interesting dichotomy in writing about great, new sushiya (and really, all restaurants).
On the one hand, you want this incredible restaurant to have success. Sure, the food is great, but there's other mitigating factors also. Maybe the owner said hello, maybe it was weirdly empty, shit maybe you're dreaming of glory if it becomes something. Do you know that new Malaysian spot that no one can get into? – you'll tell people you meet at a party – I've been going there for 4 years. I'll take you some time. 
If you've ever 'found' an under-the-radar restaurant and told a colleague, bragged about it on social media or dragged your friends there for night 2 of your birthday weekend (because of course you deserve it), you'll know exactly what I mean.
On the other hand, there's the small matter of your personal enjoyment. Good luck getting a last minute reservation. Shit, good luck getting any reservation. And if you do, say goodbye to the good vibes. Out are normal people – in are expense accounters, "chef askers" (aka people who just must know the family tree of their food direct from the chef themselves) and others there for the show.
None of that stuff bothers me – it's been going on forever and these geniuses deserve the acclaim – but the vibe changes. Of course it does. And as a result, there are some people who will keep it to themselves, like the diehard fans of some indy band.
Anyways, Omakase Sushi Dairo opened in the summer of 2021, I loved my visit, and I'm going to tell you all about it.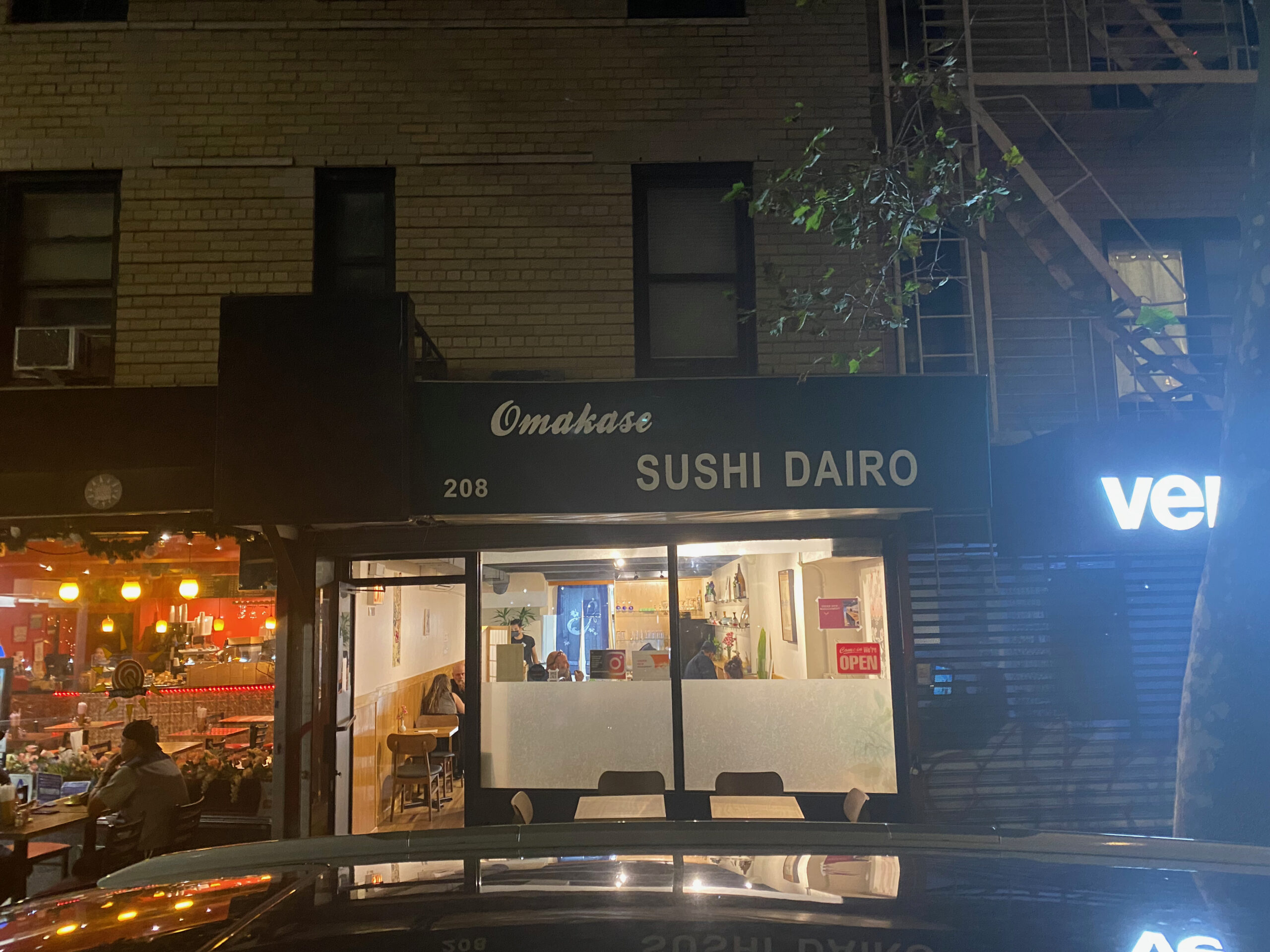 The background
Omakase Sushi Dairo is the brainchild of Takashi Meguro, the Itamae and owner (as it should be). It's been a long road for Meguro: Ten years at Sushi Iwa in Tsukiji and New York, 18 years on Long Island, 5 years as the Itamae at the legendary Hatsuhana (I dined with him and loved it) and 3 years at Blue Ribbon. That time has seasoned and refined the mostly-traditional style of his omakase, though the blowtorch and salmon do still take make their appearances (this is NYC, after all).
Despite the name, there are indeed a la carte options: tons of makizushi (including a $26 futomaki that I'm targeting for my next visit), otsumami (including ankimo), donburi (including an Unadon that people rave about) and a variety of nigiri (some of which I added on post-omakase).
But you're likely coming for the reasonably priced Omakase: $75 for 11 nigiri, a temaki and miso soup, or $140 for all that plus 3 otsumami. If you are, you'll find a unique Omakase, offering a diverse set of nigiri. I've run through the full serving and highlights below, but a quick word on the Shari (rice).
The rice shines
I mean that figuratively (and perhaps literally), the shari is lighter to chew, consistent and filled with noticeable flavor. If you ask, Magero is happy to explain his general secret: the rice is actually a blend of three types of Koshihikari, a premium type of rice.
Wikipedia tells me it was created in 1956 by combining 2 different strains of rice at an Agricultural Research Facility, which seems cool enough to be true. It's used by many different Itamae, but Magero-san blends three, based entirely on experience and years of trial and error. He adds two types of Akazu (rice vinegar) and the requisite sugar and salt, creating something that you should notice, especially if you go early in the night.
Highlights
Omakase Sushi Dairo is still flying under the radar. The night I went – a Friday – I was 1 of 2 customers until 7:30. The other guy, a chatty chap, offered me some of his sake, a kind-but-maybe-creepy gesture (Omakase Sushi Dairo is BYOB). The limited number of customers was ostensibly our gain; each nigiri was formed with care and precision (look at the maguro above) and the quality subsisted throughout the night. No dips.
If you're going though, I recommend finding a way to get Course 7 on your plate.
Hotate, Yuzu and Shiso is – to put it mildly – a unique combination of flavours, and yet it somehow works the same way as Rock-Paper-Scissors. The Yuzu strengthens the muted taste of the scallop, the shiso cut the strong taste of the Yuzu, and the scallop softens the coarse texture of the shiso. Galactic brain stuff.
Recommended.