A Sushi Legend Returns
Fair warning: this review is going to be a longer one. If you don't like to read and/or can't read, no judgments. Scroll down for my pictures and verdict at the bottom
Welcome to Ichimura Episode 4.5: The Force Awakens
Eiji Ichimura needs no introduction to New York residents, but just in case you're new here, let's try.
The list of people who've had a significant impact on New York City sushi is small, and Ichimura-San is almost certainly on it.
His first eponymous sushiya, Restuarant Ichimura, thrived in the late 2000s, a few years ahead of its time. It's Yelp Page lives on, which means so does this review which aged like an unpasteurized Emmentaler.

Then came Ichimura at Brushstroke – and THAT Pete Wells Review
In his New York Times review of the sushi counter within a restaurant, Wells noted that "During the two hours we sat there, no customers arrived to claim the six other counter seats or the four chairs at a nearby table". Imagine that being the case for a well-regarded sushiya in 2023?
Wells' three star review legitimized high-end sushi in broader foodie circles. In fact, I consider it one of the three sushi's ascent in 2012, along with the wide-release of Jiro Dreams of Sushi and Instagram's popularity surge. I've reached out to Pete and am hoping that he'll provide his perspective on that review's impact for my newsletter (subscribe here). Stay tuned.
It closed when Brushtroke did. Fun fact – that Brushstroke space remains empty to this day. Rumour has it that if you listen closely, you can still hear David Bouley whispering about his James Beard awards.
A brief stop at 69 Leonard followed
That was supposed to be Ichimura. It ended in lawsuits. The less said the better.
Ichimura left for Uchu, a since-closed restaurant in Chinatown, which I reviewed in late 2019. I found his counter there to be a true sushi temple, and Michelin agreed – it received two stars.
Interestingly, though there were obvious similarities – every Toro course was still stacked like a double-decker bus – the menu had morphed for the times. Out was the Zensai course featuring a selection of 7 small bites served together. In were the multiple courses of Otsumami, served in procession, an hour in all.
And now, Sushi Ichimura in TriBeCa
The new gig is an extension of Ichimura's brief residency at L'Abeille, a French/Japanese restaurant on the cobblestones of TriBeCa. The financial backers of both spots are TriBeCa locals and former bankers, and they certainly spared no expense. It's beautiful inside and the service is truly top drawer (more to come later).
I visited during opening week
But there were no signs of jitters, ring rust or any of the other issues that new restaurants or the Toronto Maple Leafs in the playoffs often face. Chalk it up to experience, I guess, though I'd still like them to show up for just one Game 1 (my brain is broken).
Interestingly, the new Sushi Ichimura felt closer in style to Ichimura at Uchu than Ichimura at Brushstroke. It's interesting that Ichimura is so intertwined with this city, because the evolution of his menu feels like a microcosm of NYC's sushi since 2012.
I even made a table and some graphics to show it
You might ask "why on earth does this matter?".
Answer: I find it cool to see the progression over the years. Then again, I thought POGS were cool, so I'm not exactly the authority.
So NEW Answer: Putting together informative graphs on mundane sushi topics is exactly why they* call this site The Sushi Legend.
*me

Might as well also show some of the economic changes as well
It's a misnomer that the price increases are coming from price increases. Yes, the cost of fish has gone up.
But the real driver is a mix of sushiya just deciding that they can. Have a look:

700 words later, let's finally get into the meal
First of all, it's easy to miss Sushi Ichimura. Like many of the best sushiya, its entrance is inauspicious. So here you go – let this picture be your North Star.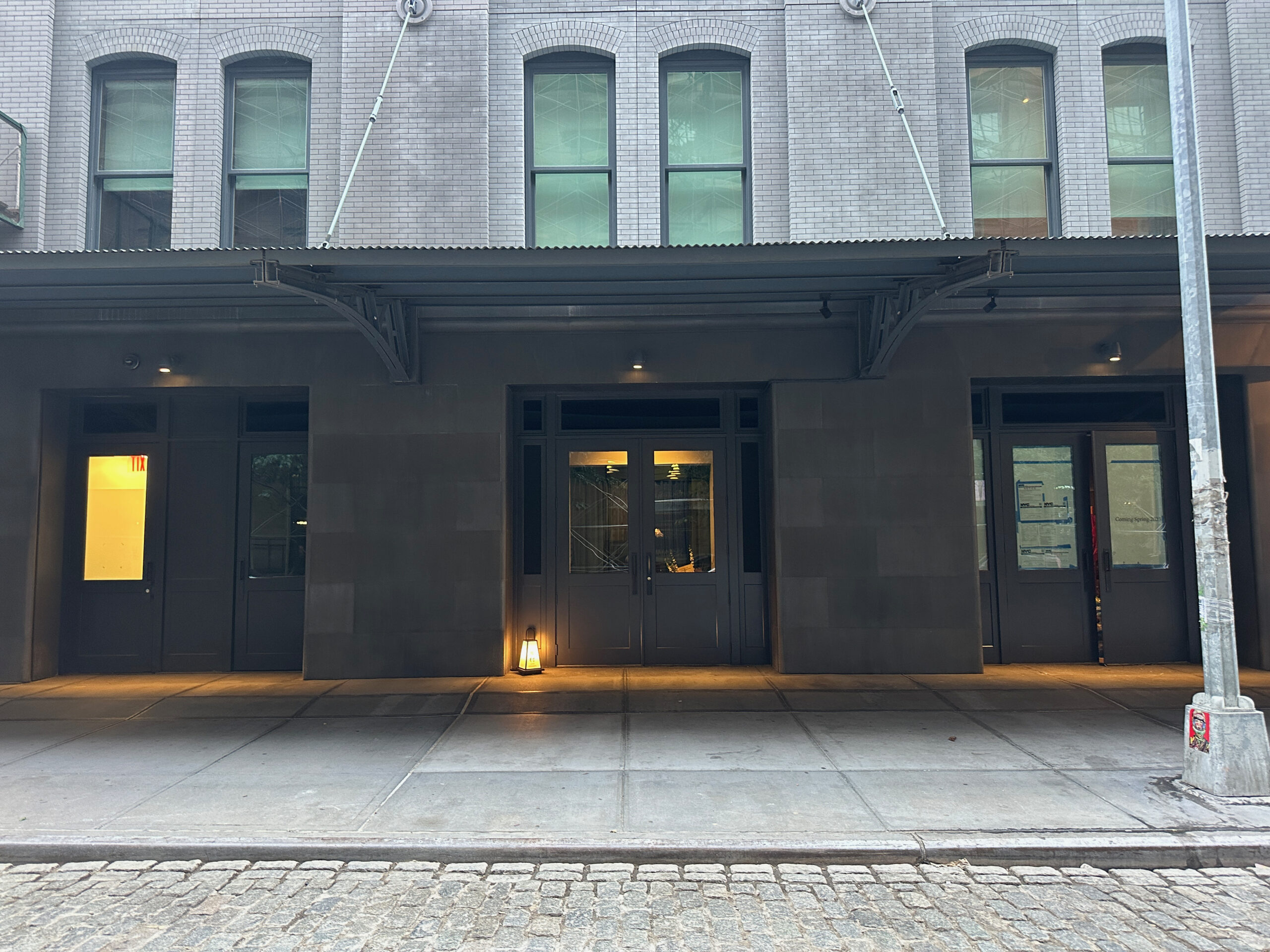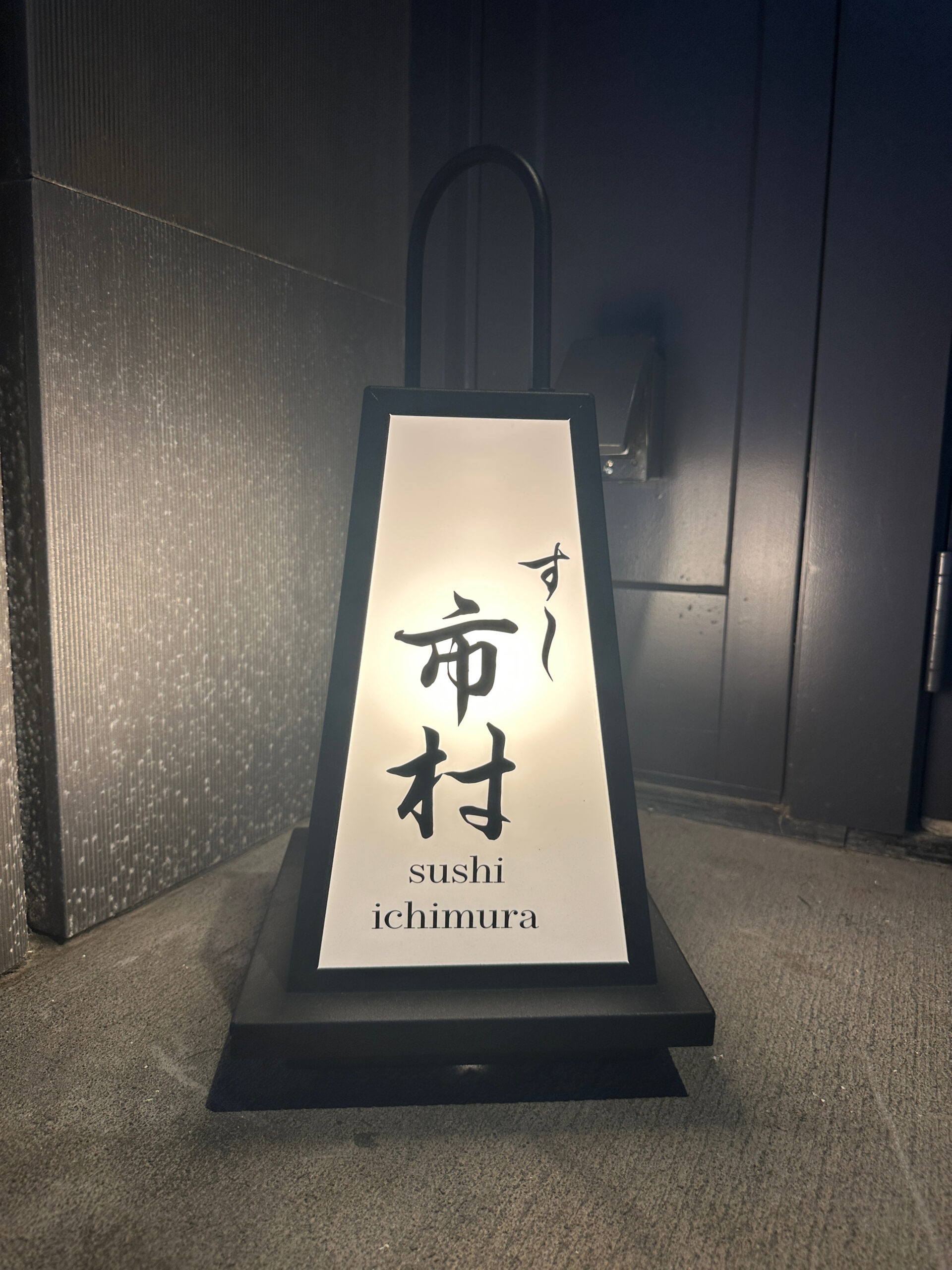 If you visit anytime soon, you might notice a massive bouquet from the fine people at Sushi Noz (reviewed here). I'd like to formally propose that this becomes an actual thing in NYC sushi circles, like when great soccer players exchange jerseys (or is it kits?).
Just imagining Sushi Sho opening here and being covered with the Brooklyn Botanical Garden.
The Basics
Sushi Ichimura offers two seatings a night from Tuesday – Saturday, seating 10 people around an L-shaped counter at each.
The Omakase is $425 pre-tax, pre-tip, and is paid at the time of reservation on Resy (the worst), no refunds. The night of, customers are given an extensive alcohol and non-alcohol list. Half the people at my seating opted for the Wine/Sake pairing, but were immediately confused.
So please note it's not a Wine OR Sake pairing. It's both. For what it's worth, the person next to me seemed very Impressed by the Sake served.
The meal is prepped by Ichimura and Manabu Asanama behind the counter
Asanama-san, a veteran of MIFUNE, Odo and Uchu, is fantastic. The restaurant is quick to boast off his cooking chops from his time in Japan, and it's no surprise that he handles plating the 3 non-sushi dishes, starting with Course 1.
One of the few misses of the night
Course 2 is Bafun Uni with a mix of caviar (kaluga), wasabi and a flower, served on a Mochi cracker (rice).
An article on Sushi Ichimura by the walking conflict-of-interest Resy mentions that this course is a Signature. Not true. Yes, Ichimura served it at Uchu, but here's what I wrote back then:
The Uni cracker also deserves a mention, not because it looks fantastic (it does), but because it actually felt out of place. Combining premium, strong-tasting ingredients like Hokkaido Uni and Kaluga Caviar (a farmed, inferior version to Beluga) is a move you've seen 1000 times before. It's a cheap trick to overpower The mochi cracker is a unique touch sure, but it's an awkward eat. Ichimura encourages it in one bite, which a quick glance around at other customers told me was improbable.
My opinion hasn't changed.
Back on track with Course 3
Course 3 was a true delicacy: Botan Hamo. If you're unfamiliar, Hamo is part of the Eel family, "Pike Conger" to be exact. It's not traditionally served in Sushi, but it is traditionally served in Soup. When it's heated, the meat curls up to almost resemble Botan Ebi, hence the name Botan Hamo. June is the start of Hamo season, and as a longtime fan of Clear Soup (shoutout Marumi in Greenwich Village), this course was a highlight.
It was nice to see Kisu/Shirogisu on the menu, a classic Summer Neta. It's also very lean; one of my books claims 1% fat content compared to 40% (!) for O Toro, which makes it a prime opener for many Itamae.
The Stacked Toro Nigiri are back
Remember how I said the Uni sandwich wasn't Ichimura-san's signature?
That's because the double stacked Chu Toro and triple stacked O Toro are (though I'm 50/50 if there were three or two slices of O Toro)
The Service is Incredible
The meal itself is noticeable, but the service might stand alone.
You know how fancy cruise ships like Seven Seas, Seabourn and OceanGate Titan (too soon?) brag about their staff to customer ratio? I legitimately think there are more people working at Sushi Ichimura than customers. The "About the Team" page on their website reads like an "Our Team" slide from a pitch deck.
Well, they should be proud, because they're especially polite and helpful. They also make sure there are Oshibori (hot towels) waiting at your seat after every restroom visit. And speaking of the restroom, Sushi Ichimura has maybe the fluffiest hand towels I've ever seen in my life.
For those of you who go to French fine dining spots (I would never), I'm very curious how this compares. Let me know at info@thesushilegend.com
New Buzzy Restaurant + Expensive + Downtown Manhattan = The Finance Bros are Coming
I've written about the Nakazawa scene in Billions approximately 1 billion times. I assume longtime readers want to take away the blog keys at this point. Here it is again.
But for the first time, I got a chance to experience it in real life. Like when that kid in Willy Wonka went into the television.
We had four people on what was clearly a double date. One of them, a banker, put the Gari (pickled ginger) on EVERY single piece of nigiri, It got so bad that when the Uni course came out, I found myself actively saying "don't do it, don't do it" under my breath.
Spoiler, he did it.
I'd like to think anyone with a brain could figure out why it's both rude and dumb, but just in case:
It's dumb because ginger has an extraordinarily strong taste, which is why it's used as a palate cleanser between courses. You've essentially ruined the taste of your own $500 meal.
It's rude, because you're telling someone five feet away that the taste of their food is so difficult, so bad that it needs to be ruined.
Would you take your steak into the kitchen and dip it in hummus in front of the chef?
I'd love to mention what firm they worked for, but I'm focusing on being a more mature sushi blogger this year.
The Verdict
To no great surprise, this was a fantastic meal, save for the Uni sandwich I've mentioned 100 times. One of my Instagram friends (I have many, I'm very cool) pointed out the incongruence between serving that course and purporting to serve traditional sushi.
I look it at like this. Every summer, we go see Dave Matthews. We do it because he's a legend, because he plays songs we love and because we enjoy the vibe.
Sure, he'll play some songs off the new album. We'll all pretend to enjoy it, but still glance at each other wondering "when is Dancing Nancies?".
That's Ichimura.
Eating at Ichimura in New York is eating Sushi in New York.
I'm glad he's back and hopefully he sticks around for a while this time.
Recommended.