The Moody Tongue Sushi Origin Story
In early January 2023, I released my 2023 Most Anticipated Sushiya list. Moody Tongue Sushi missed out; don't blame me, who could have forseen that a Chicago Brewery would open a New York City Sushiya.
In fairness, this wasn't a typical Brewery. Moody Tongue Chicago paired fine dining from Chef Jared Wentworth with in-house beers from their other Jared, brewmaster Jared Rouben.
It was an experiment that bucked the Wine Monopoly (sounds like a fantastic board game) and ultimately received a Michelin Star.
Moody Tongue Sushi follows a similar model, with veteran Chef Hiromi Iwakiri and his sushi replacing Wentworth's continental cuisine. Rouben remains, and has brainstormed craft beer pairings for sushi in his lab or wherever brewers go to experiment (their bathtub?)
The Result is a Robust, Diverse and Extensive Menu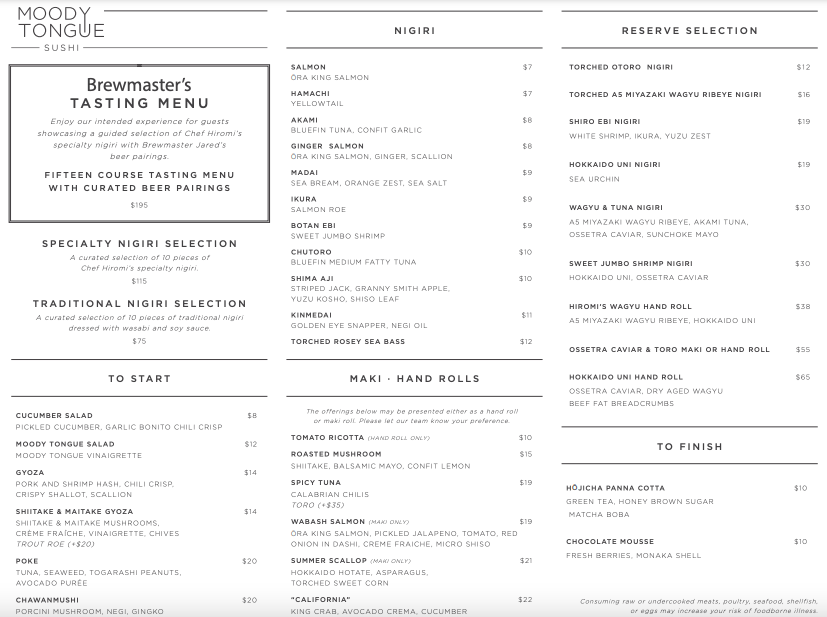 We ordered the Brewmaster's Tasting
At $195, it's not dirt cheap. But for 15 courses of sushi (though most are doubled up) and 10 beers, I'm fairly confident it's the cheapest sushi-alcohol pairing in the city.
Let's set some brief ground rules
The only thing I know about beer is that there's nothing better than having a Molson on the dock at sunset in Muskoka.
So I'm going to walk you through what I ate with my usual pithy commentary where appropriate. If you're a beer snob expecting some deep analysis, just go to Moody Tongue yourself. This is a Sushi Blog.
Many sushiya these days start their Omakase off with a Chawanmushi. I prefer Tofu, because it's usually served cold and doesn't obliterate my taste buds before a meal of delicate fish.
I enjoyed the story
The folks that work at Moody Tongue are trained well (likely because Jake the Manager seems to be a dynamo). So well, that every course becomes story time: this is the beer, this is the sushi it's paired with, and this is why.
For some pairings, the elaborate tales are necessary for the background.
For others, like the Peeled Grapefruit Pilsener (5.4% ABV) with the Grapefruit/White Asparagus Nigiri, it's immediately obvious.
To my great surprise…
Though micro greens may impact the taste, the nigiri is shaped and presented impressively. No massive balls of rice. No thin strips of fish. No missing rice vinegar. Well-seasoned.
The Hamachi (pictured below) is an example:
There's a method to the madness
It's funny; usually I call the police when I see fruit on sushi. But here, not only is the Botan Ebi prepared properly, walking the line between firm and soft, but the strawberry on top has purpose.
And that's the beer it's paired with, a Framboise (Raspberry Sorbert, 6.5% ABV).
Fair Warning…
There is a lot of food, and a lot of beer. No one is going home empty-stomached. In fact, the only issue I had with the meal (besides the grapefruit/asparagus concoction – me and grapefruit had a fight in Grade 2 and never recovered) was that there was too much beer.
In fairness, that probably is my finance brain taking over trying to juice the margins (I'm still in recovery).
Saying there's too much beer is like answering "what's your biggest weakness?" with "I care too much".
It's not really a bad thing, is it?
But if it is, Moody has a full wine and cocktail menu, along with plenty of a la carte sushi (and fusion) options as well, which we jumped at:
Where to sit
I don't want to toot my own horn, but fairly sure Mrs. TSL was very impressed by the seats we got for our West Village date night.
We sat in a raised area, just off the righthand side of the entrance when you walk in, right in front of a massive window.
Given the neighborhood, it's perfect for people watching.
The Brewmaster captures the spirit of Omakase
I was having a conversation with a random egg on Reddit the other day – no judgements please – and it crystalized something for me.
There are 120 or so sushiya that offer an Omakase in New York City. A wild amount by any measure. But approximately half of them sit below $100. They can hit that reasonable price point – hilarious to call it that, but true by comparison – because they offer a fairly rigid menu and, in some cases, are part of a larger restaurant group.
We call that "Economies of Scale" (congrats, you graduated from my business school).
But, at its core, an Omakase is trusting a chef to create a meal with what's available that day. Is a rigid, unchanging menu really that?
That brings me back to Moody Tongue Sushi. If an Omakase should incorporate seasonality, Moody Tongue Sushi succeeds not just on Sushi, but on beer as well. It's Brewmaster's Tasting tells a story – an intricate one.
A successful one.
Recommended.