I don't have a pithy opener here. That's not because I've run out of 90's pop culture references – I still have at least 400 of those in my bag, and that doesn't count Carmen Sandiego, which technically started in the 80s but we all know is a 90s baby.
It's because I'd prefer to get straight to the point:
The Den, tucked away in the basement of TriBeCa's Sushi Azabu, is one of the best sushiya in New York City.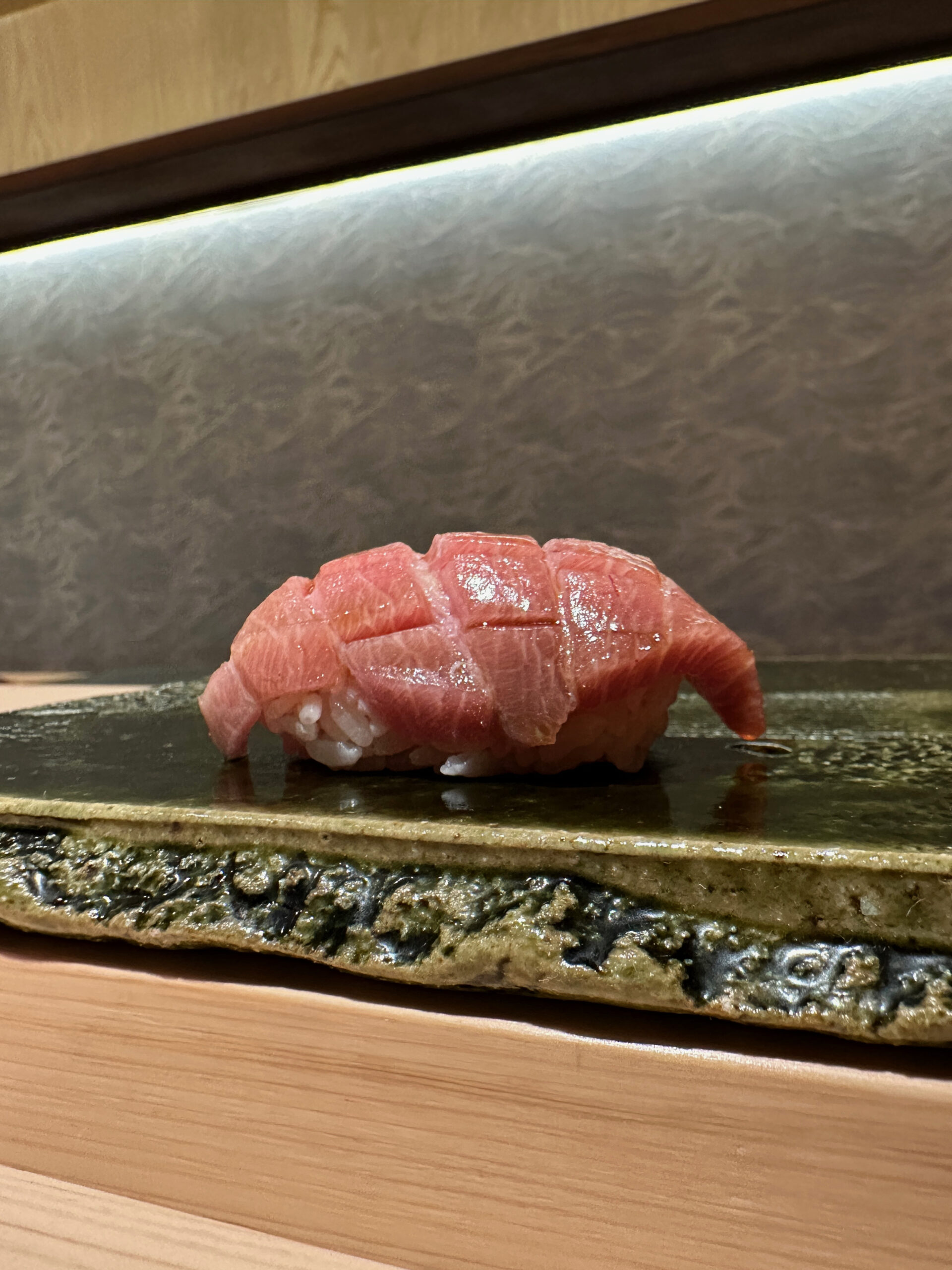 Wait…that Sushi Azabu? The one near all those banks and cobblestones and Greek restaurants?
Yes, legends. But this isn't the Sushi Azabu of your older sibling's generation (aka 2013-2022). That's because The Den is helmed by Toshihide Terado, who only returned stateside in November of 2022.
Even if you consider yourself a sushiphile, it's understandable that development may have escaped your radar. Fuck, I spend 200 hours a week digging for sushi news and it still escaped mine.
The city's so overrun with high-end sushiya, that unless you're a world famous Itamae re-opening (like Eiji Ichimura) or continuously pushing off your opening (like Keiji Nakazawa), news gets lost.
But Terado-San has a pedigree
Until 2015, he was actually at Sushi Azabu, helming the downstairs to rave reviews, including from yours truly.
That spot, along aside other notable sushiya like 15 East, Ichimura at Brushstroke, Jewel Bako, Sushiden and a very others, were popular before high-end sushi became a thing here.
Michelin noticed and awarded them a star.
But in 2015, Terado-San shifted to Kawabun restaurant in Japan, another member of the Plan Do See (Azabu's parent) group, followed by Sushi Azabu Kuala Lumpur. There, he further honed his craft before jaunting to Hong Kong and the second location of renowned Sushi Saito (featured in Sushi Shokunin, whose author I interviewed here).
Apparently working in the same universe as Saito-San makes you better. Who could have guessed?
Terado-San freely shares that his overseas stints made him a better Shokunin (artisan). And it's easy to see why after 2.5 hours right in front of him.
The $320 Omakase starts with Kegani and Karasumi
Kegani (horsehair crab) has become a popular ingredient in "appetizer" courses at New York City sushiyas.
In most Sushiya, the meat of the Kegani is prepped and served in smaller pieces. That's not just for taste, but also practicality: the Horsehair Crab is much smaller than the Red Crabs you might be used to from the Fish Tank at Red Lobster (do they have crabs there?)
But Terado-san manages to extract a beautiful, succulent, leg meat as well. If you know anything about Crab (or ate at Toronto staples like the House of Chan or the Mandarin buffet), that choice will resonate because it's the meatiest part.
And to top it off, he shaves Karasumi (or Bottarga or Eoran or Dried Mullet Roe or whatever you want to call it) over the whole thing, like the snow falling at Frappe Snowland in Mario Kart 64 (almost made it halfway without a 90s reference PLEASE CLAP).
Many sushiya throw caviar, truffles, even shaved Ankimo (monkfish liver) on top. Give me the salty yet creamy Karasumi any day of the week.
In my notes (yes, I take notes because I am a PROFESSIONAL), I wrote "HOF Inductee". I think that means I'm inducting this course into the Hall of Fame? Sure.
Then there's the Bai Gai
Sea Snail alert (not to be confused with Tsubugai)! Always a tough dish to serve, because it's cooked in the shell, which makes it naturally challenging to remove.
That's why most restaurants will give you that little wood fork thing ™ to help extract. But even then, a twist is still necessary, and Jesus save us if it's undercooked; you'll be picking little pieces out of the inside of the shell for hours.
Thankfully, though Terado prepares his in the shell in a simple mix of Mirin, Sake and Salt, he serves it extracted, alongside a perfectly marinated cooked Tako (Octopus) and the liver of the Bai Gai.
In fairness, it's tough to fuck up liver. It's the most delicious of the organs (it's an organ, right?). But it's also an acquired taste, and tough to extract and cook separately. Full marks.
And I have to mention the Ankimo with Negi and a Citrus Ponzu.
Because it was delicious. Mentioned.
You'll notice that Nigiri is on the bigger side
And that's fine. Allow me to go on record as being fine with that, provided that the balance – nay, the harmony – that is so critical to sushi remains.
AKA, if you're going to put a little more rice, make sure the Neta (topping) covers it well.
Also make sure that your Shari (rice) is fantastic. Thankfully, this is.
Helllooooo Meichidai
This Shiromi (white fleshed fish) is a rare sight at Sushiya. How rare? It's the first time I've seen it in New York City. If you're reading this and yelling at the screen "BUT I HAD IT ONE TIME AT <INSERT SUSHIYA HERE>", how about giving the rest of us a heads up next time? Sharing is caring.
Not to get too in my bag, but the nigiri is also art (s/o that Instagram account that just reposts other people's pictures. Tough work out there.)
For instance, Kisu (Whiting/Sillago), another summertime staple, is sprinkled with a dash of Yuzu. This tasted and looked delicious.
A honmaguro (bluefin tuna) progression follows…
Zuke (marinated tuna), Chu Toro, O Toro. They're all aged to heighten flavour, but The O Toro takes the cake: twenty (20) days, or about as long as The Flash stayed in theatres.
The Gohan dish is another lifechanger
Gohan literally translates to cooked rice. At sushiya, it usually indicates cooked rice served with toppings; for instance, at fellow TriBeCa sushiya Tsubame, Itamae Jay Zheng serves his with two types of Ebi.
Here, Terado-san uses two types of Uni – Bafun Uni from Hokkaido, and Murasaki Uni from Miyagi prefecture, creating a decadent, creamy Gohan.
But the star of the show is the Ikura.
You'll notice the colour is much paler than the beautiful red you're likely used to.
That's because they boil the Ikura at 64 Celsius – 147.2 Fahernheit for the uncultured Americans – and then marinate it in house Shoyu. 
They do it for flavour – but also style points – and it reminds me of a famous dish (slash a dish someone posted on Reddit) served at San Mateo's Sushi Yoshizumi, an acclaimed Sushiya.The Den is heading in that direction as well
Another sign of a great sushiya
On The Sushi Legend 1.0, there was a section on "signs you're in a good sushiya" or something to that effect. One of them was that the Itamae has additional offerings beyond the Omakase. 
No, the $25 Wagyu Uni Ikura Temaki does not count.
I'll tell you what does count, though. The in-season Kohada (gizzard shad) and it's babies, Shinko (actually baby gizzard shad). These were pricy – $18 for one Kohada nigiri, $36 (!) for one Shinko nigiri.
But many sushi fanatics consider these Neta to be a key way to tell the Waza (technique) of the Itamae and quality of the Sushiya. 
Note: the sushiya served these extras before the Tamago and Melon, as they should.
A word on the service as well…
Like any high-end sushiya, the service has to deliver. And it does.
Not in the same way as its neighbour Sushi Ichimura, which seems to have 4 staff for every customer. More in a "fancy hotel has assigned you a butler" kind of way – the small but mighty team (love the world salad from every startup founder ever) is everywhere.
They also – and this is no joke, quite possibly, the most brilliant idea I've ever seen – keep a copy of "A SUSHI HANDBOOK IN ENGLISH AND JAPANESE" on hand to show customers who ask for more information on what they're eating.
Come for the meal, stay for the lesson.
Brilliant.
(ps: full list of sushi books I own and recommend right here).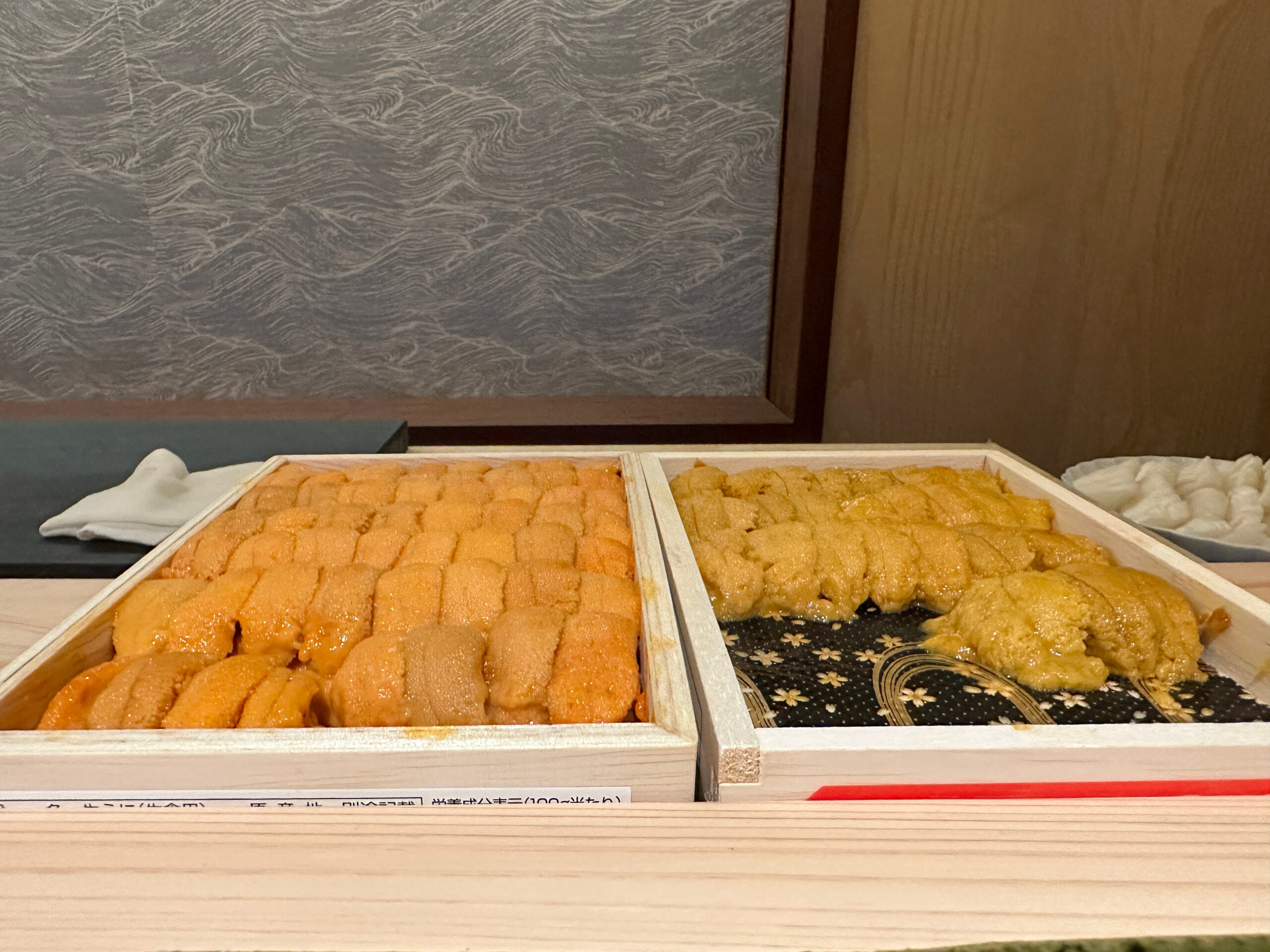 So yes, I loved this experience
I don't want to say The Den was a pleasant surprise like The Office of Mr. Moto, because Sushi Azabu is a well known brand in New York City.
But I certainly did not expect to have one of the best Omakase experiences I've had in New York City. Always nice, even for a jaded blogger like yours truly.
Recommended. 
.