As more sushiya continue to open in New York City, reasonably minds can certainly ask whether the newbies are any good, a cynical attempt to take advantage of a trend, or a bit of both.
But what's indisputable is that these sushiya continue to create oasis' (oasises? oasi?) from the chaotic energy of New York City streets.
There's the serene Sushi Mumi on jammed St. Mark's Place. The non-descript Sushi Ichimura in TriBeCa. The elegant Yoshino in the Bowery.
But perhaps none are as positively jarring on an initial entrance as Tsubame, a newly opened sushiya in East TriBeCa.
"East TriBeCa?" you might confirm. "Is that even a real neighborhood?" you might ask. "How do you not have mercury poisoning yet?" you might wonder.
The answer to the first two is "I'm not sure". I guess it is now. The answer to the last is "by the grace of g-d".
Tsubame is run by Itamae, Jay Zheng
I first came across Jay a few years back at Koyo in Queens, a fantastic sushiya that has drawn rave reviews from people smart enough to travel to Astoria.
But Tsubame is far from Koyo Part 2. It's in the heart of lower Manhattan, an area quickly becoming known for high-end sushiya like Icca, Sushi Ichimura, The Den at Sushi Azabu and Ito. In fact, I strongly believe that sushi tourists (a term I just coined) should be staying down here to visit them all.
The space is smaller, more intimate and, dare I say, more beautiful.
At Koyo, Jay and his team inherited the frame of a restaurant from a prior sushiya called Gaijin.
At Tsubame, they had a blank canvas. In fact, it's previous tenant was a jewelry store. As anyone who's been through a build will tell you, that's both good and bad; they could design from scratch, but had to be ready for surprises. For instance, according to Jay, the counter had to be taller to accomodate piping, which in turn required taller counter chairs (more on those later).
And then there's the food
When I visited Koyo last summer, I highlighted Zheng's nigiri. 
Tsubame feels broader. Listening to him describe the vision – which is rooted in his childhood experience – Tsubame felt more personal. Almost like a love letter to food (yes that is the most pretentious thing I've ever written here, sorry not sorry).
There is still nigiri, which is great news given Zheng's skill, but many otsumami-style courses as well. No surprise that Tsubame's Tock reservation page – they don't have a website but also don't use Resy, so all good to me – says they specialize in "Kaiseki Inspired Omakase".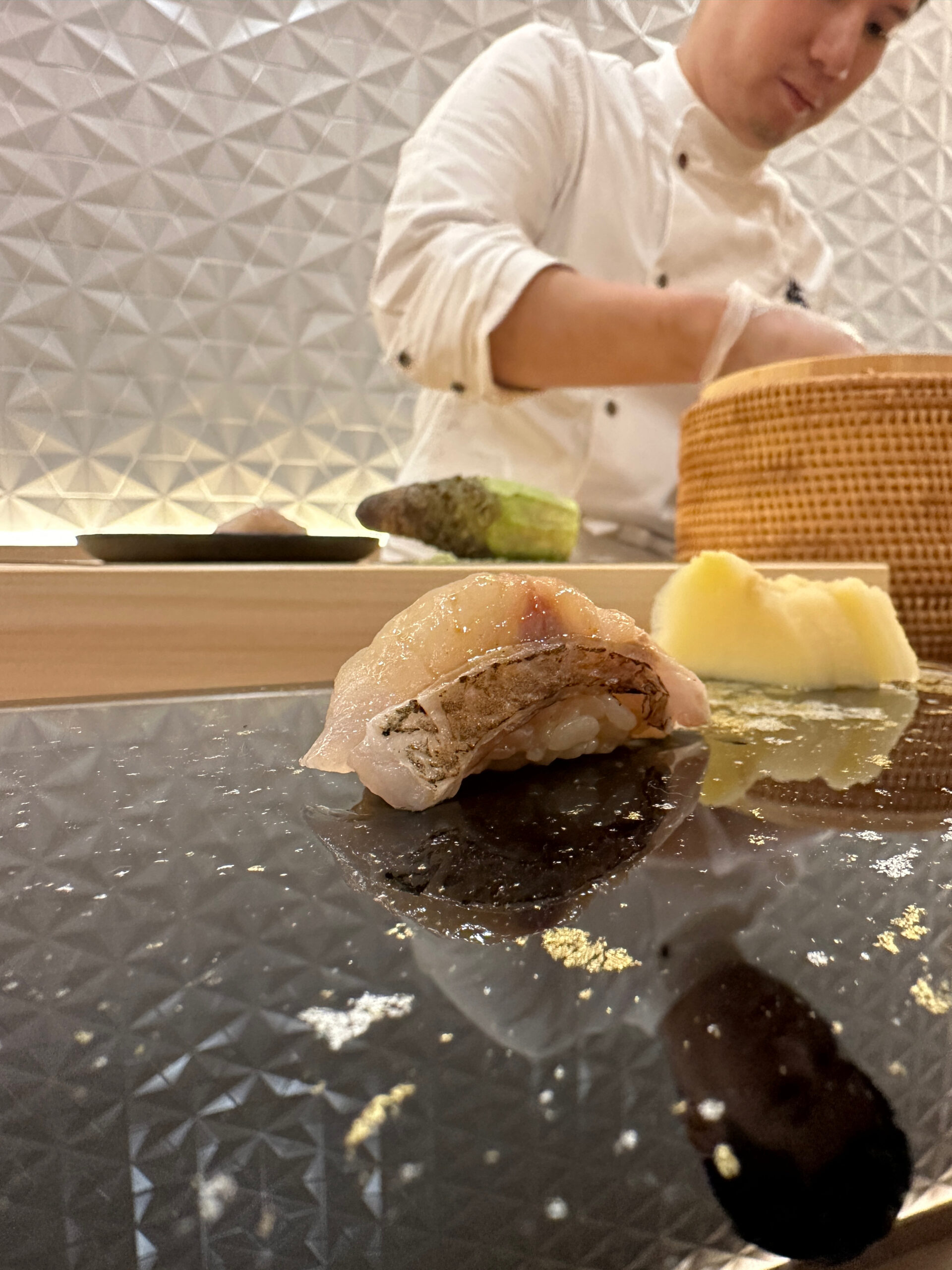 The name means Barn Swallow
And it's a tribute to the bird Jay used to see in his childhood village when shopping for ingredients. It's part of the story. So is his background and passion for other cuisines, which he's infused into most of his dishes/concoctions.
So if you go, engage with Jay. Listen to his passion, his reason for each course. It enhanced the meal for me, and I think it will for you as well.
Ps: given the above, it's wild to see what I wrote in 2022 about Koyo:
this might be the dumbest thing I've ever written, but there's a soul to Koyo. It starts with Jay, but permeates through their customers (they're all on their phones) and into the sushi, even if Jay is forced to use clear gloves (thanks New York).
Surely one of the best Chawanmushi I've had
When I dined at Koyo last summer, Chawanmushi was missing from the menu. I wasn't upset – I know you were all worried – because it seems like every sushiya is serving some variation of it these days. New York City must have some sort of quota.
But this version of Chawanmushi – with a calm surface dotted with bits of truffle and hiding zuwaigani (snow crab) and other goodies under the surface – was a true delight. I hope it's a fixture on Tsubame's menu moving forward.
The Futamono course is where things soar
Futamono traditionally means a soup dish served in a lidded pot.
But don't let the simplistic meaning fool you – this was a complicated dish that was one of our highlights. Udon Noodles, made with Aji (horse mackerel) of all things, paired with tender wagyu and served alongside a delightfully orange, and perfectly creamy, Jidori Egg yolk,
This is Jay's take on Shabu Shabu, a hot pot of beef and vegetables, typically served as hearty fare in the winter (also referred to as Nabemono, or literally, "cooking pot thing"). I could have eaten 5 of these and left for the night.
The Hirame exemplifies Jay's fantastic nigiri
It's a misnomer that Hirame (Olive Flounder) has no fat; it's there, it just takes waza (skill) to keep it in. No surprise that this nigiri was one of my favourite courses of the night. It also shows that not every Neta needs to come from Japan; this Hirame was Korean.
Can I interest you in Shako Season?
Shako (Mantis Shrimp), is in prime season in June (and April and May). And yet, you don't see it very often on New York City sushi menus at this time.
I don't know why but I'm leaning conspiracy.
Jay sears his slightly to bring out the flavour (and strengthen the flesh). The result is a visually appealing and incredibly delicious change-of-pace shrimp.
As an aside, "change of pace shrimp" would be a great name for a smaller racehorse.
A true highlight…
Tsubame's menu called the below "Ebi Uni Koshihikari Rice", but I think that's selling it short. Perhaps "crack" would make more sense.
In reality, there are multiple types of shrimp inside: Sakura Ebi, which are smaller, pink shrimp, visible under the Bafun Uni and Ama Ebi, also pink shrimp (confused?), much larger and my personal favourite.
The Koshihikari rice, a popular, premium grain, sits underneath, soaking in the Umami from the cherries on top.
This is another dish a reasonable person could eat 18 of.
The Verdict
It's always a good sign when the biggest issue I have with a sushiya is that "it's difficult to get in and out of the chairs at the counter".
This is a fantastic Omakase, built on Chef Jay's beautifully formed nigiri and heightened by inspired dishes like the Futamono course.
With the success at Koyo and now the admittedly-more-convenient for lazy Manhattanites Tsubame, Jay Zheng has reached "I trust you" status. The last two people who received that honour were David Benioff and DB Weiss, so hopefully Jay has more success.
And for what it's worth, if you're someone who enjoys interacting with the Itamae behind the counter – I have no preference either way – you'll enjoy eating with Jay. His relaxed nature belies an Omakase and setting that are extremely serious. At $225, it's a fantastic addition the area.
Recommended.