A return
As Manhattan's rents surprisingly, confusingly and alarmingly continue to spiral out of control, the migration to Queens has intensified. That's music to the ears of Itamae Jay Zheng and his Astoria sushiya Koyo, a perrennial contender on New York City's underrated sushi lists and one of my favourite hidden gems.
I had been once before, in December 2019, and my positive review can be found here.
This time felt like a different experience; we were at the counter instead of a table, the menu has been updated (both for summer and to focus more on nigiri), and the atmosphere felt more relaxed, a byproduct of the 2.5 years that have passed since Koyo opened.
Given that, a follow-up blog felt appropriate.
Omakase still shines
Unlike 2019, the menu at Koyo is now Omakase-only, checking in at $180. It may sound crazy, but that's reasonable in the context of other prices around the city. For instance, the Omakase at Sushi Seki is about the same, and I'd rather avoid diced tomatoes on my salmon nigiri. Personal preference.
Of course, the trade-off is the location; many Manhattanites "are so over" the subway and "literally can't even comprehend" going to Queens. The hilarious reality is that door-to-door by subway from midtown manhattan is about 40 minutes, or the same as a visit to Yoshino, Nakaji or Juku in the Lower East Side. It's Queens, you'll be fine.
So why does it shine?
Because I'm a benevolent blogger, I'll give you not just one, but two reasons.
First, the quality. It's hard to ignore the beauty in how Chef Jay forms the nigiri, how he avoids the temptation to dump sauce, pomp and circumstance on top, yet adds enough to draw the flavors out.
Shima Aji gets a dollop of chive paste. Kasugo gets Yuzu. Kohada gets Kimi-oboro (crystalized egg yolk).
Fun fact: Kimi-oboro was also the subject of the most ridiculous Instagram back-and-forth in sushi history, but that's a story for a different day.
Second, this might be the dumbest thing I've ever written, but there's a soul to Koyo. It starts with Jay, but permeates through their customers (they're all on their phones) and into the sushi, even if Jay is forced to use clear gloves (thanks New York).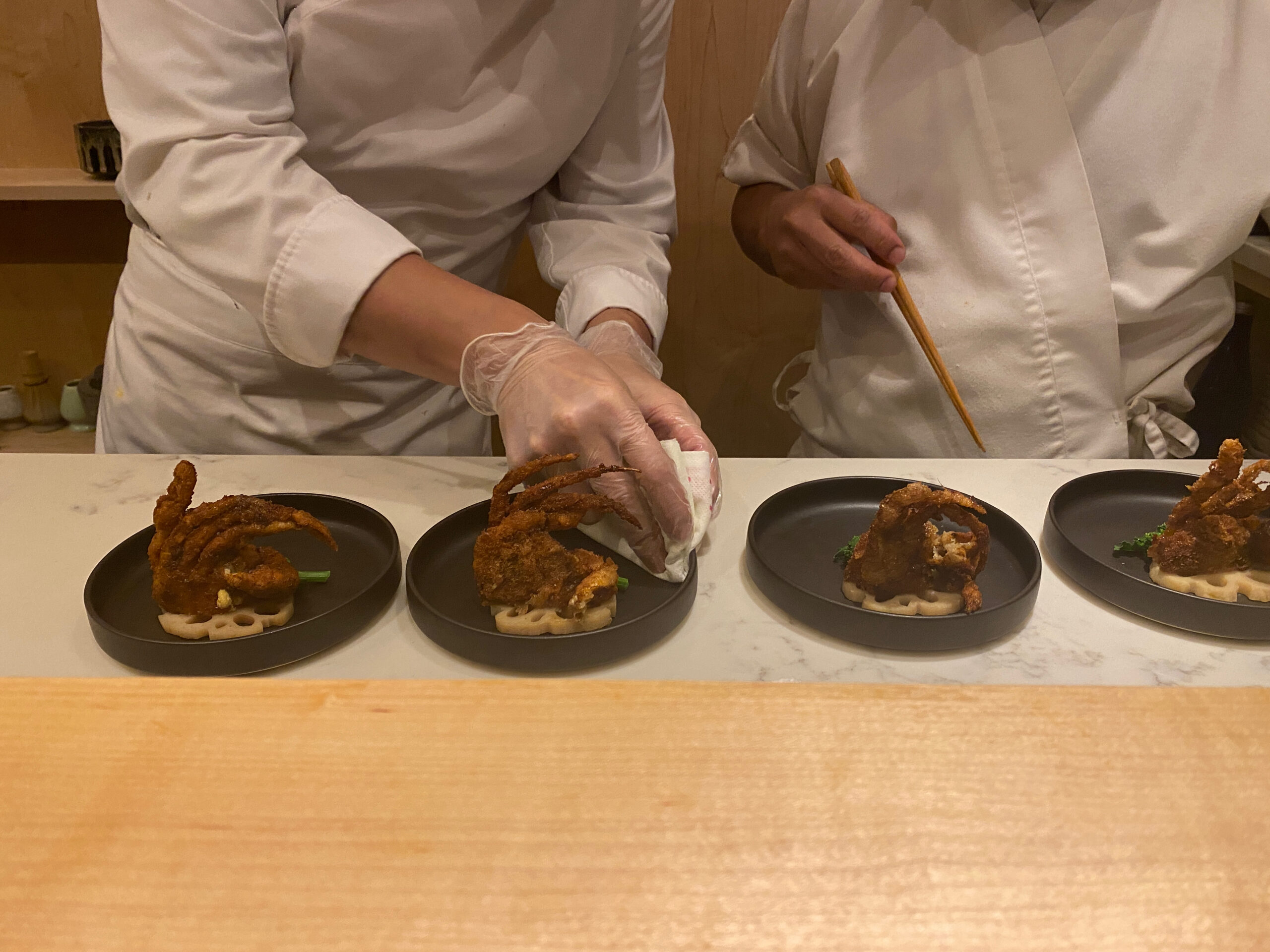 The button
Koyo's menu changes quarterly, with individual dishes altered as seasons dictate.
A little birdie tells me they'll be opening in Manhattan soon, and I'm sure it will be a fantastic addition to a stagnating sushi scene when they do.
A list and pictures of the end of spring/early summer Omakase is below.
Recommended.