The buzz and the silence
It is undeniable that New York City has a buzz. You feel it when you visit. You certainly feel it when you return. You feel it in the alleys, in the subways, in the dog parks, at the arenas and on the bridges.
You don't feel it waiting at Bubby's, but that's only because that line is literal hell on earth.
But you certainly feel it on St. Marks Place at the intersection of Astor Place and the East Village. Tourists avoid it. Young folks flock to it, as do…others. But walk down the three block strip on any given night and be prepared to get lost. Not physically lost, unless you're my beautiful, smart and directionally challenged wife. But mentally. Emotionally.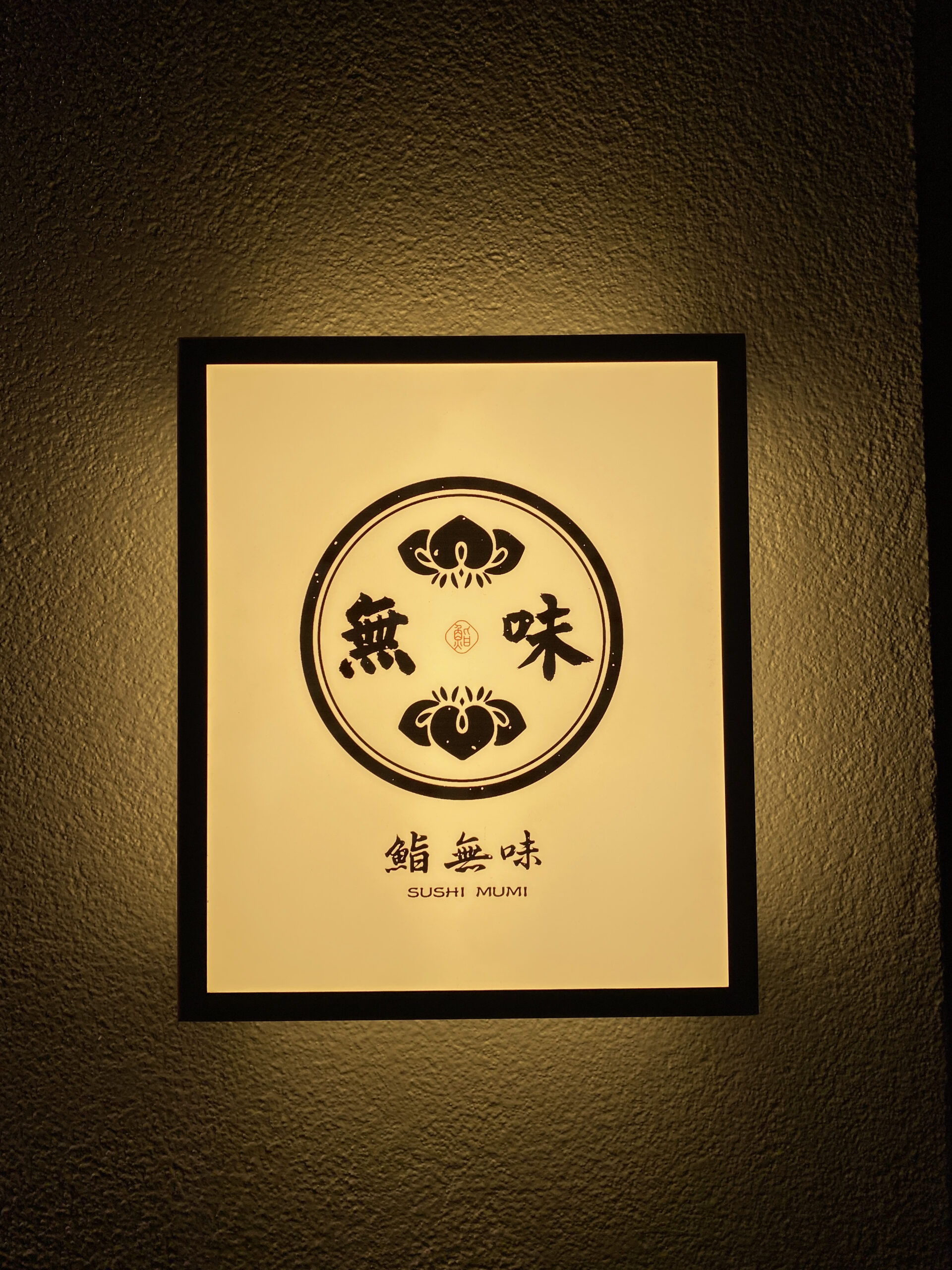 And yet, take a step into the brand new sushi temple that is Sushi Mumi, and all that commotion disappears.
Sushi Mumi recently opened inside the same space as Kura, which I reviewed – and loved – back in 2014. I wasn't alone – Kura was famous for value and for pioneering high quality sushi in the neighborhood (alongside Jewel Bako).
This is far from a generic rebrand; Sushi Mumi looks completely different. Where Kura was energetic but informal, Sushi Mumi is serene and dignified. In truth, it's a different world, both from Kura and the frenetic pace of the street outside.
And that's what I love most about eating at a sushiya. At its best, stepping into a sushi temple is stepping off the roller coaster of life. Relax and enjoy for two hours.
Let's talk about the sushi
None of the above matters if the sushi doesn't deliver. Fortunately, little legends, it does. The legend behind the counter, Marco Lin, is an Itamae In the truest sense – chef and co-owner. Lin was previously at Sushi Ginza Onodera and Blue Ribbon, two well-regarded sushiya that nevertheless are part of corporate empires.
Mumi is an opportunity for Lin to not just be his own boss, but chart his own path creatively. And he takes full advantage.
The Neta is seasonal, as you'll see below, and the menu changes daily (as you'll see because Mumi, like many other sushiya in NYC, gives diners their daily menu as a keepsake).
The vinegars in the vinegared rice – a key part of what makes sushi, sushi – are a blend of two types of Akazu (red vinegar). The first, from Yokoi Vinegar in Japan (aka "Yohei"). The second, a secret. This wouldn't be a well-regarded sushiya without one (or some) of those.
And speaking of that rice – rather than use the famous New York City tap water, Mumi uses high PH bottled water. Yes, you read that right. Does it make a difference? My palette isn't sophisticated enough to tell, but businesses don't spend extra money needlessly unless the metaverse is involved .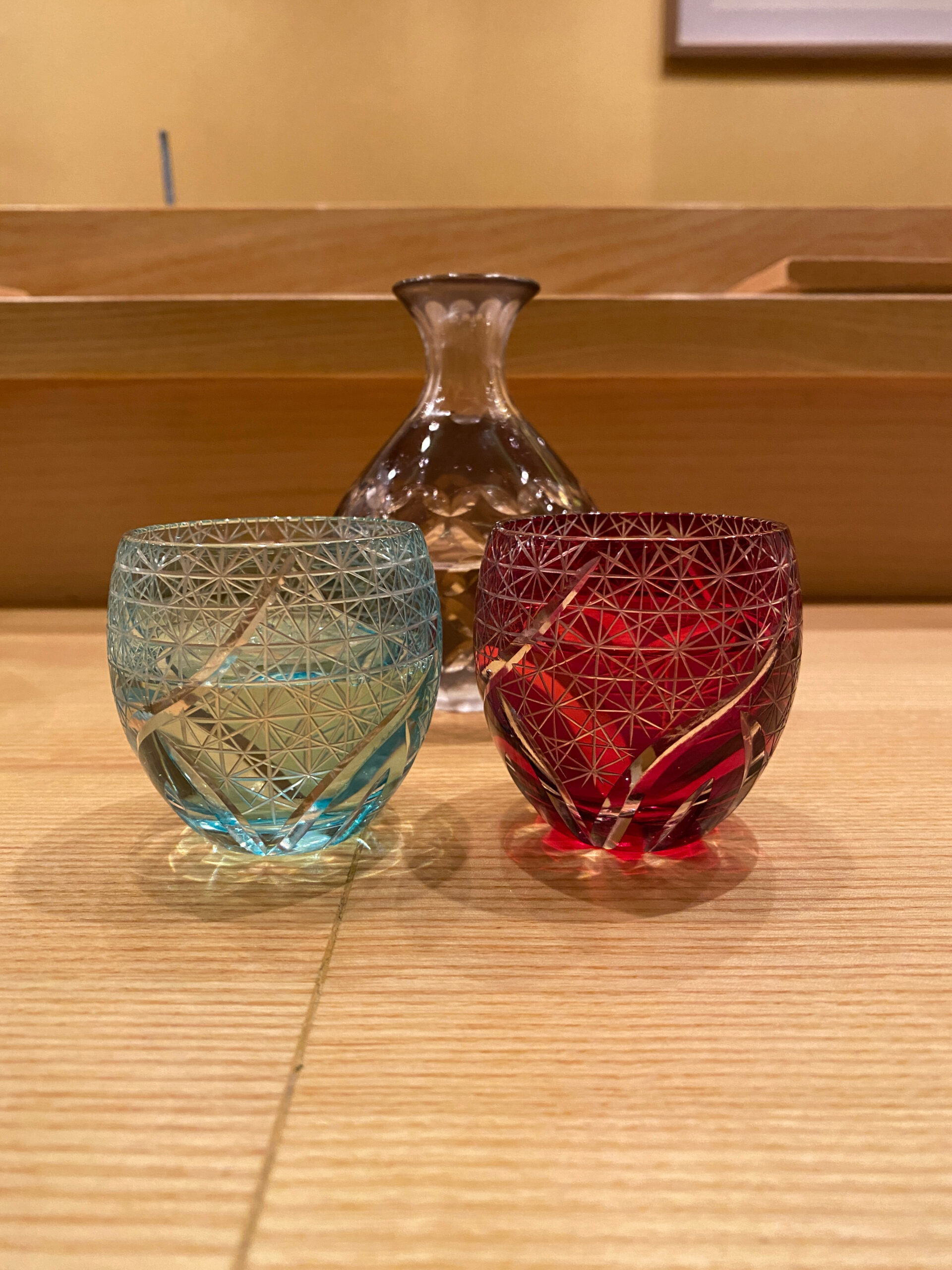 Interjection on the Ceramics
No sushiya in New York besides Kosaka is as proud of their ceramics as Mumi. As an amateur artist (I fingerpainted back in kindergarten), I appreciate the finer things. If you do too, you'll be fascinated throughout your meal. In fact, my wife asked multiple times where she can purchase them. She's a beaut.
Like Sushi Masaki Saito in Toronto (and others), Mumi lets customers pick their own sake glasses from an assortment of options. Unlike Masaki Saito, I didn't choose a too shallow option that I immediately spilled 10 seconds later. Progress.
There is only one option at Sushi Mumi – the 18 course, $250 omakase, served course by course. Like other sushiya, the Otsumami courses start first, beginning with the Ankimo and Narazuke. If you're not familiar with Narazuke, it's a classic japanese pickled vegetable.
The nigiri procession starts with Sanma (Pacific Saury), a hikarimono known for its distinct silver skin, oily flavor and fat (you'll see why in the picture below). This is perhaps the most visually stunning course that Lin served in an omakase filled with them.
It's also an immediate example that this is a seasonally focused meal. Sanma is best in the fall, when it migrates south to the northeastern part of Japan.
Ishigaki-dai (spotted knifejaw) is a rare Neta that is indigenous to Japanese waters that I find delicious. Worth a try if (and when) you find it on offer.
I mentioned earlier that Sushi Mumi isn't afraid to expand their Neta horizons. Kuromutsu (gnomefish), pictured below, is an example.
Like most of us, Kuromutsu get fatter (and more delicious) as winter approaches, though they're not overly oily.
Re: the Tamago
Like the tamagoyaki at other sushiya, Sushi Mumi mixes their eggs with dashi stock (one of my favourite sushi books indicates this works becasue of the "emulsifying properties of lecithin", which sounds scientific enough to be true), mirin and sugar. The result is almost like a cubed mousse that is the perfect sweetener to end the meal.
Based on my visit, I suspect Sushi Mumi will become very popular. I spent 900,000 words above on the quality, but there's also the location, smack dab in St. Marks in the middle of the East Village. 5 years ago, $250 per-person would have been excessive for the area. Now? Downright reasonable.
It doesn't hurt that the team surrounding Lin provides my favourite kind of service; extraordinarily polite, show up with more sake and water, and that's it.
Recommended.