A Sushi Legend Goes North
I think it happened somewhere between the impossibly soft Zuke nigiri and the precisely sliced kasugo.
Or maybe it happened somewhere between our fourth and fifth carafes of Jikon Omachi sake. Truthfully, I'm not sure, that last part is still a blur.
What I do know is that regardless of how many thousands of sips I took during my visit to Sushi Masaki Saito in early August 2022, I distinctly remember thinking – at some point – that a sushiya of this quality and a restaurant of this serenity just don't belong in Toronto's Yorkville neighborhood.
If you're unfamiliar, Yorkville is one of the posh areas of Toronto. It's so posh there's both an Eataly AND a Pusateri's, which is Toronto's version of Harry Winston Jewelers for Groceries. Yorkville is more Tony than the Tiger (thanks, try the veal).
So no surprise that the price tag matches the area. At a cool $680 CAD per person, plus more for tax, tip, alcohol, tea, water and quite possibly the oxygen inside the sushiya as well, Sushi Masaki Saito is the second most expensive sushiya in North America (behind the legendary Masa in New York City). And yes I converted the exchange rates.
It also happens to be very good. "Some of the best nigiri I can recall having" good. Whether that makes it worth the price tag is entirely based on your priorities, budget and trust (in me).
As you might guess, the Itamae is Masaki Saito. Saito-San was formerly at Sushi Ginza Onodera in New York City and elsewhere. When I dined with him there in 2016, I wrote that the sushi served was "exquisite and masterfully cut". Apart from my vocabulary regressing (thanks to the 3,200 bottles of Pinot Grigio), nothing has changed with Saito. It's as show as good as ever.
So for Torontonians weary of the price, I'd say this: if you're someone who didn't blink at dropping $1000 for Hamilton's watered down Toronto debut, perhaps consider splurging here instead.The other factor is that Toronto does not have many of the sushi temples that so many of you love to visit in New York, Los Angeles and elsewhere. I love Kaji and Zen, but with the recent closure of Sushi Nishinokaze, options are limited.
Want reservations? Good luck.
After first opening in 2019, and then reopening in February 2022, Saito has hit it's stride. Reservations were difficult, likely thanks to the strong reviews, two nightly seatings of just 8 people, and unabashed love that Torontonians have for any American transplant that journeys north of the border. For example, the Cheesecake Factory line at Yorkdale stretches to Timmins.
Here's a tip:  The waiting list is your friend. And not just a friend that stays at your apartment, destroys the seat, and then doesn't offer to fix it (you know who you are). A real friend.My waitlist journey? I got notified by text five days prior of availability on the second seating (8:30), primetime on a Saturday night. Sushi Night in Canada was on. Let's dive in.
An inauspicious start
Sushi Masaki Saito is on the second floor of an Avenue Road townhome. The staff – all of whom are cheerful, helpful and knowledgeable – wait outside to lead customers into a serene dining room centered by a 14 seat counter (only 8 are used per seating).
That presents a problem for customers who show up early.
Some sushiya solve this issue by having their customers wait outside. Masaki Saito fixes it by herding their diners into an adjacent room, where people mingle together awkwardly. Every sixty seconds or so, the door to this cattle pen slides open and the next couple is led in, silently, to stare at the rest of us like we're stuck in an elevator together.
My suggested fix to this awkwardness is the same as it is for virtually everything besides a fear of driving: alcohol. Offer and serve it. Pretty simple.
Yolo
Any initial misgivings change once we're seated in front of Saito-san. My dining partner for the evening is my older, less-verbose brother; he's not a sushi connoisseur like most of you legends, but he knows a great opportunity for a mid-life crisis when he sees it. See exhibits A and B below:
A theatrical first six courses
Saito-san presides over a meticulous team of four chefs behind the counter and in the prep kitchen. Though he speaks judiciously, his words carry weight, and his meticulousness trickles through his crew and, more importantly, the food they serve.
Junsai with Mozuku Seaweed and Uni is a fantastic opening salvo because this unique dish immediately separates the open-minded customers from anyone there just for the buzz.
If you're not familiar with Mozuku Seaweed, take notes: it comes from the waters of Okinawa, where it's renowned for its health and restorative powers, based primarily on the presence of something called Fucoidan. Now stop taking notes because that's all I know.
Here, it forms part of a gelatinous small plate that had the entire counter slurping loudly (as one does). A true highlight that, from a brief review of Yelp, is not served frequently.
He's gone Hollywood
The most substantial change to Saito's Omakase since five years ago is the addition of black truffles. I'm sure longtime readers will expect me to spend 250 words on how this development represents the downfall of civilization, but I somewhat understand the rationale: for the average diner, black truffle is an easy way to understand why the meal is so expensive. Not the fancypants rice, world renowned Itamae, auctioned-off tuna. No, no. The black truffles.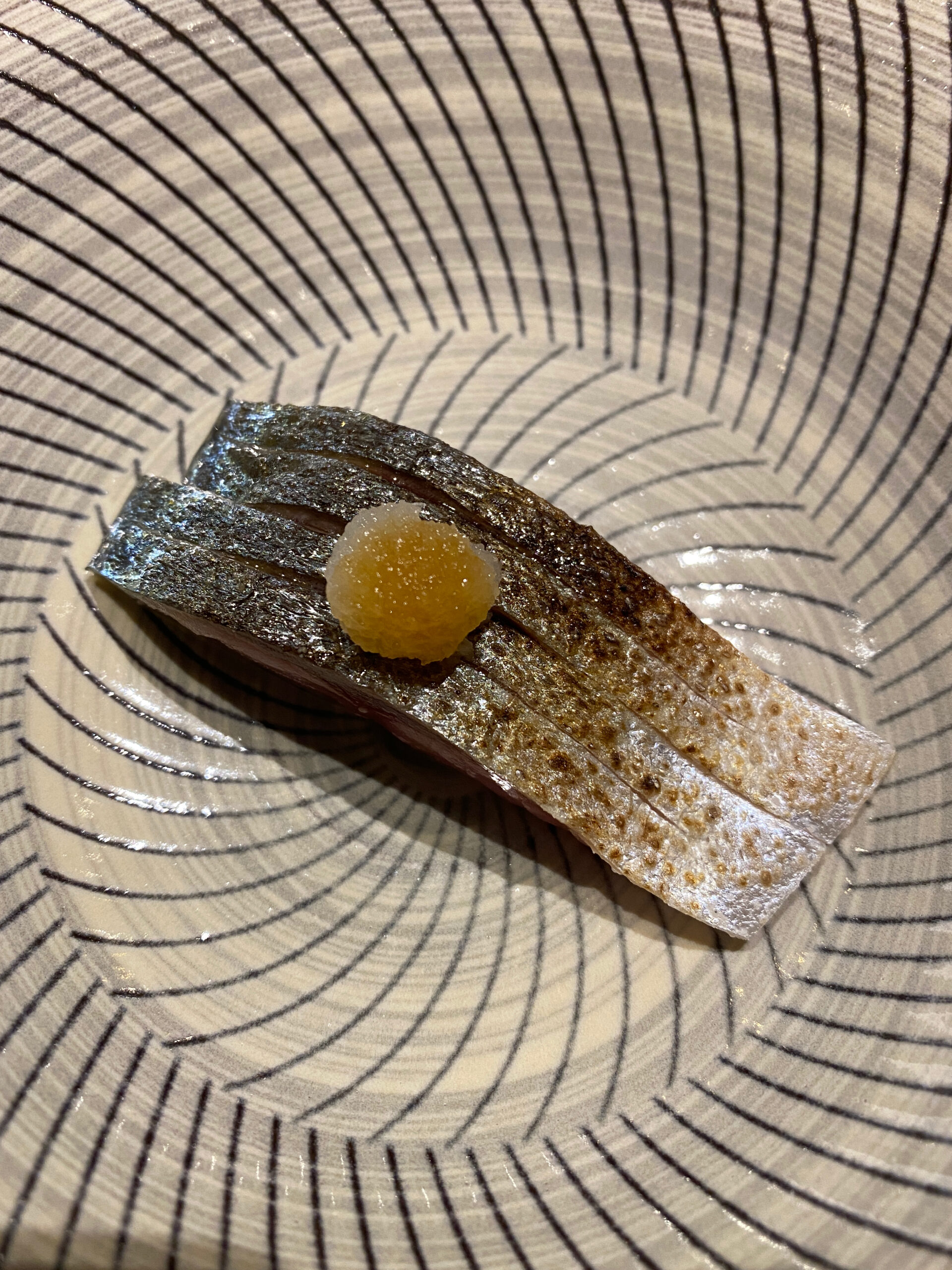 Saito's nigiri are among my favourite in North America
For how much of a crowdpleaser Saito's Otsumami is, once the nigiri procession started, I was transported back to the Sushi Ginza Onodera counter, Labor Day 2016. What makes it so good?
First, there's the preparation. Zuke, marinated traditionally and topped with yuzu zest. Shari (rice) from Niigata prefecture, mixed in front of customers, seasoned with multiple versions of Akazu (red vinegar) to taste (and the team there tastes – frequently).
And that knifework. Not only slicing through the various Saku (slabs of fish)…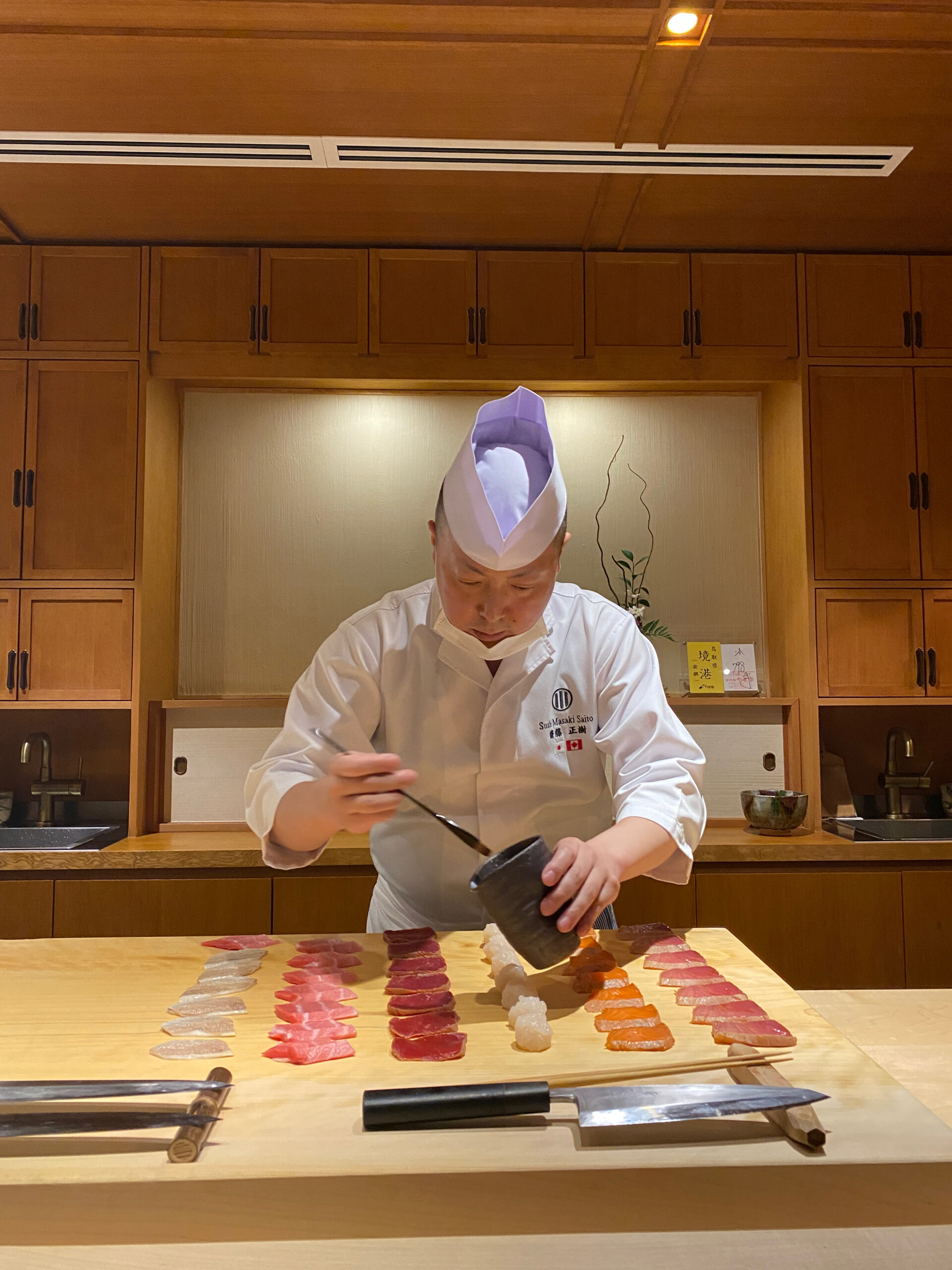 But in the Neta itself. The Binchotan-seared O Toro has a slice through the middle to cradle the shoyu…
…while Saito makes four small incisions across the Kasugo for malleability. The Kasugo – presented as baby red snapper but more commonly referred to as young sea bream – is in season during the spring/early summer, but is my favourite nigiri of the night.
Finally, there's the ingredients themselves, starting with the shari, a critical part of fantastic sushi.
Be forewarned
Though there are only six otsumami courses, they take 45 minutes longer to serve than the eleven sushi courses that follow, which pushes the entire meal to almost 3 hours. That's standard for Omakase offerings at sushiya of similar class; Shion 69 Leonard in New York City for instance was similar.
The downside for those that prefer volume and variety of seasonal nigiri is you're left wanting more. It's a conclusion I've had routinely after leaving these meals, regardless of Morihiro in Los Angeles, Hiyakawa in Miami or Sushi Noz in New York City.
And certain traditionalists out there may decry the lack of shiromi up front, but truthfully, I'm seeing less "standard" ordering among the high-end sushiya I've been to recently.
Regardless, this is a special meal, with a world-renowned itamae, in a city that certainly deserves it. If you can stomach the price, it's worth a visit.
Recommended.