I hope you're sitting down
What if I told you that there's a sushi spot in midtown New York that isn't a complete tourist trap.
A sushiya tucked away on the second floor of a building so industrial, you'll think you stepped into the Complex level of Goldeneye 64.
A sushiya tucked away in a room with almost as many exposed pipes as my parents basement.
And that sushiya is great?
Welcome friends, to Sushi 35 West.
As you might guess given the name, Sushi on 35 is located on 35th street in midtown Manhattan, a stone's throw from Penn Station, Port Authority and the city's 846th location of CVS.
And as you might also expect given the name, Sushi on 35 is just a classic neighborhood sushiya, probably specializing in spicy tuna and beef short ribs (the NYC sushiya "surf and turf"), right?
Wrong.
In fact, it's the first solo jaunt for Itamae, Jacky Ye. Most nights of the week, you can see him plugging away in the one-window room, satisfying the hoards of takeout customers that are onto the best deal in midtown.
But the trick to Sushi on 35 is eating there. Yes, in the room that a recent dining partner described as "the break room from Chernobyl".
The tables – basically straight from some park – are rickety, sure. But for a town that prides itself on its grit, there's nothing better than a $45 platter, shared with a crew (I saw plenty of crews on my multiple visits).
I know there's a few of you legends that prefer your nigiri on the smaller and fatter side. Sushi on 35 is for you. As is the Neta. Unlike other spots, there's no effort to be fancy by bringing in something exotic that's (probably) actually Tilapia.
Yes, there's Uni, Ikura and Botan Ebi, to the extent those Neta qualify as "fancy", but Sushi 35 West knows its lane and sticks to it. Full menu below.
First visit – takeout
Though there are the aforementioned tables, the bulk of Sushi 35 West's orders are takeout platters, which is what I did when I ordered the "Sushi Premium" set ($35). That  included 10 pieces of nigiri and a negitoro makizushi.
Because I'm a content king first and foremost, I brought some home for photographing in, uh, better light. Peak below.
One of the benefits to the "short and fat" style of nigiri that Sushi 35 West serves is that it holds up well on transport home. Case in point: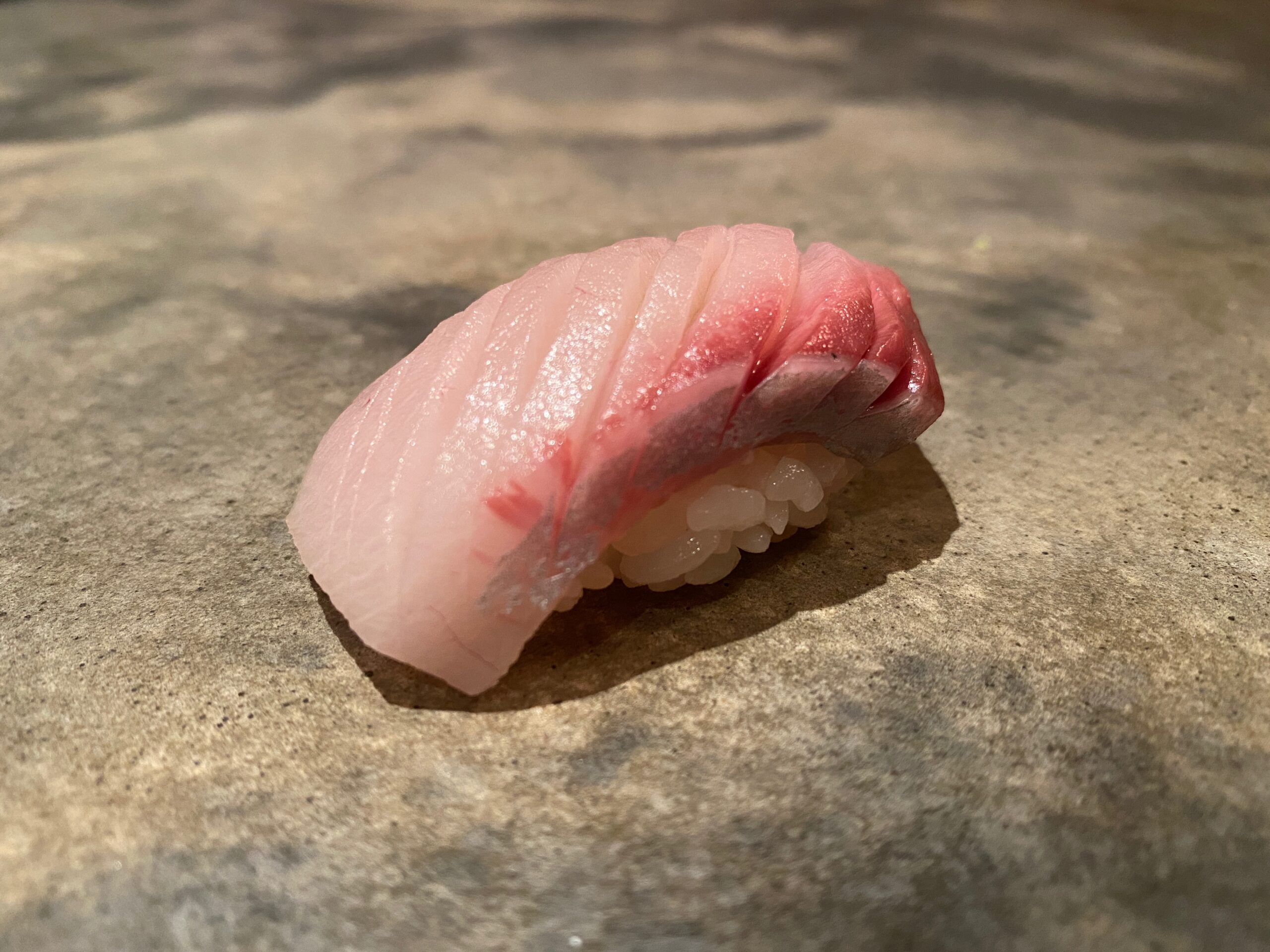 The knifework on the nigiri above is more beautiful than takeout has any right to be, but that's the theme for Sushi on 35 in general.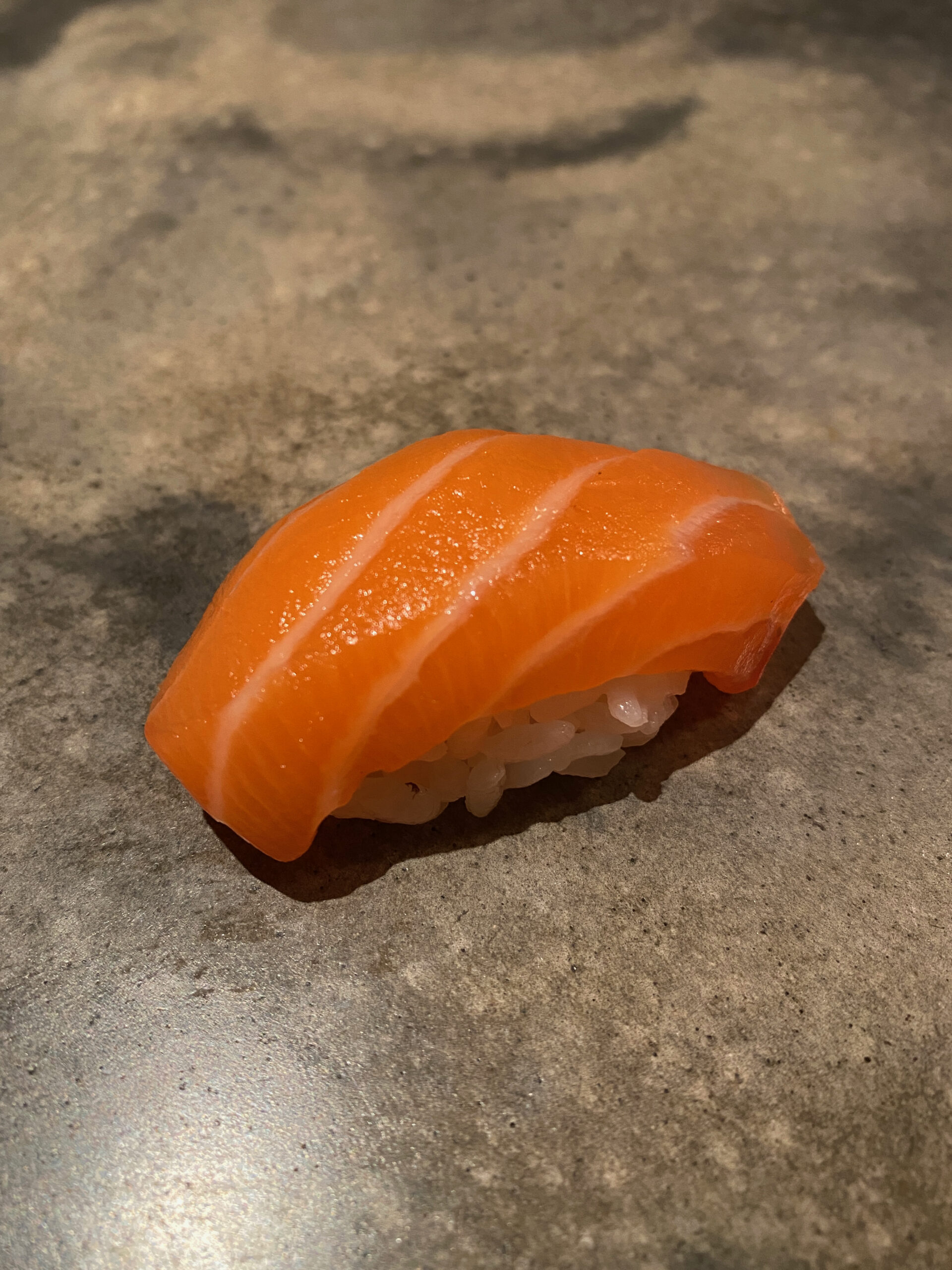 Visit #2 – dine-in
For dine-in, a friend and I shared the Omakase platter.
That circular tray features 35 pieces of nigiri and was perfect for two. A price point of $110 would have seemed high 5 years ago, but these are unique times we're living in.
This isn't Sushi Noz or Sushi Mumi.
It's not a serene temple. But it's comfortable and easy, and really – who wants to spend more time than they have to after work? (sorry to my ex-colleagues if you're reading this, love you all).
Bottom line
One of the unique issues with living, working or visiting midtown west area of New York City is that there isn't that many quality sushi restaurants.
In fact, of the 100+ reviews I've written, this is the first I've recommended from that area of NYC. It's not just the quality of the sushi, but the simplicity of ordering and how well-suited the prep is for takeout.
The nigiri holds its shape, the neta aren't drenched in sauce to get soggy and the shari is served hot and cools to body temperature (as it should) about 30 minutes later.
That may seem like a low bar, but it's one that many sushiya that serve stale rice with spicy sauce and fish entrails in that neighborhood fail to clear.
Sushi 35 West is one of my favourite sushiya of its kind in New York City.
Highly recommended.