Hello there.
Welcome to New York City! You're going to have a fantastic weekend, especially since like any smart tourist, you've realized that you're in the centre of the sushi world outside of Japan and have decided to take advantage.
Great idea.
Speaking of great ideas, I hear you're planning to go to Sugarfish. I know you saw it on that one influencer's page and have been dreaming about it for months (or was it years?) since.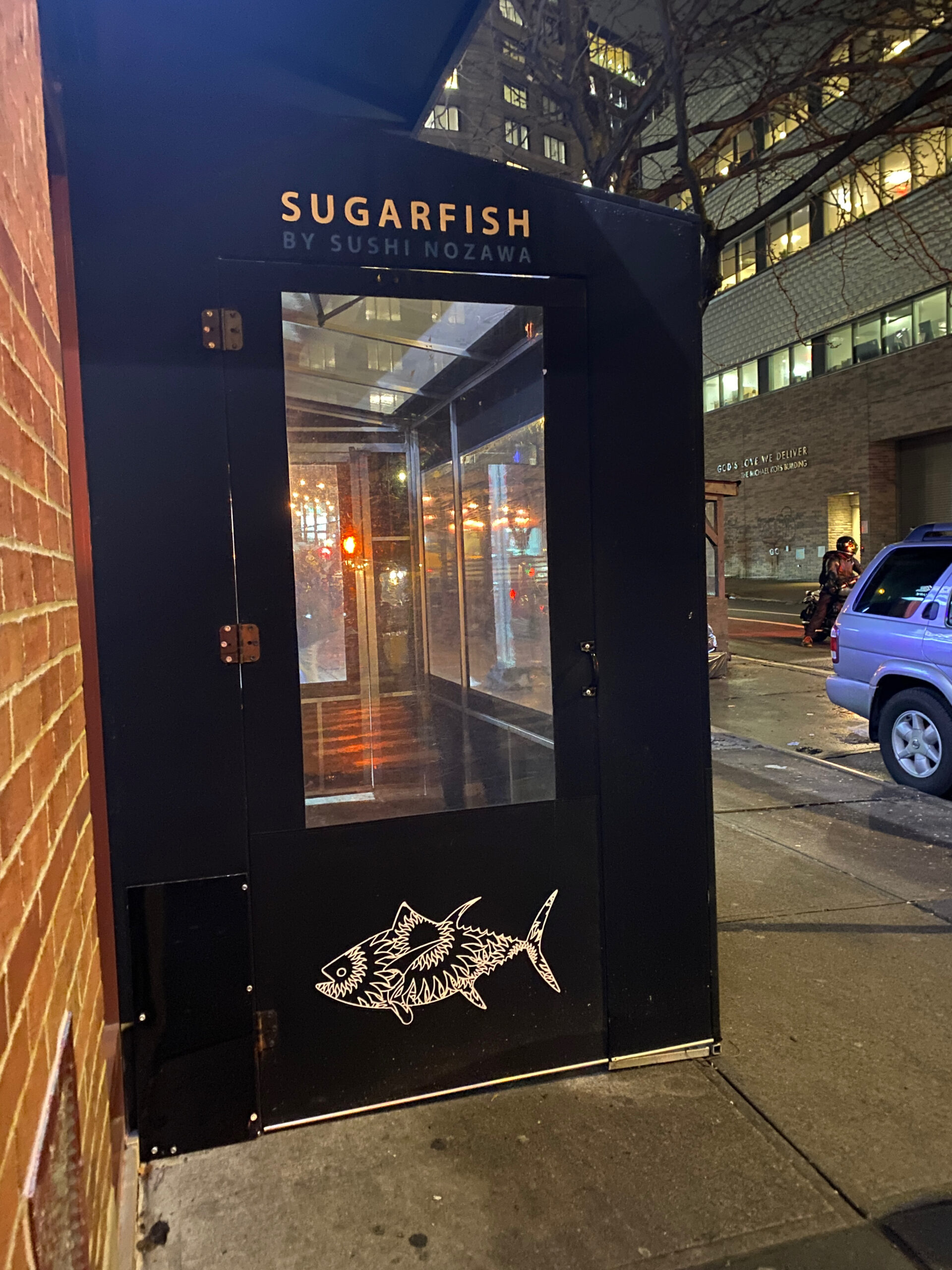 Well, there's nowhere better. I went last week with my friend. You'd love him; he's also from out of town and also religiously wore Ed Hardy shirts during bottle service in 2008.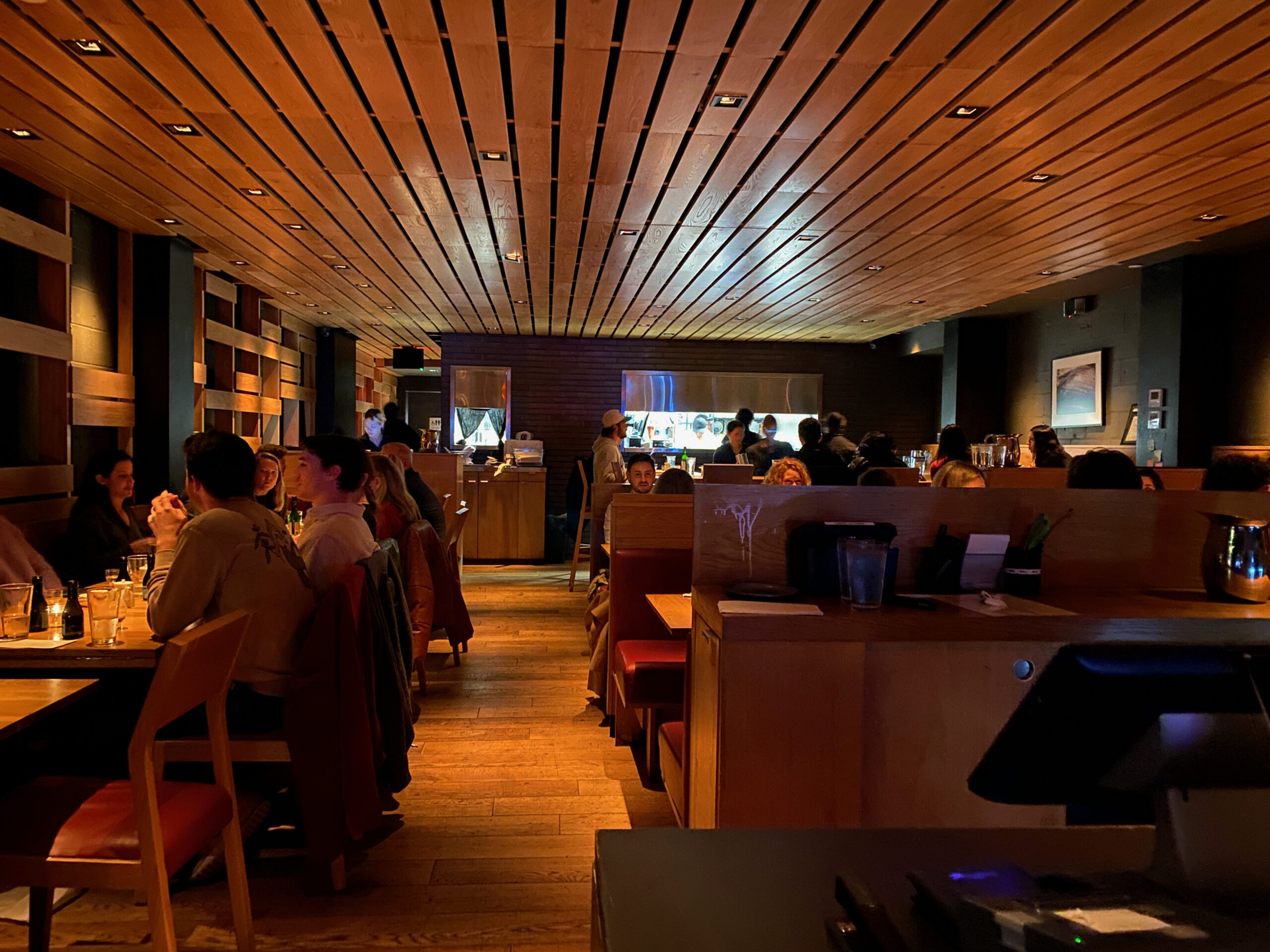 Sugarfish was actually his idea. I stupidly suggested sushi that was more traditional and/or properly prepared, but he would have none of it.

And I'm glad he pushed back.
Otherwise, I wouldn't have gotten the chance to pick from one of Nozawa's famous options such as the "Trust Me" or the "Trust Me Lite" or the "Nozawa Trust Me" and who could forget the "Don't think. Just eat. Trust me". Confused? You shouldn't be. It's all very simple.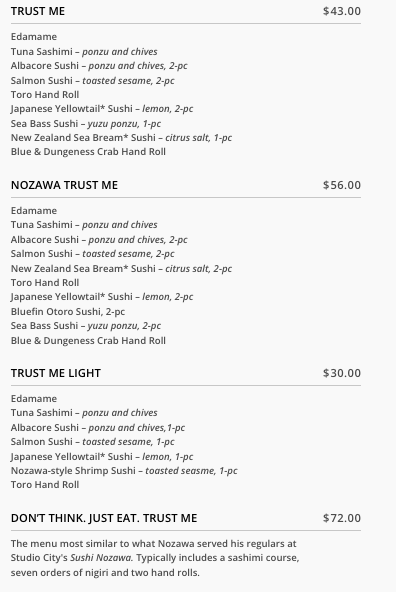 Thankfully, the waitstaff is happy to explain it all when they heavily push these four options instead of anything on the a la carte menu. They do that because they're the best value of course, not because Sugarfish is a factory that makes more money through repeatable orders they can prep in advance. Ridiculous to think the latter.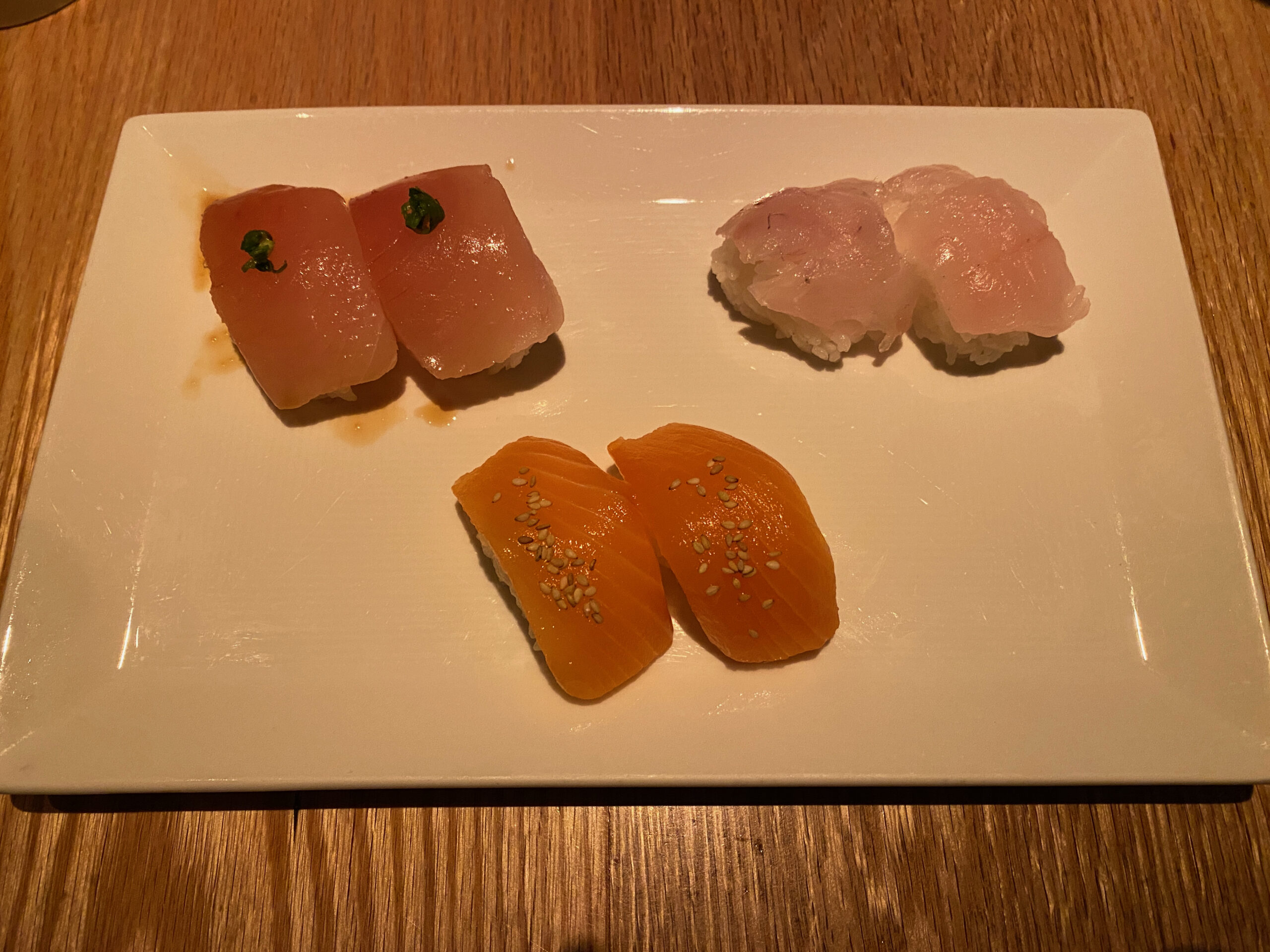 We went with the "Nozawa Trust Me", which you'll be happy to know includes an extra 2 nigiri of O Toro and Suzuki each.
Just be careful though; it's not actually the real Nozawa back there.
With 15 locations, Sugarfish relies on a faceless system of chefs. But that's okay, right? You're not here for the Itamae or their years of practice and technique – you're here to tell your friends back home in Kansas City that you went to Sugarfish.
You're also here for their special style of sushi, which is exactly like the sushi I love, only with a lot more rice and fish that might have been cut with dull scissors. So beautiful.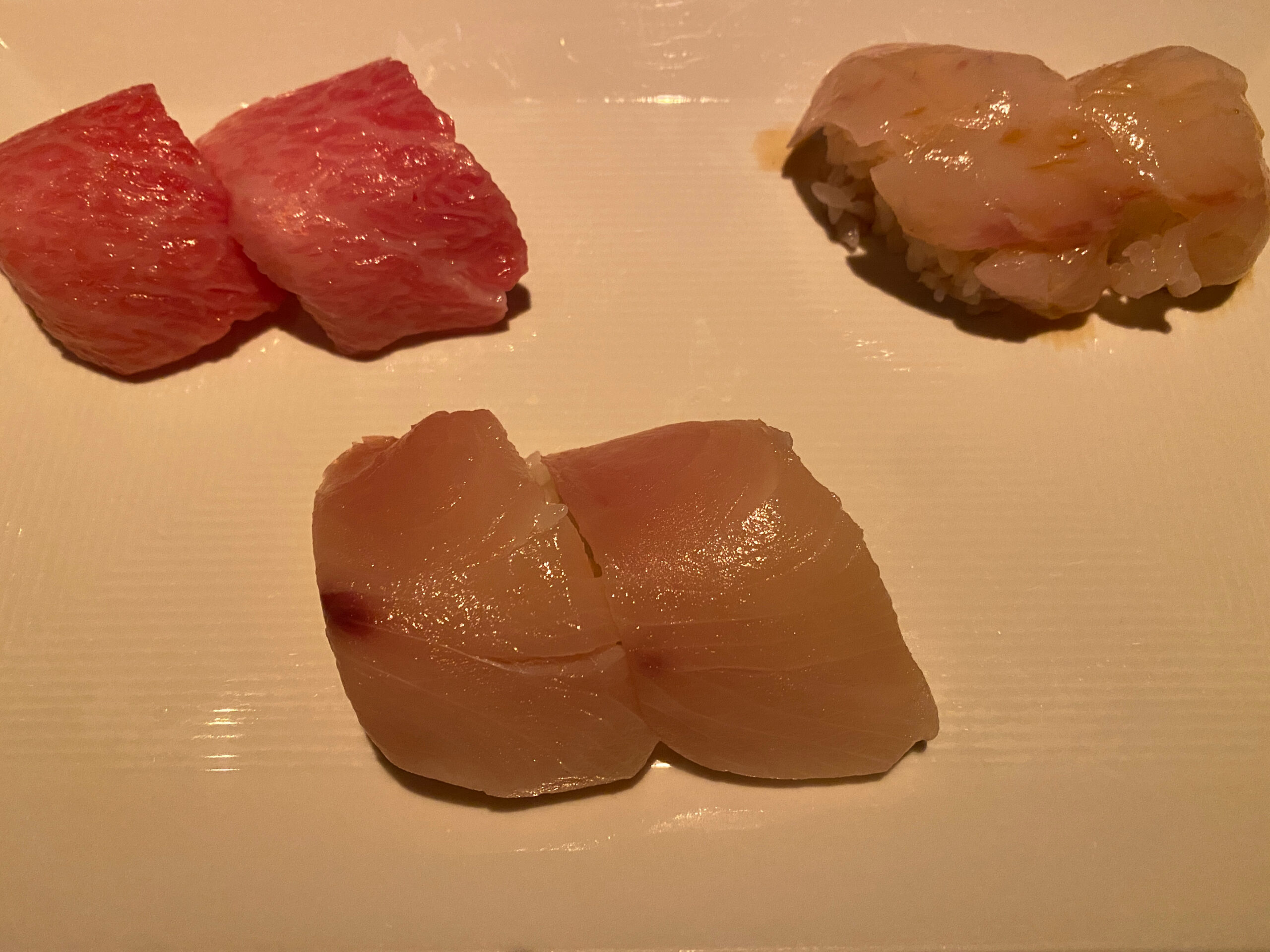 In most sushiya, this nigiri is formed by layering a slice of fish on top of a ball of rice and forming them together into a cohesive shape. But not at Sugarfish, my friend. Instead, they deconstruct the nigiri into this post-modernism expression of art.
Sugarfish even has daily specials! We both got the Kama Toro and the Ankimo. Now, ignore the fact the restaurant didn't have either at first and then happened to find a single order 5 minutes later; just the fact that they even had it on the menu was delightful.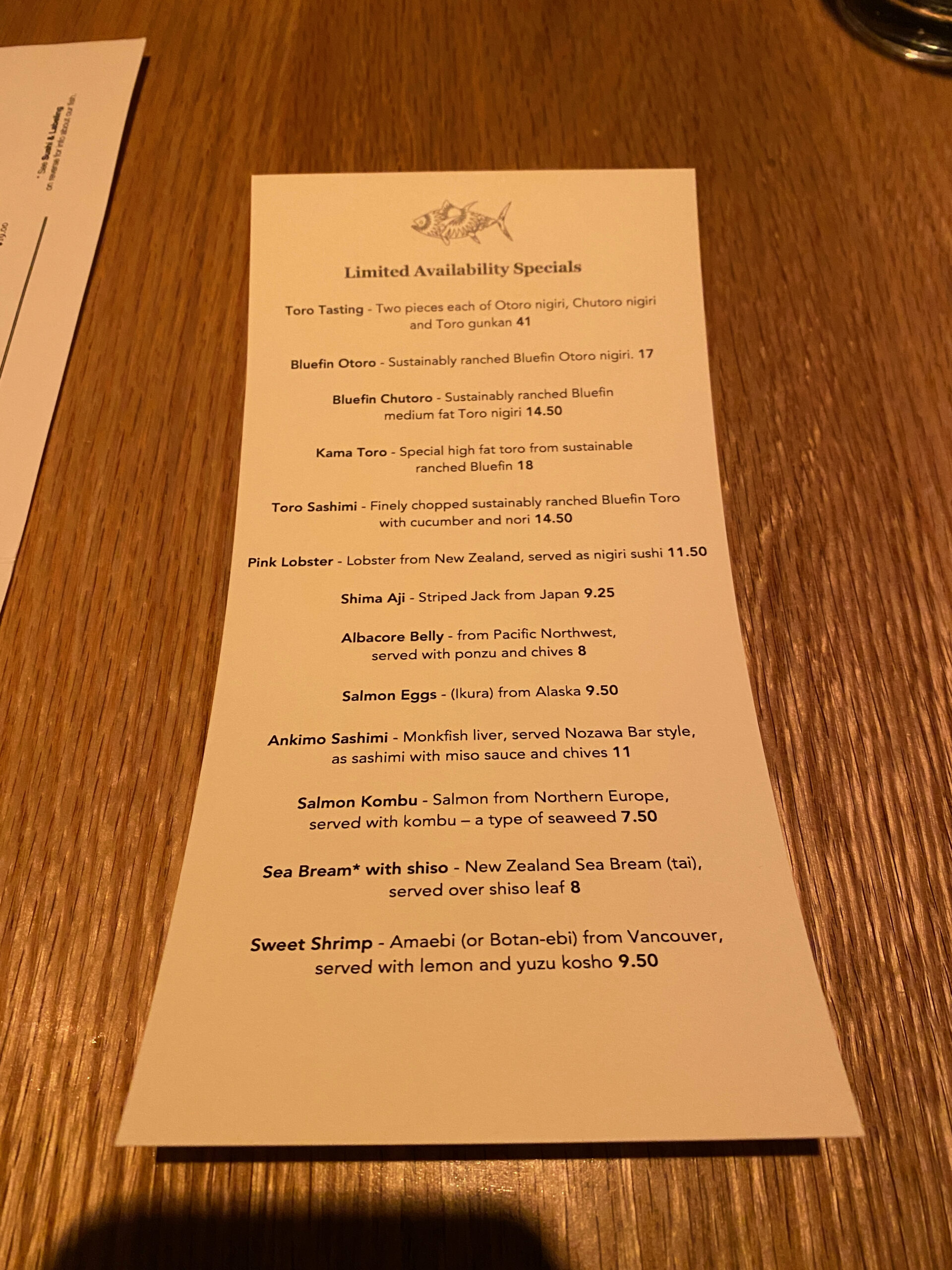 Now, a cynic might say the Kama Toro had more rice than Honghe Hani itself, but they don't understand the genius of Sugarfish like you and I do.
That's because you know Sugarfish is good. The internet has told you so. Just like it's told you that the Ankimo should have the consistency of a Sloppy Joe.
Now, it wasn't all sunshine and lollipops for my friend. Midway through the meal, despite my vehement protests, he asked for spicy mayo. You would have thought he asked the waiter for the nuclear codes, because Sugarfish isn't that kind of sushiya, you see. They don't cater to Americans who prefer cream cheese in their sushi; they cater to tourists who prefer mayonnaise in their sushi. It's important you understand the difference.
Speaking of mayo, Sugarfish is famous for their Temaki, which contains oodles of their favourite condiment. I know you mentioned you like your hand rolls "warm like a sauna", so I'm sure you'll enjoy this.
Finally, I'd be remiss if I didn't give you a heads up about this very cool thing that sometimes happens.
Since Sugarfish is so busy with other high society tourists like you, sometimes you might be forced to flag down the manager to place your order, then that manager may completely butcher it and bring you the wrong dish, blame another server – who was actually awesome – for the mistake and then the entire team moves on since apparently that happens all the time.
So you may get stuck with this:
Hope you like Cucumber.
Not recommended to anyone even the Boston Bruins