When does a restaurant go from being a beloved local haunt to a mechanical corporate chain? I guess we're about to find out. Let's chat Uchi Miami, the fourth outpost of the Austin, Texas darling.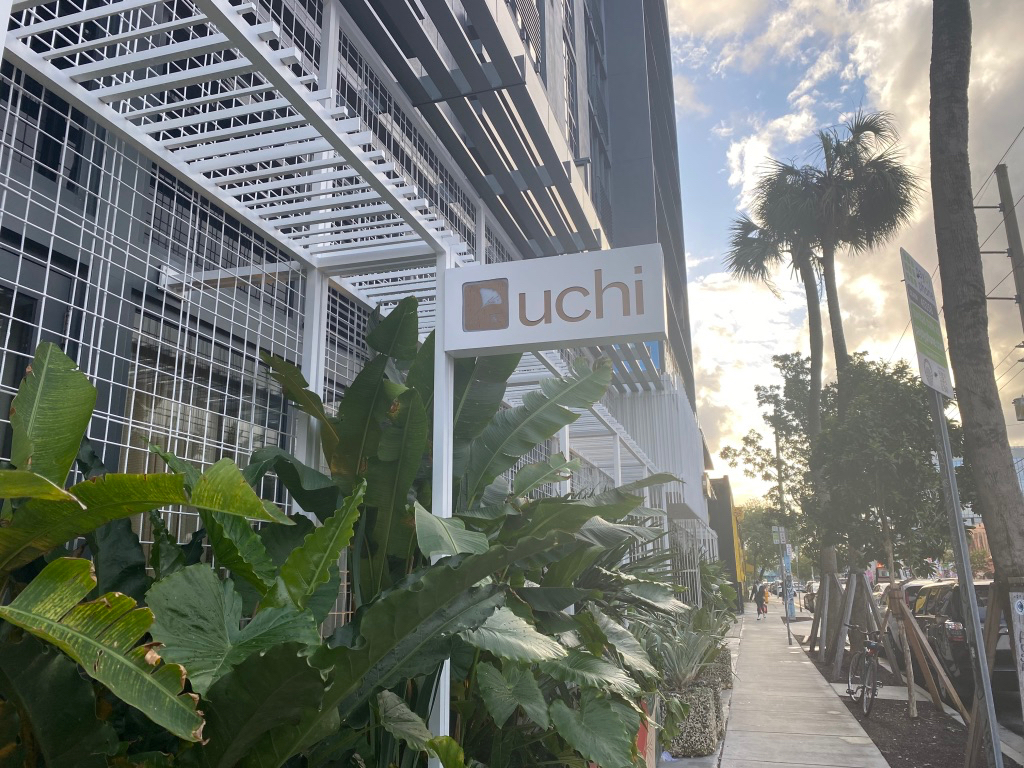 The original Uchi, located in the southern end of frequent "best place to move to" winner, Austin, Texas, is the brainchild of Tyson Cole. As the story goes, Cole fell in love with sushi in his early twenties and threw himself completely into our favourite cuisine, including a move to Japan and time in New York City at Bond Street. He opened Uchi, which means "house", in 2003, followed by expansions to Dallas, Denver and Houston.
The mission is to combine 'global flavors with traditional japanese cuisine', and yet Uchi avoids some of the lazy thinking that doops typical fusion sushiya like Zuma, Sushi Samba and yes, even present-day Nobu. Rather than take the blowtorch, deep-fryer and mayo jar to fish entrails and charge $37, Uchi's offerings go heavy on fruits, vegetables and yes, even cheese, mixed with raw and cooked fish (and meat). This isn't traditional sushi, but on my visit to their latest, Uchi Miami in Wynwood, I shockingly didn't mind it.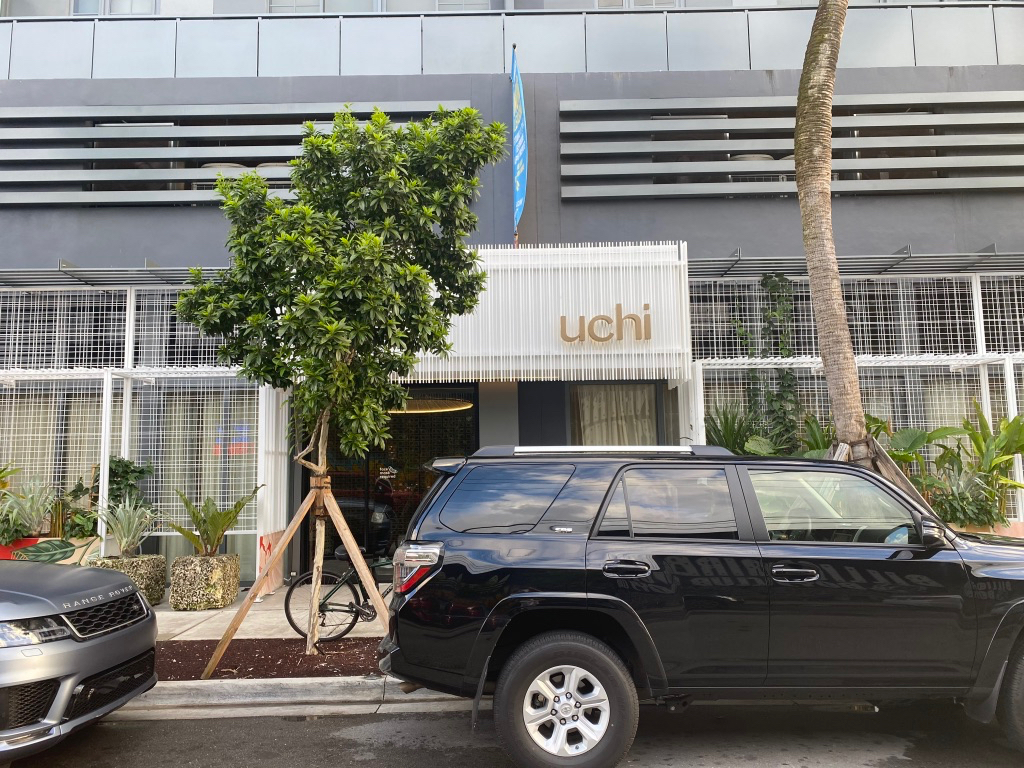 We went for Happy Hour…don't judge me.
For all the positive publicity the various Uchi locations get, nothing brings the crowds like their Happy Hour. Think about the typical happy hour menus: Dollar oysters, half sandwiches, 50% off wings. In the sushi world, there may be a $5 Sake carafe, some 3 for 2 makizushi, maybe even half-price salmon nigiri if you're lucky. Uchi flips that narrative. 3 makimono, 5 nigiri and 7 cold/hot plates, none of which show up on the regular menu.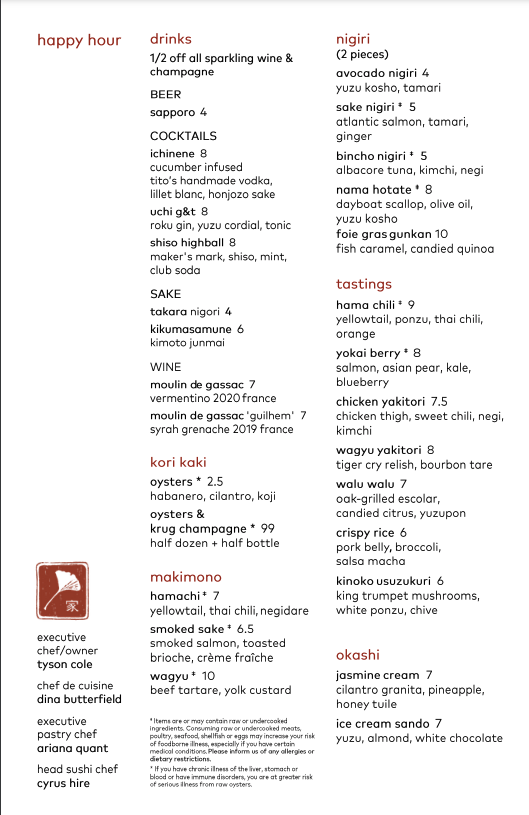 So what'd we get?
Everything. Literally everything on the menu above, maybe even all the booze. It was a wild night, I might have ended up at Aventura afterwards riding that escalator to Ben & Jerry's, who knows.
But it was just the easiest approach.
The way Uchi works – and why the Happy Hour menu is so legit – is that it's restricted to 90 minutes. 5pm to 6:30pm. And they remind you. Oh, they remind you. An alarm would have been less annoying. They expect you to blow past the slot, at which point you're into the main menu and its prices. So rather than spend time debating, re-ordering, looking at the clock and other non-drinking or eating tasks, we just said "give us the works".
Pictures below, thoughts at the bottom.
Are you sitting down? Good, because you'll be shocked to learn the raw dishes were my favourite. Truly, truly, shocking. Turns out that Salmon with berry seeds are a great combination, regardless of the random Nori nestled on top. And of course, the Hamachi, perfectly pink, perfectly sliced.
Among a procession of solid food, the Kinoko Usuzukuri (read: mushroom tempura) was the most challenged. Thin mushrooms + tempura batter = a greasy mess that all the random chives in the world can't save.
The nigiri options rotate in and out of the happy hour menu; one day you'll get Kani (like we did), the other you'll get Hotate (like you see on the menu above). When they do show up, they're served 2-to-an-order, which increases both the value and the arguments when you're a party of 3, though I'm still not sure to whom albacore (bincho) nigiri is supposed to appeal. There weren't many fights over those.
A word of warning to the sauce-averse. If you don't love the kitchen sink on your makizushi, steer very clear of some of Uchi's cut rolls (I'm looking at you Wagyu). The best I had was the Hamachi-negi which, despite a light tough of rogue thai chili sauce, was unsurprisingly understated but delicious. It's popular around the world for a reason.
When I visited, Uchi's counter was still off-limits, but I suspect it will be back open soon (if it isn't already). It centers the rest of the restaurant, which has been put together like every other trendy restaurant in Miami: dark, with spotlights, an open kitchen, bar in the middle – Prime Italian, Mr. Chow, Uchi Miami – all the same.
That said, if we're judging Miami restaurants based on a matching aesthetic, I'd stick with Yasu Tanaka and leave it there. But it turns out humans need food to eat and money to buy things, and so a full recommendation to the Happy Hour at Uchi Miami.