Note: The inteview below was featured in my bi-weekly free newsletter, Sushi Shinbun. To sign up, scroll to the bottom of the page and enter your email.
 The current Sushi Economy is fascinating. The demand from customers is bananas and so the number of sushi restaurants (in the US at least) has increased accordingly – more than 50% over the past decade – even through the Pandemic.
More demand means more seafood needed means higher prices, right? Well, not so fast. More restaurants also means more competition, which keeps prices down; if there's many options serving the same thing, most people will choose the cheapest.
But at higher-end sushiya? Well…. when I moved to New York in 2012, the Omakase at Ichimura was $150. Today, Ichimura, with a similar menu – which I reviewed here – is $300++.
So what's happening? With rent, cost of living and seafood prices all generally static, customer preferences, social media and return-seeking investors are all likely contributors. I'll be diving into the financials in the future – stay tuned.
But for today, I spoke to Nobu Yamanshi, the Director of Yama Seafood, one of the Tri-state area's best distributors, for his thoughts as part of a wider-ranging conversation about how his business has dealt with the pandemic. Scroll down for that.
Ps: for the real nerds, The Sushi Economy by Sasha Issenberg is fantastic. A full list of sushi books I recommend can be found here.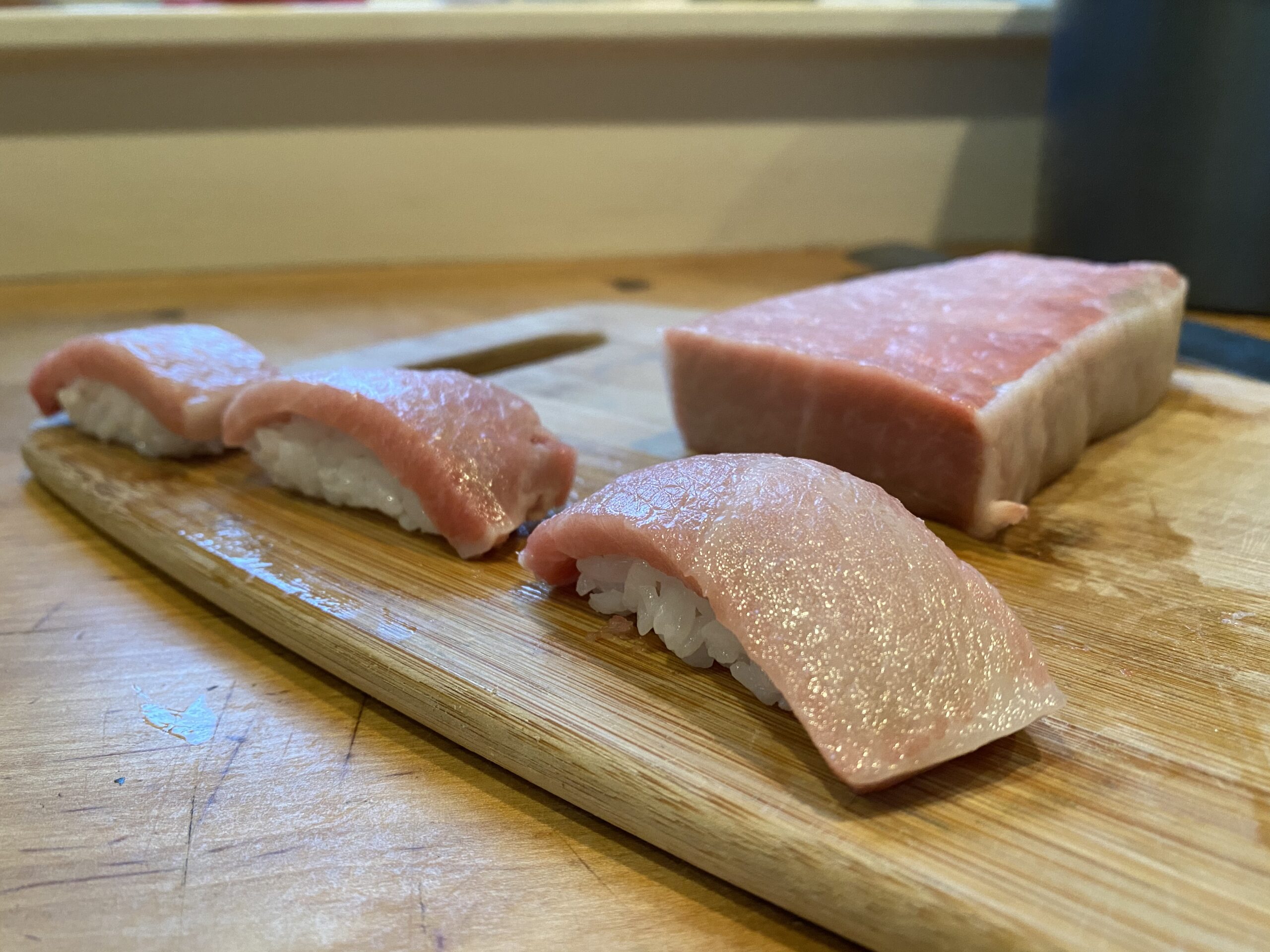 It's no secret that 2020 cratered the restaurant industry. But what gets less publicity is the cascading effect throughout the supply chain.
Yama Seafood, a northeast distributor that serves a multitude of high-end sushiya (and other restaurants) in the tri-state area, was one of those that felt the effects.
Fortunately, second-generation owner Nobu Yamanashi, successfully pivoted to a Direct-to-Consumer model. I know firsthand – we were one of many happy customers, which I wrote about here.
I spoke to him about how he did it and where he sees the sushi market going post-pandemic. I think you'll find he has a great perspective given his company's unique spot within the sushi ecosystem.
(My) father started the business in mid 70s buying tuna from sports fishermen in Boston and would bring those back to NYC and have chefs pick the cuts they want literally on the side of the road type concept.
He eventually got a warehouse in the Meatpacking district and then moved to our current warehouse in Jersey City.
I (Nobu Yamanashi) only joined 3 years ago. To be honest, I never thought I'd join Yama. I saw my father run the business my entire life and he worked nonstop 7 days a week most of my childhood. He would be asleep by 7PM and be up by 1AM every day. Even on weekends since that was his routine.
However, after graduating college and taking my own career path, all roads led back to Yama.
HOW YAMA SERVES THE SUSHI ECONOMY
We supply hundreds of sushi restaurants from take out to Michelin star from the tri-state area through DC/MD/VA and we airfreight seafood to various other parts of the country.
Restaurants typically get whole fish and bulk orders but on the Direct to Consumer ("D2C") side we offer smaller, more "retail" sized items that a small family can enjoy. No one needs 1kg of Ikura for their homes, but at the prices we offer, it's silly not to take advantage of it.
Pre-Covid, a lot more omakase style restaurants opened all over the Tri-State area and therefore, our Japanese fish departments grew exponentially. More restaurants were seeking the higher priced/quality seafood that consumers desired.
Most restaurants became extremely price sensitive and therefore, the Japanese Fish Dept took the biggest hit while our frozen department grew the most.
Prices also only really changed drastically due to airfreight price increases. People stopped traveling so there were very limited flights and initially airfreight prices doubled.
It has come down a lot but now that businesses in general are picking up and the vaccine transportation is getting priority, it's extremely hard to get space on airplanes.
This will continue until travels normalize and more flights start going out. 
(The) D2C side of the business has been extremely rewarding. This time last year, that was the biggest reason why were able to continue operating. Different than restaurants, there are no "credit terms" for consumers. It's actually all pre-paid so it was amazing.
It helped us with cash flow and provided the necessary amounts to pay our bills while we waited to collect from the restaurants that owed us money. Also, so many D2C consumers were extremely grateful and thanked us. That really felt good.
I think the days of people saying they "love" sushi but in fact they eat cucumber or avocado rolls are becoming less and the ones that want the Kinmedai and Bluefin Tuna are increasing. Of course from a restaurant perspective, if they see people are willing to pay more for the best, they'll gladly charge more.
I don't really think fish prices have gone up, but I think the idea of spending $400 for sushi is becoming more "normal" to consumers. As you've seen, real authentic sushi preparation process is insane compared to any other cuisine.
That's why our customers demand early deliveries and therefore, we have to start working at 12-3AM in the morning. So I think the prices are justifiable for those willing to pay of course.
SEAFOOD BUSINESS OVER THE NEXT DECADE
I think there will be more focus on "sustainability" and "transparency". So many items in the seafood industry are mislabeled. I also foresee our D2C business growing as more consumers are desiring higher quality seafood and the fact that we can give consumers access to items they were never able to before is exciting.
Making the world a smaller place and giving customers the ability to order items like Auction Grade Uni or wild exotic fish and then receive it the same week at a reasonable price. I don't think it'll ever attract a huge crowd, but those who want it will love it.
This interview has been condensed for space. Visit Yama Seafood here.