Note: Morimoto's Sushi Master can be found on Roku Channel (free). I'll be reviewing all six episodes. 
Note 2: Roku makes screenshots impossible, so yes I used my phone to take a bunch of pictures of the show on my computer. 
Note 3: Read my review of Episode 1 here. 
Uhhh….quite the reaction to my review of Episode 1.
Did I expect so many people to find this show as bonkers as I did? Yes, of course. It's a complete mess.
Did I expect a bunch of the contestants to reach out? Absolutely not, but in retrospect I probably should have. 
Let's just be clear. The mess is on the producers. It's the producers (and their casting agents that I still won't name, credit to me) that decided to cast at least 4, probably 6, people that had never worked in a sushiya on a show called Sushi Master. 
One of the contestants – all of whom are legitimately accomplished in the cuisines that they actually work in – pointed out that the point of the show is to break sushi convention. 
Sure, but to what end? To me, that meant we weren't getting shari (rice) and nigirizushi challenges every week. Perhaps there'd be a "create a fusion maki" challenge or a "how much caviar can you stuff into a temaki" challenge. Maybe there'd even be some cooking elements, because sushi typically leans raw. 
It doesn't mean we'd get a dessert challenge (get excited for Episode 3!)
Not that there's anything wrong with that, but then call it what it is. A micro Top Chef or an expanded Chopped. And that's a problem, because this is a worse version of both.
In conclusion:
I'm going to keep watching and reviewing the rest of these because no one else is
Morimoto-san, let me Executive Produce Season 2. You can still be a judge.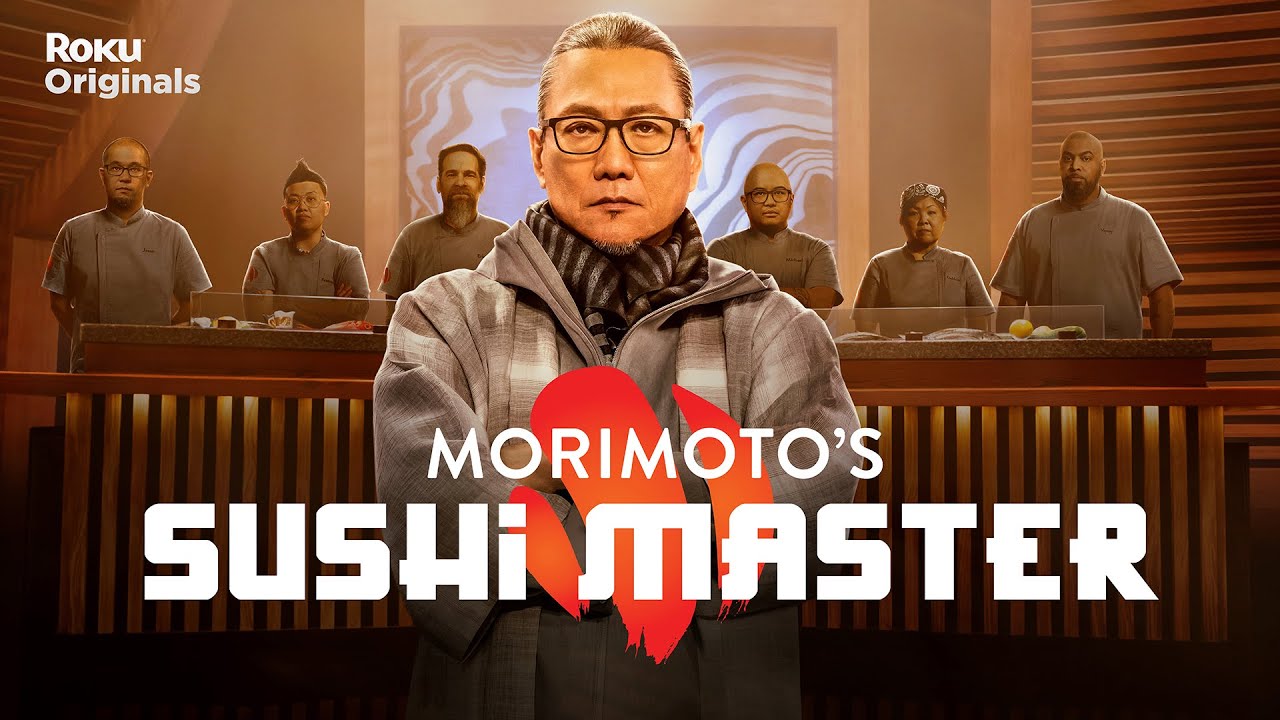 We get more John this episode – and that's a welcome change
John is a proud third-generation Japanese-American. In that respect, he's a perfect conduit to provide some background on sushi in America to the viewer ("finally", the cynic in me says). 
He describes eating at renowned Los Angeles legend Katsuya in 1998. He mentions going to the renowned Sushi Institute of America.
For this Ikouze Challenge, he makes a California Roll with REAL Kani (Crab). John, you legend.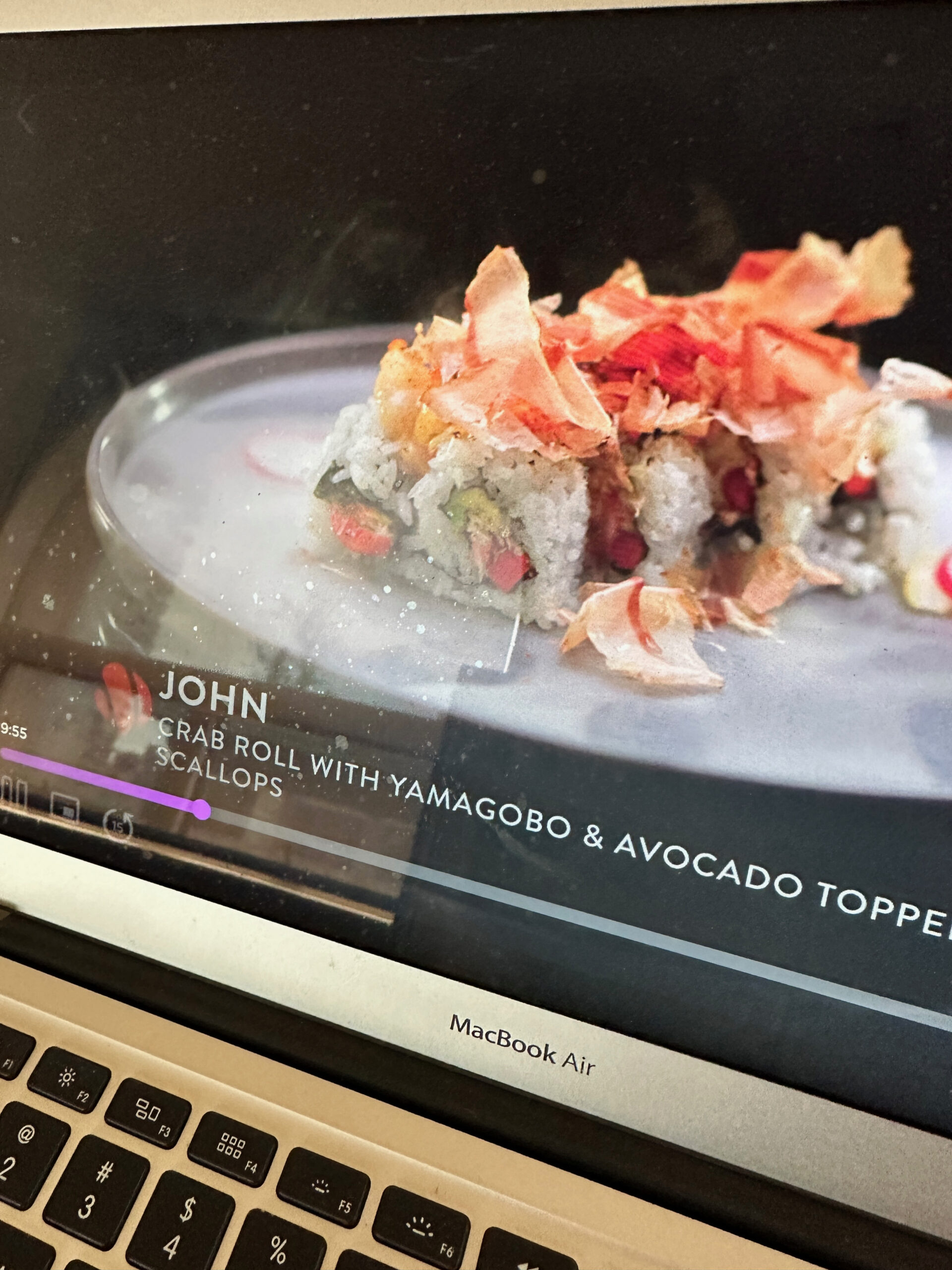 The Ikouze Challenge is to produce a "Hot Roll"
Apparently that means it's got to have some kick (duh?). The seven challengers left (RIP Jason) each do a pretty decent job of that, or so we're told, with the following dishes: 
John: Crab roll with Yamagobo & Avocado Topped with Scallops
Lauren: Salmon Roll with Lobster, Asparagus, Cucumber & Spicy Mayo
Venoy: Crab Bake Roll with Lobster, Spot Prawns & Crab
Eric: Spicy Tuna Roll with Crispy Tempura Bits
Frances: Salmon Roll with Tobiko, Salmon, Crab & Scallops
Michael: Seafood Omelette Roll with Lobster, Uni, Smoked Salmon & Scallops (in honour of his "bougie" wife – direct quote)
Debbie: "K-Town" Salmon Roll with Bay Scallops, Zucchini, Mushrooms & Masago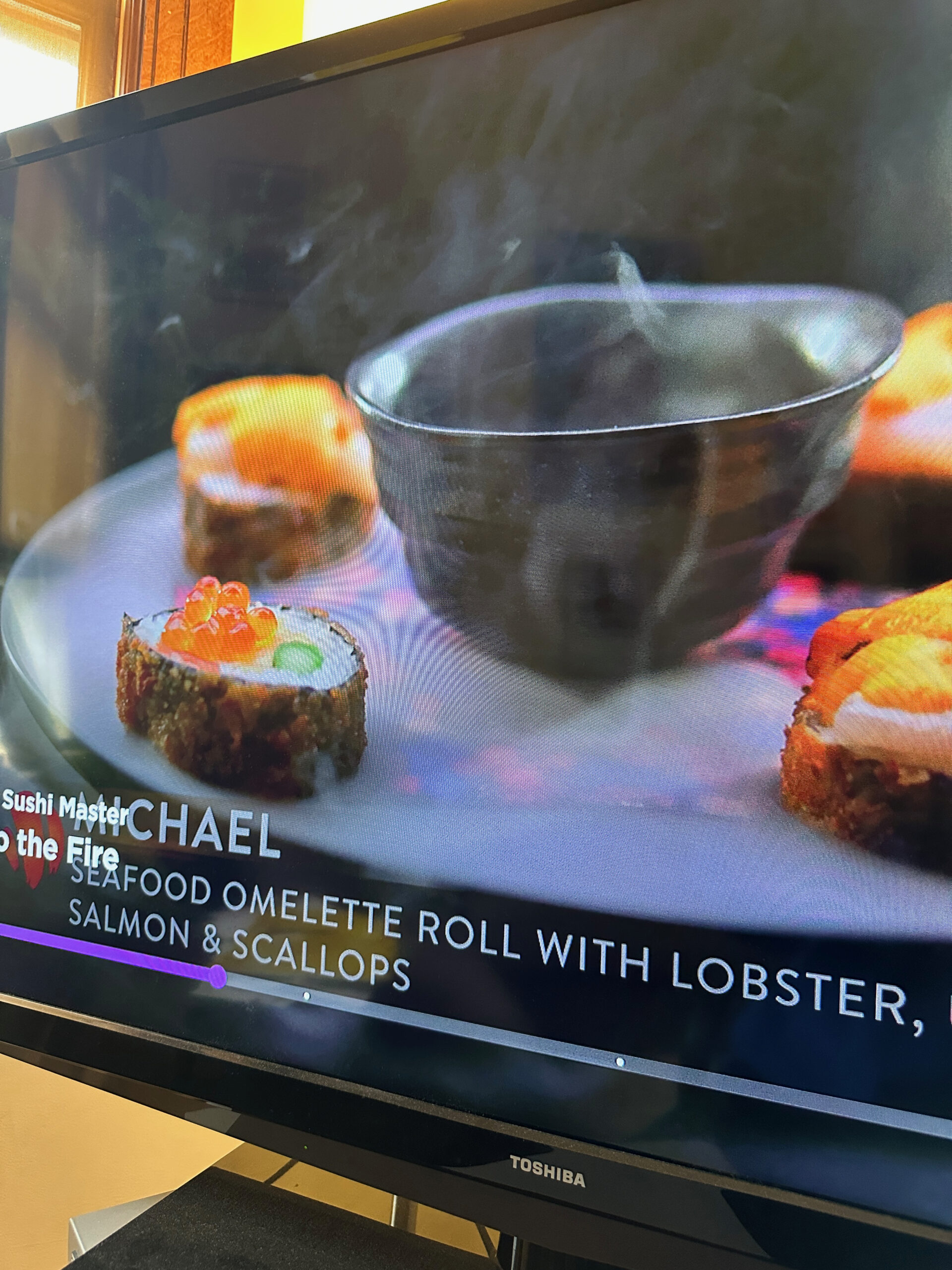 Another example of production being all over the place
So each of these 7 chefs have to prepare their "hot roll" on three plates. Lauren even laments she didn't have time to create three plates. 
That's because there are three judges: Morimoto-san, Kenji Lopez-Alt (the renowned food writer and chef) and Dakota Weiss (executive chef of Sweetfin Poke in California). 
And yet, right before tasting, Lyrica Okana (the host) makes a startling announcement:
"Morimoto is giving Kenji and Dakota the honour of judging the Ikouze Challenge"
Translation: something weird happened during this challenge and we need an excuse to only have two judges.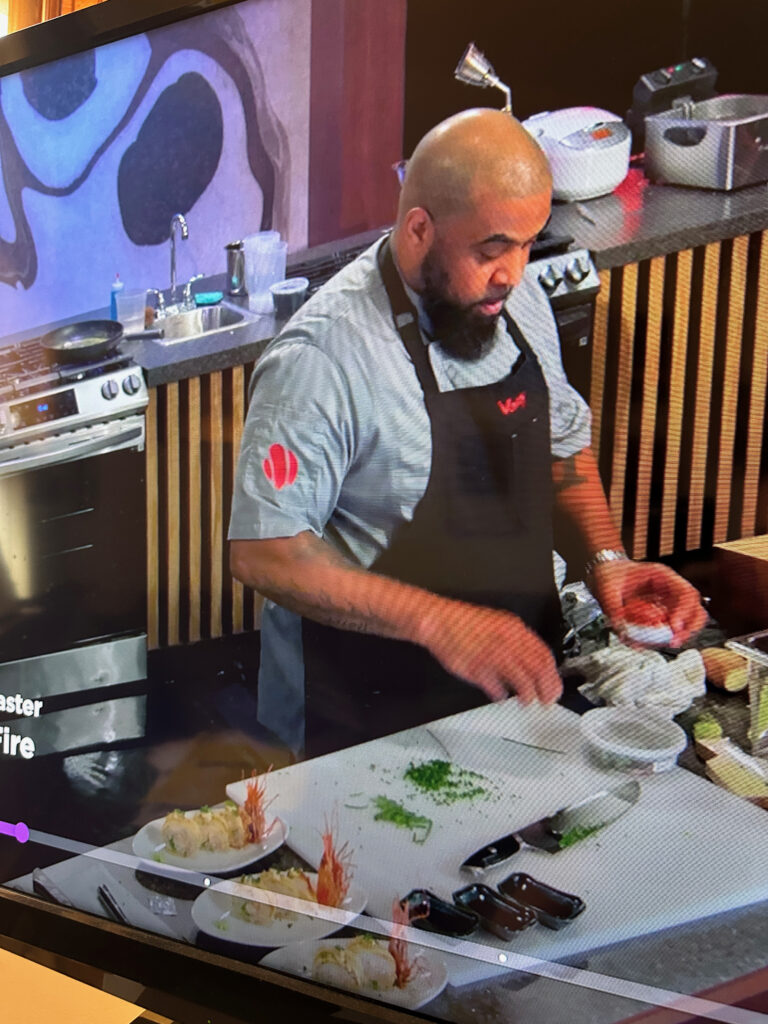 Shoutout Venoy
I may have been confused (very confused) why Venoy, a meat expert and self-admitted beef-guy, was cast on this show. Though of course he wasn't the only one. 
But credit – so much credit, the most credit I can ever give – for his makizushi. A take on a crab boil, that uses mostly traditional ingredients, with spiralized potatoes wrapped around the outside as artistic license.
If the producers were aiming for sushi that honoured tradition while straying into new territory, this was a great example. 
It also looked fantastic, and the judges agreed – he won the competition.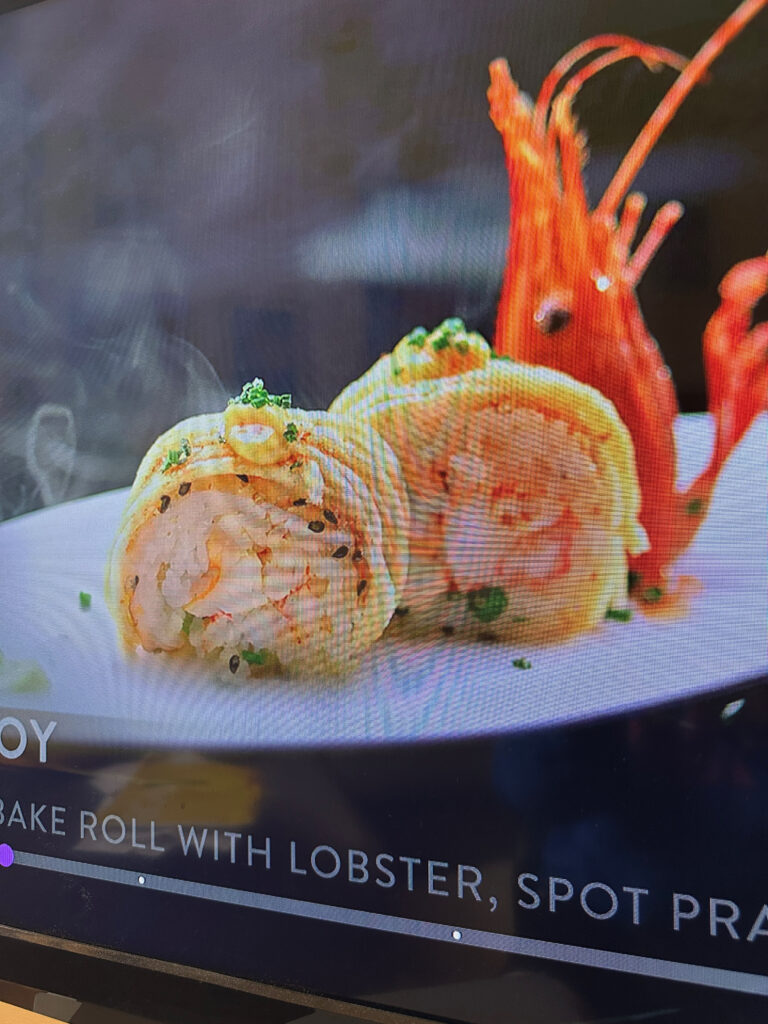 The net challenge is just… "heat"
The Kessou Challenge requires that each chef utilize an ingredient that includes some heat. 
I want you all to do me a favour though. Blank your mind. If you saw these 7 dishes, would you be able to tell me which cooking show these come from? 
Venoy: Sambal Chicken Wings with Thai Penaut Sauce & Daikon
Eric: Braised Pork Belly with an egg on a sushi rice cake with scorpion pepper sauce
Frances: Pork Belly Skewer with Fried Rice, Bok Choy  and a Chile Vinaigrette
Michael: Pork & Scallop Dan Dan Noodles with Sichuan Peppercorns
Debbie: Korean Braised Chicken with Steamed Rice & Daikon Radish Salad
Lauren: raised Octopus with a Spicy Romesco & Crispy Pancetta
John: Ground Pork Bowl with Crispy Shrimp and Garlic & Ginger Soy
Most of these dishes looked fantastic (Morimoto called Venoy's plating beautiful). Judges – 4 of them this time for some reason – seemed happy. But they're about as far from the realm of sushi as Mario and Luigi were from the realm of the Mushroom Kingdom in the beginning of the recent Super Mario bros movie (I gave it a 117 out of 100 btw).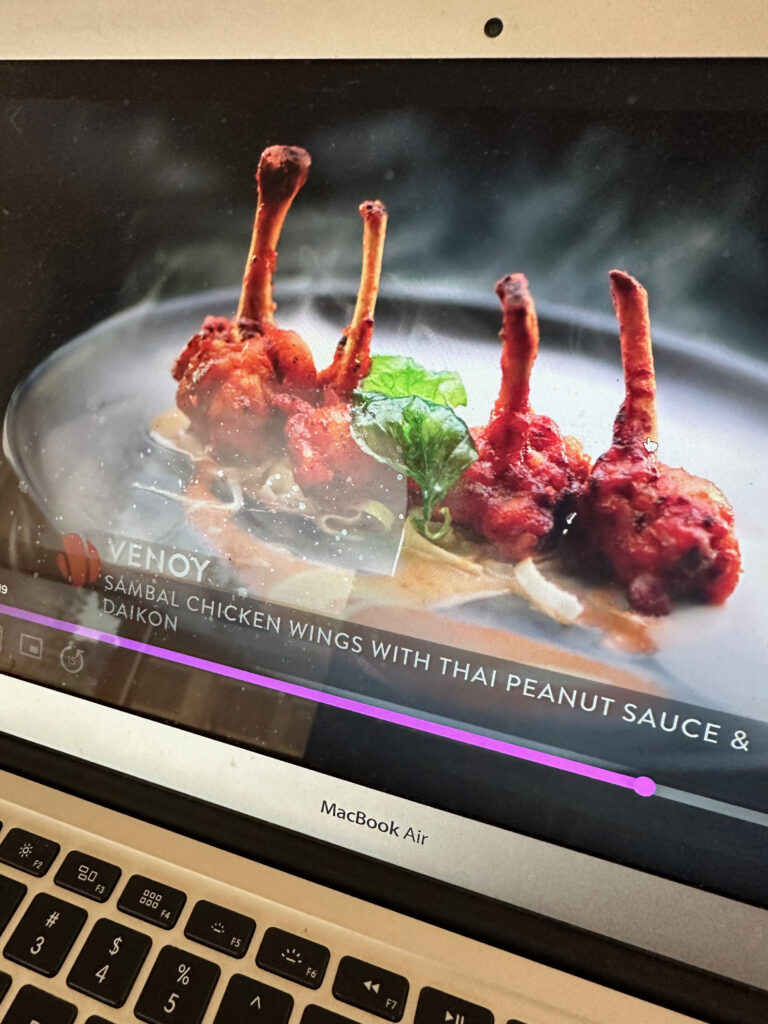 The judges mention John and Eric as the standouts
And good for, Eric especially after the first episode. Morimoto-san ultimately awards John the win because of the heat in his dish. 
Lauren and Debbie were in the bottom
Debbie's cardinal sin was not making a soup out of her Korean-inspired dish.
For Lauren, it was apparently straying too far from sushi, which is a hilarious criticism given the rest of this show. She unfortunately gets sent home, though given her success on other cooking shows, I'm sure we'll see her again.
Also, Lauren mentions she's here for her sister battling Stage 4 cancer, and now I feel like a complete asshole for ribbing her in Episode 1.
Lauren – I'm sorry. Hope your sister recovers okay.