Quick mini-review today from my November 2021 visit…
Believe it or not, but Sushi in New York City actually predates the 2010s. The Omakase wasn't served for the first time at Sushi Nakazawa after all.
For many long-time New Yorkers, the history of sushi is centered around a few midtown sushiya that have served this city strong since the 1980s (and before).
Hatsuhana. Sushi Zen. Sushi Den. Nippon.
Some were breeding ground for Japanese-born sushi chefs to get their American start. All are (or were, RIP Sushi Den) located in Midtown Manhattan, not a coincidence given that tourists – drawn to that area like me to the free drinks at an airport lounge – comprised a significant portion of their clientele.
And of course, Kurumazushi…
Friends, it's almost impossible to tell the Big Apple Sushi Story (future kid's book) without mentioning the 45 year old Kurumazushi. 45 years isn't nothing – for instance, my brother was born in 1977 and he's old as dirt.
But the most impressive part about Kurumazushi?
Same Itamae since day 1.
Toshihiro Uezo moved to New York City in 1972, and opened Kurumazushi in a different midtown location 5 years later.
Despite two moves and a shift to the second floor of an office building, by all accounts the same hospitality Omotenashi (hospitality) and quality exists today as it did then.
The history of New York City sushi before the latest boom is a fascinating topic, ripe for a newsletter. But for now, I'm putting on my snorkel and diving into Kurumazushi.
My meal was basically brunch
I had the fortune of sitting with Uezo-san in the middle of the day.
Most of my reviews are during the dinner hour, but I was more than happy to join a friend at literally 11:30am (it's five o'clock somewhere, right fellas?).
And actually, some would even suggest that Kurumazushi is known for it's lunch; that's because business folks, in New York for doing business things, found it incredibly convenient. And it's still the case;reservations, even at 11:30, were difficult.
We sat at the sushi counter with Uezo-san and his apprentice. Though Kurumazushi isn't large – it occupies the second floor of a commercial office building – there are tables as well.
The order
Kurumazushi does have an Omakase option, but there is no price break at lunch – it's about $300 for 16 courses as my NYC Omakase list will tell you. If spending $300 for ~90 minutes during the middle of the day isn't your thing – as it wasn't for us – consider that there are ways to order fantastic, seasonal sushi a far more reasonable rate.
We elected to go with the $80, "Sushi Plate", a seasonal combination of nine nigiri and a makizushi (negitoro on the day we dined), served in two plates.
The highlights
Aside from the presentation, I was particularly impressed by the nigiri (what else is new), which Uezo-san makes himself (his apprentice often handles the temaki and makizushi). 
The beauty of nigiri is often in its simplicity, and the Chu Toro pictured below is a great example of that. No extra toppings, a little shoyu applied, just the neta formed to the shape of the vinegered rice (as it should be).
The Sushi Plate features popular year-round Neta like Maguro, Uni and Ikura, but it also had Botan Ebi, an autumn speciality, though unfortunately no tempura heads served as is often custom.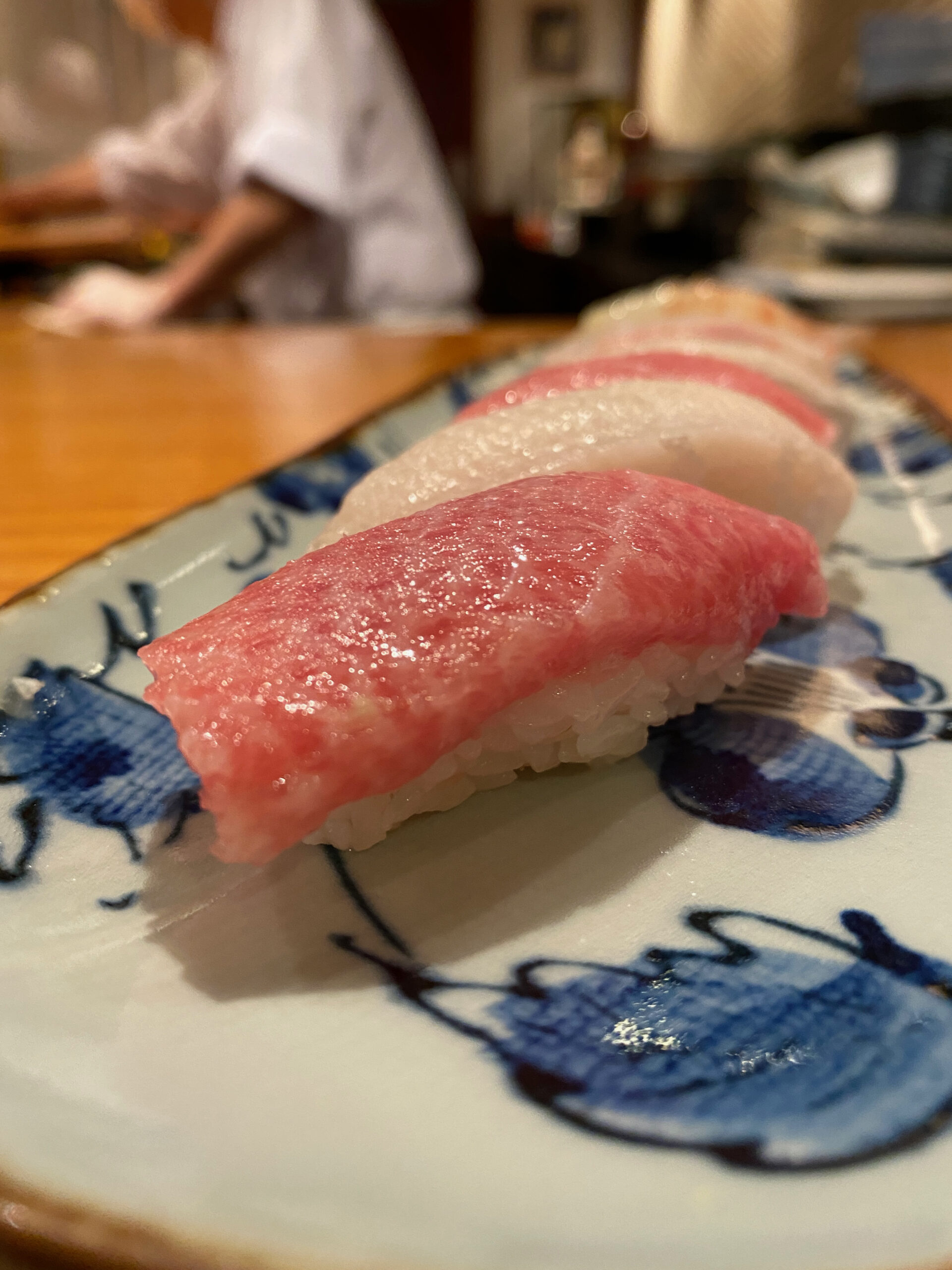 The verdict
My first visit to Kurumazushi was long overdue, but it won't be my last. Every part of the meal – from the location, to the itamae, to the no-frills sushi, expertly prepared at an understandably-higher price point – screams throwback.
Despite the fact that the midday rice put me to sleep during hours of afternoon meetings that could have just been an email, this was worth it.
Recommended.