Earlier this year, before the world around us fell apart in spectacular and horrifying fashion, Diego Quijada, his brother Pedro, and their two partners, opened Omakai in Miami's Wynwood district. The year-old sushiya is a snapshot of its neighborhood's below-the-radar vibe; on our visit, I saw plenty of families and yet none of the typical Miami meathead tourists you might see a half-mile east in South Beach.
It was a welcome respite, but don't worry if waiting 3 hours beyond your reservation while hacks in rented Ferraris slide 50 dollar bills to the hosts is more your bag; Prime Italian is still open, and as brutal as ever.
If you do stick with Omakai, you'll find that it's a wonderful "entry-level" Omakase. The concept is dual: tables or takeout boxes (more later), where the nigiri is served platter-style rather than nigiri-by-nigiri like at Sushi by Bou (also open in Florida). There's enough volume and quality fish to sustain even the hungriest, but this isn't a temple like
Naoe
. People just dipping their toes in the fancy sushi pool will find it more palatable though, especially because Miami is still a growing sushi market.
Omakai has a wide-ranging menu but there are three pseudo-tasting options that you'll focus on: Oma Lite, Oma and Oma Deluxe. Details below:
Our table collectively chose the Oma for simplicity's sake (and also because that box around it tricked our dumb brains), but there's plenty of overlap across the three options.  The beauty of Omakai is also in the ingredients that they serve; ll three options include  "seasonal fish sushi", which is exactly as mysterious as it sounds. On our visit, that meant Madai and Kurodai (in season from Greece), pictured below.
Even the fixed options – the Tuna, the Salmon, the Yellowtail – get their own little flair. The
Chu Toro
comes with a sweet shoyu, an oxymoron that actually works. The 
Shima Aji
is layered with scallion, which is a lot better than other places that will toss on raw onion. And the
Salmon
gets zest of Yuzu, a citrus fruit that is practically a cheat code. Seriously, if you can find me anything that doesn't taste good with Yuzu, email me. If you're right, I'll send you some gear. Spoiler alert, you won't be.
To fill the bellies, we also ordered the tuna flight, an easy choice given my well-known "always order a flight when it's offered" rule (same reason we got the Sake flight).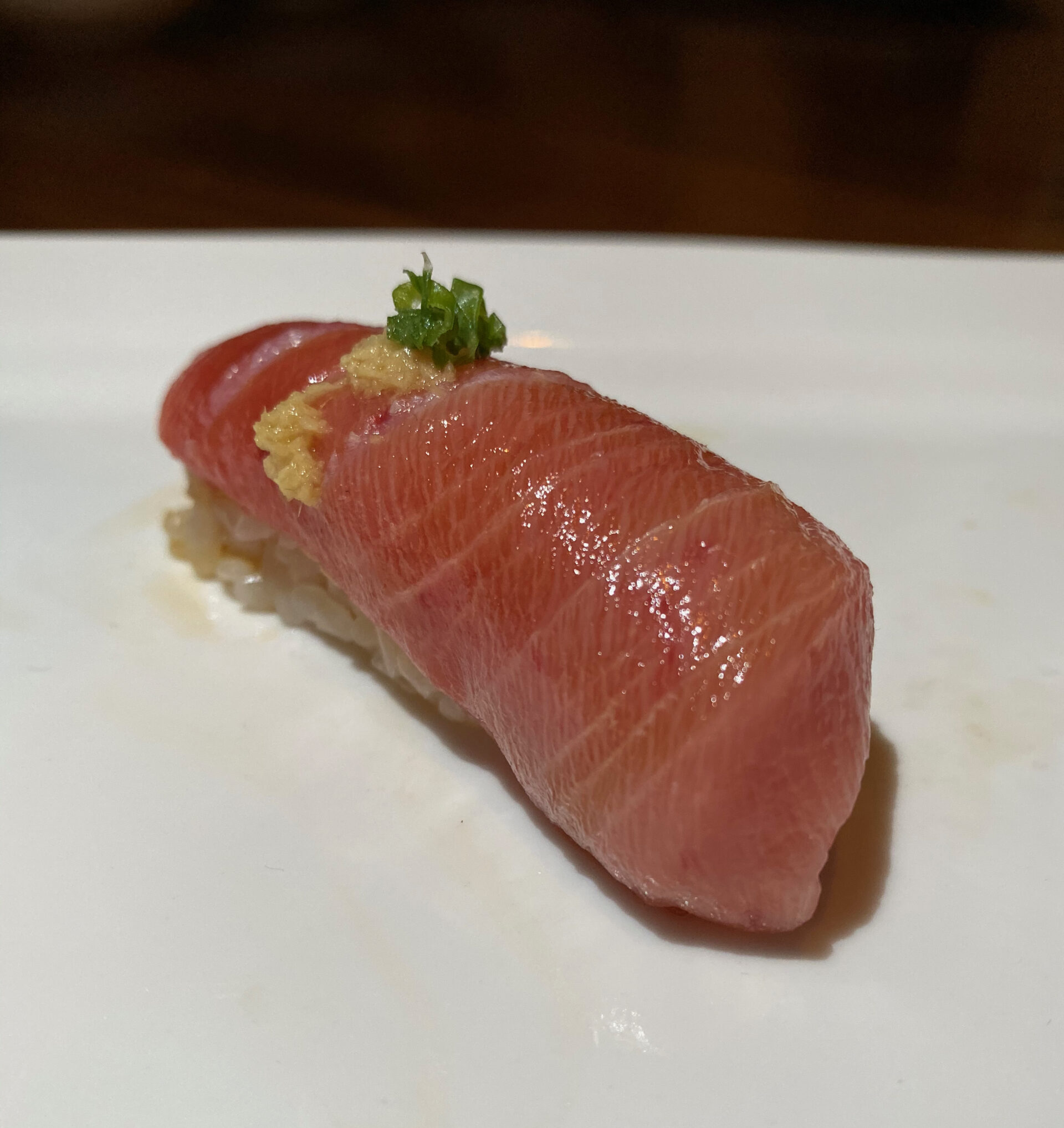 If the whole thing sounds like Sugarfish, that's because it sort of is.
My feelings on Sugarfish are well documented
– I believe I said it was "like eating an episode of
Entourage"
– but Omakai avoids similar issues by having committed owners heavily involved in just a single spot (so far). Diego introduced himself to us (and other tables) throughout, and – more importantly – another partner, Aaron Pate, hangs in the kitchen forming the nigiri.
Of course, Omakai isn't immune from the standard new restaurant hiccups. Our waiter's brain turned to scrambled eggs trying to explain what was in the Sake flight he served us. And I won't even try to describe his response to our question about which cuts of 
Maguro
we were being served. But if that's the biggest issue with a brand new sushiya – a beautiful sushiya, mind you, in a wonderful location – I think we're good.