I was stuck
I love Miami. Always have, always will, no matter how many peacocks overrun South Beach or families with dogs in strollers dominate Sunny Isles.
But I was having real trouble figuring out where to go for Sushi in Miami this past Christmas season/holiday season/I don't care what season we call it and neither should you. Which is a problem, because I take this very, very fake job very, very seriously.
I'd been to Sushi Yasu Tanaka and loved it. Diddo Omakai, which is what your friend who "LOVES SUSHI" thinks Sugarfish is (as in, Omakai is actually great). Hiyakawa, Naoe, Uchi – all positive experiences.
Nossa, Hiden and Mr. Omakase – all recommended but reservations are tough and a few little legends told me that I might be disappointed anyways.
But I'd just finished perhaps the worst takeout sushi meal of my life (my sister did the ordering and is now banished from the family). I needed a win, or at least raw fish that was edible and rice that was actually vinegared.
And like Mana from Heaven itself, the Miami Herald reported that Kosaka – one of my favourite sushiyas in New York City – was opening a pop-up at the Four Seasons Surf Club in Surfside. Problem solved.
The Surf Club reminded me of Havana in the 50s (if I had been alive then/ever been to Cuba)
The pop-up is located inside the Hemingway Tower, a great-gatsby looking space on the second floor of the original Surf Club building, itself surrounded by a modern hotel and residences, like a toy inside a Kinder Surprise. The Hemingway Tower is a popular spot – it's been used for private members, events and most recently a pop-up for Sushi Nakazawa, another NYC sushiya of moderate fame.
The entrance is up a original spiral staircase located adjacent to the Surf Club's hotel lobby. At the top, an unmarked door opens to a 6 seat sushi counter and 5 appropriately-distanced tables Look for the sign pictured below.
A mid-10's NYC sushi legend is at the helm
Though Kousaka-san himself remains in New York, the Itamae at this outpost is Shinichi Inoue, a veritable New York City legend in his own right. I first ate with Inoue-san when the eponymous Sushi Inoue opened in Harlem in 2015 with a now-seemingly-insane $100 omakase.
Inoue's next venture, aptly named Inoue, is slated to open in Flushing's new Eastern Mirage hotel in 2022. The gap in his schedule fit perfectly with Kosaka's short-term residency.
There is only one option on the main menu: the $300 Omakase, featuring a variety of seasonal items, nearly all of which are flown in from Japan. Direct sourcing is Kosaka's MO in New York, but replicating that in Miami proved challenging according to their operator, Mihyun Han because shipping routes aren't as established.
So Kosaka gets a combined shipment of sake and seafood into New York, takes a portion and overnights ships it down to Miami.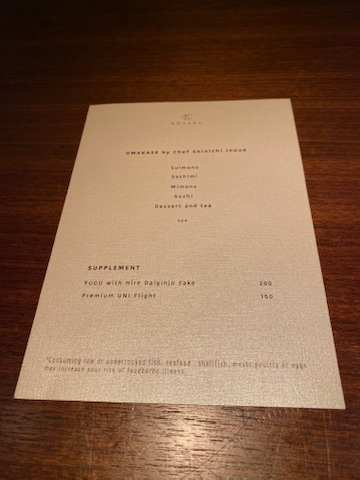 The specifics of the $300 omakase change daily, but features a Suimono (clear soup), Sashimi, Nimono (simmered fish type course), sushi and tea. As is custom – and I sometimes forget some newbies may not know this – the bulk of the meal is prepared directly behind the counter (rice – or shari – is prepared in advance). Let's dive in to the details and highlights.
While you can't see it in the first picture, the Hirame is Kobujime, tucked away like Harry Potter under the stairs (yes I shoehorned a Harry Potter reference in to snare the google web scrapers – it's the little things folks). Kobujime means Sashimi that's cured inside Kombu (edible kelp). It's a traditional preparation (and preservation) method. Delightful.
Buri Daikon (simmered kan buri with daikon radish) is always a treat, particularly when it's served with Karasumi. Karasumi is one of three Tenka No Sanmai Chinmi (delicacies of the Edomae period), alongside Uni and Konowata (sea cucumber intestines). If you've poked around Mediterranean cuisine (particularly Italian), you've probably had Bottarga. It's essentially that.
Aji, the first of 11 sushi courses, is an immediate highlight. Aji is available virtually year round, not extraordinarily expensive and served frequently to check the hikarimono box during an Omakase. I can't recall enjoying it – both as food and as eye candy – as much as I did here.
A true winter-time Neta
Kan buri. Cold Season Yellowtail. Pristinely formed, with a pink-rose colour and buttery taste thanks to the outstanding fat content that develops when yellowtail eat their hearts out while they migrate. Worth trying. The knife slices help to cradle the shoyu and – in some cases – make the neta (topping) more malleable for forming to the shari (rice).
The Anago
I remember two things from my meal at Sushi Inoue in 2015. The price, and the grill marks on the Anago. I was thrilled that Inoue-san's style remains virtually the same, with perhaps a little more Nitsume (aka an eel sauce) than he used back then.
The Verdict
It's a true testament to Kosaka's team and operational philosophy that they're even able to deliver a seasonally-focused omakase in Miami despite the logistical challenges and small size of the space. Zuwaigani, Kan buri, Karasumi, Hagashi Toro are not normally found at sushiyas in Miami (though Naoe has served me Konowata before), and yet there they sat, dropped in front of me inside some Rapunzel-style tower. And with an Itamae like Inoue-san behind the counter, it's no surprise that another Kosaka location has delivered again.
Recommended. 
(Note: Kosaka Miami is due to close in March 2022).