I'm sure there are many sushiya that have had a lasting impact on Toronto, but in this authors opinion, there are two that belong in rarefied air.
Sushi Kaji, the 22 year old Etobicoke masterpiece, and site of my first Toronto date with my bow wife (swear I'm not biased).
And Zen Japanese Restaurant, the 30 year old Markham temple and focus of this blog.
There are commonalities.
Both are strip-mall based, the same as the gone-too-soon Sushi Nishinokaze. I know there are some that decry the lack of fantastic sushi options in Toronto, but the truth is that you just need to drive for it.
And both are owned by legendary Itamae, Koshiwabara Seiichi (at Zen) Mitsuhiro Kaji (at Kaji, duh), who oversee a team of truly wonderful chefs and staff.
Reservations at both are difficult and customers are loyal, for good reason.
I visited Zen for the first time this past summer. It was a last minute trip and the counter was booked solid, but I was fortunate enough to enjoy a wonderful Omakase-"style"- more on what that means in a moment – meal at the table.
Koshiwabara- San presides over a team of chefs behind the counter. It's clear he's a commanding, yet welcoming presence with years of experience both preparing and teaching sushi.
That education isn't just for his team, many of whom have gone into open other restaurants of their own. It's for his clientele. When Zen first opened in 2000, fine sushi in Toronto was spicy tuna maki from Edo at the ACC (shout out Barry Chaim).
We've come a long way.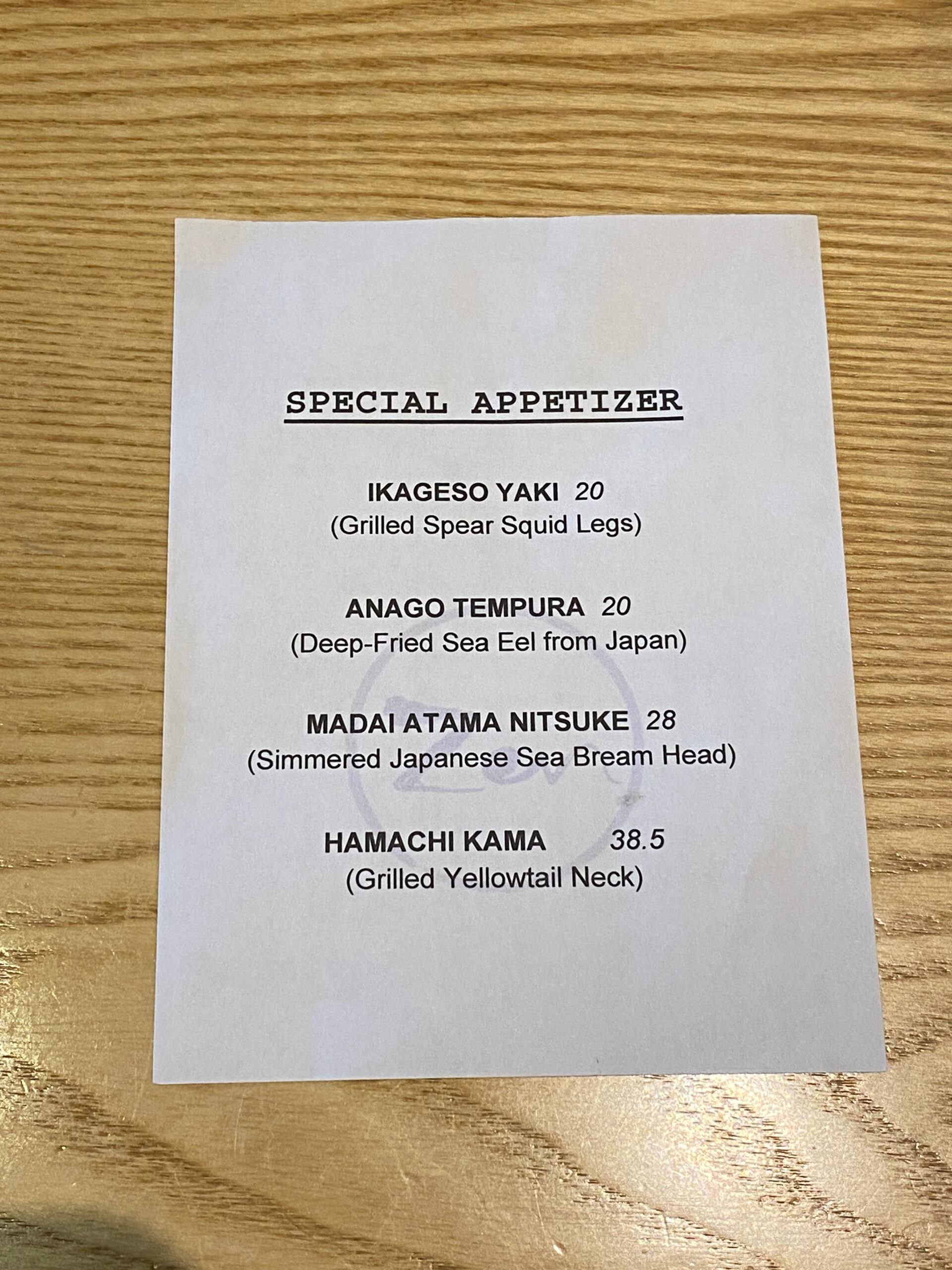 What we ordered
Alright, some caveats. We were a group of 4, seated at one of the 8 or so tables inside Zen. There is a 12 seat, L-shaped counter, which I'd recommend if you can get a reservation.
And that's a big if – I've tried unsuccessfully on a few different recent trips to Toronto. The Omakase is on offer at both, but at the counter it's served one course at a time. At the tables, you'll get two platters.
Not the same experience or the same cost (counter is $160, table $150), but still great.
The Omakase at the table is served in two platters
The Omakase at Zen is a reserved affair. The nigiri, with accompaniments like Yuzu (madai), Negi (hamachi) and Gari (Ika), are traditional without a hint of fusion. If you're looking a the pictures of the first course below, you'll also notice the shapes: uniform.
I was particularly impressed with the yari-ika (spear squid), which partnered with the precisely-vinegared rice to heighten the flavour on a neta that sometimes lacks it.
I've explained my thoughts on the blowtorch being taken to O Toro many times before, so I'll digress here. But I do want to highlight a few specific neta that I'd recommend if you visit Zen in season.
First, the Same Karei, Sharkskin Flounder, native to Hokkaido and best in summer.
Hiramasa is a member of the extended yellowtail family that still gives me (and let's face it, many sushiya) trouble with english translation. Not only does is it savory, but Seiichi-san's Hiramasa is beautiful.
Uni is typically served Gunkanmaki (aka battleship) style. It's an easy way to tell quality because if it pools and slides off the side, it's a bad sign. No such concern here.
Need to mention the sake
There is an ancient proverb that I follow:  "If a restaurant offers a flight, I ignite". Believe it was from the Babylonians.
So when I saw Zen's sake tasting, complete with a handy placemat of exactly what was being served, I said "yes" faster than that weirdo Albie when Portia asked him to spend the day.
And no, I'm not explaining that reference. If you're not watching, that's on you.
Dining at Zen is like dining in the Garden of Eden. It's beautiful, there's everything you can want (including tempura for the less adventurous), it's basically the beginning of its thing and like Eden, there are tempting creatures everywhere.
And while the sushi is good, I firmly believe that taste and technique are only part of what makes a restaurant special. Eating is feeling, and so the ambiance, the background and the story all matter as well.
And Zen has a great story.
Recommended.